PartyPoker European Open Semi Final Draw, UK Newspaper Article on Poker Bots + more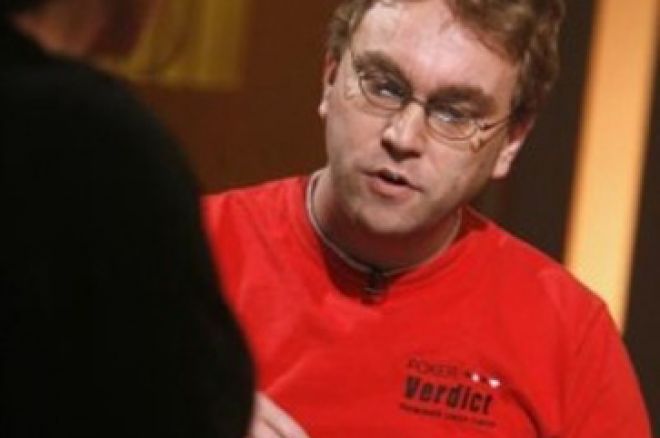 European Open Semi Finals Set
The much coveted Party Poker European Open has been running heats in Maidstone for over a week now and we have finally reached the semi final stages after the heats and second chance turbo heats have run their course. The final three players from each heat will progress into the final with the chips they end their semi final on. Its a nice mix of old school and new school UK players with Bambos Charalambos, Neil Channing and Marc Goodwin representing the old guard and Karl Mahrenholz, Andy Ward and Roberto Romanello flying the flag for the new breed of poker players. They will play to a winner over the weekend with the eventual champion scooping $200,000.
SEMI-FINAL 1 – Thursday 12 February
SEAT 1 - Chris Bury
SEAT 2 - Bambos Charalambos
SEAT 3 - David Rudling
SEAT 4 - Karl Mahrenholz
SEAT 5 - Andy Ward
SEAT 6 – Marc Goodwin
SEAT 7 - Craig Burgess

SEMI-FINAL 2 – Friday 13 February
Neil Channing
Peter Wood
Paul Marrow
Soraya Homam
Christoph Haller
William Taylor
Roberto Romanelllo
You can check out the action live at the Matchroom Poker Forums and check back here next week for the complete results listing.
Guardian Article on Bots in Poker
Yesterday a feature was printed in the UK Broadsheet the Guardian about the prevalence of online poker bots. The feature interviewed an anonymous programmer called 'The BotMaster' who described how he would programme low stakes bots to beat up on weak players. The feature emphasised that rather than try and beat the high stakes games, bots can only be profitable if they are playing in high volume on low stakes tables where they can adopt a simple winning ABC style. The BotMaster eventually went on to say that he was going back to normal programming because it wasn't the most lucrative of ventures for him.
The article offered absolutely nothing new or revealing on the subject of online poker bots and will only serve to put off non poker players from the game and cast a (small) cloud over the industry. It also implied that online poker was 'easy money' which we all know it no longer is. The feature was actually not a very good piece of journalism in that it offered no comment from any of the online poker sites on their view of bots, what measures they take to prevent bots from playing and just how severe or minor they believe the problem to be. All in all, the article offered nothing new but did no favours for online poker in the UK.
Buy, Sell, Hold – which Poker Rooms to Invest Shares In
Daniel Stewart & Company, the investment advisors recently correctly that advised investing in Playtech, have this week suggested investors buy shares in 888.com on the basis they the company is likely to outsource poker in 2009. The company had a strong 2008 but poker revenue suffered and it is rumoured they will be taking action to rectify this in 2009.
The company also advise you buy shares in Paradise Poker, William Hill, Playtech and payment processor Neovia (formerly Neteller).
They also advise selling shares in Rank, the company behind Blue Square.
Online Gambling to thrive in the Recession?
More expert market analysis now, as Ernst & Young are reporting that online gambling looks set to do well during the recession. Gambling has always traditionally prospered in recessions and Ernst & Young are suggesting that the online variety will do much better than casinos, lotteries and bookmakers. The logic is simple and common sense, people will be staying at home much more than ever and online gambling will provide a much simpler, more cost effective form of entertainment.
They also suggest that a much younger audience - who are not burdened by debt, children and mortgages – will be the targeted and as a result, online gambling will be one of the only leisure industries to come out of the recession stronger.