DTD and APAT Festivals this weekend + more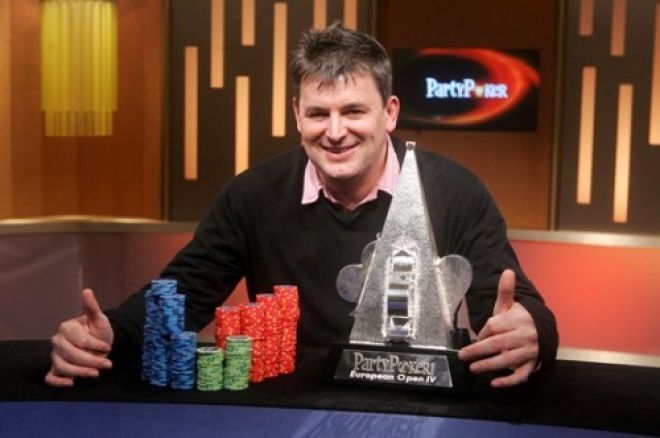 DTD and APAT Festivals this weekend
It's a big weekend for mid stakes UK players, as the Amateur Poker Association & Tour (APAT) will be holding the United Kingdom Amateur Poker Championship at the Grosvenor Casino in Walsall on Saturday and Sunday. The event is already sold out but it still might be well worth going down for some of the side action. Not only will the winner scoop the cash and the medal, they also win a seat in the GUKPT Champion of Champions event at the end of the year.
Just down the road in Nottingham, Dusk Till Dawn will be holding their monthly deep stack festival. The £300 main event is on Saturday along with a £165 side event. £50,000 and £10,000 are guaranteed respectively and both of these deep stack events have European Ranking Event status.
GUKPT "Extra Bite" Satellites
Yet another interesting twist from the Grosvenor UK Poker Tour, as they are offering satellites to the main event that provide a little extra value....to those that don't qualify. The tours online partner Blue Square is offering a 10 person, $170 single table satellite 4 times a week with a GUKPT main event seat for the winner.
But the clever part is that the winner is only playing for 50% of any winnings, the 2nd place runner up gets 10% of their winnings and everyone else gets 5%. This is not only good value, but it could make it very exciting for those players not lucky enough to qualify if their man runs deep. So you could lose the satellite and still end up with a big score without ever leaving your house. Rather than paying any live winnings in cash, players get the money in their online accounts.
PartyPoker European Open V this Friday
72 of the best players in Europe will descend on London this Friday for the 5th instalment of the Party Poker European Open. The TV studio format event was won last year by Nick Slade and previous winners include Liam Flood and Ian Frazer.
The total prize pool of $504,000 with a $7,000 buy-in has attracted some of the biggest names in poker to take part in the event at the Three Mills Studios in East London. Liam Flood, Annette Obrestad, Juha Helppi, Neil Channing, Andrew Feldman, Sammy "any two" George, Roland de Wolfe, Ian Frazer, Surinder Sunar, Padraig Parkinson, Vicky Coren, Donnacha O'Dea, John Tabatabai, Eoghan O'Dea, Nik Persaud, Thomas Bihl, Josh Tyler, Ryan Fronda, Marc Goodwin, Tim and Pippa Flanders, Mick McCool, Roberto Romanello, John Magill, Soroya Homam, and Ciaran O'Leary all take their place in the 12 heats, with the winner going through to one of two semi-finals, and the runner-up entering the turbo heats. The final takes place on Friday February 13.
The event will be start airing on Channel 5 in April but if you want a sneak peek at who will win you can visit the Matchroom Poker website or check in next week with UK Pokernews as we bring you all the news from this very popular event.
Meanwhile the full schedule of heats looks like this:
Celebrity Heat - Friday 6th February AM
1 Austin Healey
2 Rod Harrington
3 Michelle Orpe
4 Du'aine Ladejo
5 Garry Bushell
6 TBC
Heat 1 - Friday 6th February PM
1 Celebrity Winner
2 John Kabbaj
3 Thomas Bihl
4 Rob Cooper
5 Nik Persaud
6 Bambos Charalambos
Heat 2 - Saturday 7th February AM
1 Andy Ward
2 Paul Zimbler
3 Peter Smyth
4 Andrew Feldman
5 Marcus Bebb - Jones
6 Nick Ferro
Heat 3 - Saturday 7th February PM
1 James Dempsey
2 Craig Burgess
3 Richard Ashby
4 Sammy George
5 Robin Keston
6 Dave Shallow
Heat 4 - Sunday 8th February AM
1 Roland de Wolfe
2 Josh Tyler
3 Chris Bury
4 Skullman
5 Karl Marhenholz
6 Lacelle Barrow
Heat 5 - Sunday 8th February PM
1 Ben Roberts
2 Ryan Fronda
3 Stelios Philippou
4 James Akenhead
5 Nathan Lee
6 Marc Goodwin
Heat 6 - Monday 9th February AM
1 Luke Patten
2 Dixie
3 Tim Flanders
4 Mick McCool
5 Donnacha O'Dea
6 Achilleas Kallakis
Turbo 1 - Monday 9th February PM
Heat 7 - Monday 9th February PM
1 Monkey Harris
2 John Tabatabai
3 Pippa Flanders
4 Neil Channing
5 Dale Hoy
6 Paul Grummitt
Heat 8 - Tuesday 10th February AM
1 Peter Wood
2 Roberto Romanello
3 Michael Keiner
4 Steve Watts
5 John Magill
6 Kevin O'Connell
Heat 9 - Tuesday 10th February PM
1 Ian Frazer
2 Paul Marrow
3 William Martin
4 Surinder Sunar
5 Padraig Parkinson
6 Vicky Coren
Heat 10 - Wednesday 11th February AM
1 Simon Craig
2 Julian Thew
3 Eoghan O'Dea
4 Agnieszka Rylik
5 Fintan Gavin
6 Soroya Homam
Heat 11 - Wednesday 11th February PM
1 Stuart Rutter
2 Christoph Haller
3 Liam Flood
4 Richard Wheatley
5 Jan Peter Jachtmann
6 Annette Obrestad
Heat 12 - Thursday 12th February AM
1 Barny Boatman
2 Juha Helppi
3 Simon Zach
4 Ciaran O'Leary
5 May Macerias
6 William Taylor
Turbo 2 - Thursday 12th February PM
Semi Final 1 - Thursday 12th February PM
Semi Final 2 - Friday 13th February AM
Final - Friday 13th February PM