DTD Host Record Breaking Monthly Festival, PKR Live Returns + more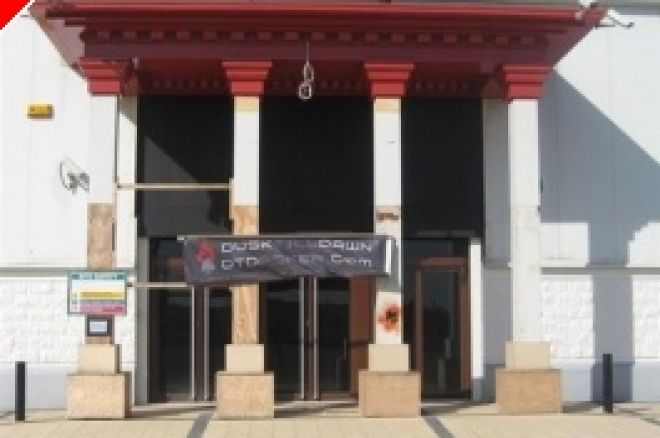 Sandeep Shah wins historic DTD Deepstack Weekend
The snow has played havoc on the roads in the UK and we are in a full blown recession, but try and tell that to the UK poker community. The monthly £300 main event at Dusk Till Dawn has gone from a £20,000 guaranteed event into one of the biggest and best value tournaments in the UK. Last weekend, the attendance record was smashed again and a total of 360 players overshot the original cap of 270 players.
This meant that for a mere £300, you are playing for a £108,000 prize pool and a staggering £32,000 first prize, which is not only a record for the club but also for £300 level competitions in Europe. Last year I joked that you could win the European Player of the Year in Nottingham now that these events were European Ranking events, but with these and the four big festivals already scheduled for this year, it no longer seems such a long shot.
Sandeep Shah was the eventual victor over the weekend, beating David Mundle heads up for the £32k pay day. The festival also had a very lucrative European ranking £150 side event which attracted 150 players and the eventual winner Terry Fletcher took down a £7,650 first prize. Roll on next month for the next £300 event and the runaway success story that is Dusk Till Dawn.
1st £32,029 Sandeep Shah
2nd £18,133 David Mundle
3rd £11,333 Paul Gourlay
4th £7,884 Ian Gascoigne
5th £6,406 Panos Panayi
6th £4,435 John Stritch
7th £3,449 Peter Charalambus
8th £2,464 Tom Rutter
9th £1,971 Steve Brown
Rayeez Mulla wins Liverpool Winter Festival Main event
It wasn't just the midlands that saw the poker community spit defiance at the weather and the economy, further up north the Liverpool Winter Festival attracted 115 players to its £500 main event. The two day event eventually saw Rayeez Mulla take home a five figure sum at a tough final that included in form Zachary Ford.
1st £13,900 Rayeez Mulla
2nd £10,000 Theo Droulias
3rd £10,000 Andy Bradshaw
4th £5,200 Jimmy Morgan
5th £3,150 Terry Nelson
6th £2,600 Ky Hutchinson
7th£2,300 Steve Helmsley
8th £2,000 Thomas Sande
9th £1,700 Zach Ford
It's been a massive weekend for poker in the UK and Ireland and stay tuned for the results from last weekend's APAT UK Championship and the European Deepstack Poker Championships.
Jules Adamson Chops Sunday Million
Not just a good weekend for UK poker in the live arena, as yesterdays Pokerstar's Sunday Million was chopped by up and coming UK online poker player Julian Adamson. Harthwith as he is known online did a deal with eventual winner THE_ALPACA, where he took over $140,000 for his second place finish.
PKR Live Returns to London
After a hugely successful first outing last year, PKR Live returns to the Loose Cannon Club in London for three days of live poker in April. On the weekend of the 17th of April, online qualifiers will be eligible for three events, starting with a $100 warm up on Friday, the $500 main event on Saturday and a $10,000 freeroll on the Sunday.
The only way to attend this event is to either win a $1000 package ($600 buyin and $400 for expenses) or a $600 event only package at PKR. You can win these a number of affordable ways including $40 direct freezeouts, $100 1-in-6 and 1-in-10 freezeouts and sub feeders from as little as $5.
Norwegian Poker Championships confirmed, Norwegians Only
The schedule for this year's Norwegian Poker Championships at Dusk Till Dawn has been confirmed, and it appears this time round that no English players will be eligible to play. This is a real shame because it made for a really festive feel last time round that was enjoyed by all, but we assume demand is so high this time round for Norwegian players. It will still be an amazing event, because of two magical words – cash games – last year they were the juiciest side games of the year and surely will be this year too.
30th March $400 Fixed Limit Hold Em
31st March $600 Pot Limit Omaha
1st April $2750 No Limit Hold Em Heads Up 64 players
2nd April $4550 H.O.R.S.E 24 players
2nd April Day (Two Day 1s) $1000 No Limit Hold Em Main Event