Francis McCormack wins Deepstack Main Event, Steve Redfern wins APAT UK Championship + more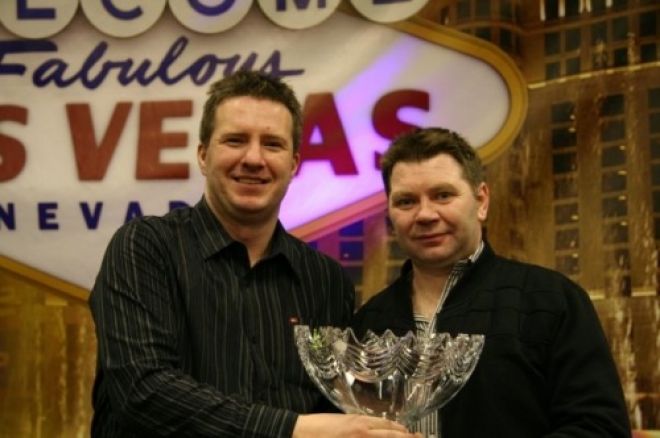 Francis McCormack wins European Deepstack Poker Championships
Dublin airport was closed for over a day which left over 50 scheduled players stranded at airports (Including yours truly) but that didn't stop the second European Deepstack Poker Championships be one of the only events in the last year to have improved their main event attendance on the previous year. 154 players made it to the Red Cow Hotel for the €1650 main event which boasted a 50,000 starting stack and a slow structure. Despite starting with 1000 big blinds, there was still an exit in the first 15 minutes, two minutes quicker than last year.
Francis McCormack was eventually crowned the main event champion after doing a deal heads up with Jason Tompkins which saw them take €52,500 and €50,000 respectively, after seeing off impressive UK player John Eames in 3rd place. Last year's main event champ Dara O'Kearney was amongst the noteworthy players to cash in the main event, topping off a fantastic 12 months for him. UK player Tom Cunningham won the €550 event for €14,000 and Calum Murphy took the €330 side event for €7000.
This writer is tremendously jealous that he missed this event despite actually winning his seat online, but nothing can be done about the horrendous winter conditions and it once again looked like the most fun event of the year. The organisers have details about a juicy looking shorthanded festival on the way so watch this space and get ready to book a long weekend off:
1 Francis McCormack €52,500.00
2 Jason Tompkins €50,000.00
3 John Eames €26,500.00
4 Olivier Jouve €18,500.00
5 James McManus €16,000.00
6 Sean Gregory €14,000.00
7 Manuel Bevand €11,500.00
8 Sean Kilroy €9,000.00
PaddyPower Launch Irish Open Betting Market
While we are on the subject of fantastic Irish poker tournaments, Paddy Power Poker have officially launched the betting market for the 2009 Irish Open. Paddy Power are synonymous with both poker and betting on poker, and both Neil Channing and Vincent Melinn backed themselves when they won the 2008 and 2006 Irish Open's, netting them €50,000 and €47,000 extra on their big score.
Ram Vaswani, Roland De Wolfe, Sorel Mizzi, Andy Black and Eoghan O'Dea are all amongst the favourites at 125-1 with a massive assortment of players between the 150-1 and 300-1 categories. Amongst the large market we have spotted some good looking punts including Jon Kalmar and Richard Ashby at 150-1, Jeff Kimber, Peter Eastgate and Ian Frazer at 200-1 and we also like the aforementioned Dara O'Kearney at 250-1. But the real value has to be Dave 'The Devilfish' Ulliott at 150-1 who is on one hell of a heater at the moment and already won one tournament in Ireland this year.
More players will be added to the market in due course and in the meantime you can win your extra value seat to the Irish Open at Paddy Power Poker every week and be eligible for their amazing €100,000 sole survivor promotion.
Steve Redfern is the APAT UK Amateur Poker Champion 2009
Last weekend the Grosvenor Casino in Walsall was the venue for the latest leg of the APAT tour. 200 players from all over the UK and Ireland sold out the venue in double quick time for the low buy-in, deep structured event, which had one of the longest final tables in APAT history. In the early hours of Monday morning, Steve Redfern from England emerged the victor winning £3,500, the coveted APAT medal and the maybe even more coveted seat in the GUKPT Champion of Champions event at the end of the year, which is a very exciting new addition from APAT and Blue Square.