Brian Townsend Moving to the UK (Brighton), Pokerstars EPT Update + more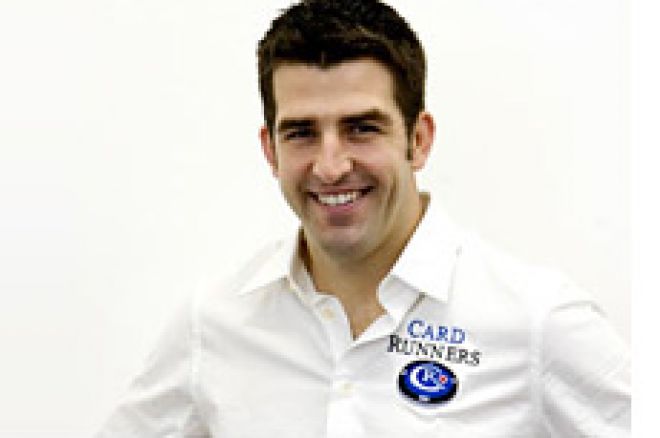 Brian Townsend Moving to Brighton
Cardrunners instructor and one of the most successful online cash game players of all time Brian
'sbrugby'
Townsend is moving to the UK. The online star has been noticeably absent from some of the biggest cash games on Full Tilt Poker for a while after a much publicised downswing which he has always been very candid about. Brian Townsend confirmed on his blog that he will soon be moving to Brighton to live with his girlfriend, which is rumoured to be none other than poker player and presenter Kara Scott (Which if true, we cannot blame Brian Townsend for).
This could be great news for UK poker if Brian Townsend decides to spend any time on the UK circuit, maybe at the GUKPTs as well as the EPT/WSOPE in September. It's not the best of news if you are a regular cash games in the Grosvenor or the Rendezvous casinos in Brighton because Brian Townsend could clean up, but if it attracts more players to UK tables its great with us.
EPT Copenhagen and Monte Carlo Update
The Pokerstars.net EPT Copenhagen is into day 1b and there are just a handful of UK players that have made it into day 2. William Haughey, Michael Aston, Martin Claesson and Anthony Mallandain are all amongst the British players to have made it amongst the 96 players survive day 1a and up and coming UK player Laurence Houghton, known as Riverman online, is currently 8th in chips with 52,000. Houghton is one of the most aggressive players in the UK and doesn't seem to have a low gear, so expect to see him at the final table or one of the early exits from day 2.
In other EPT news, it has just been announced that the EPT Monte Carlo in April will have a staggering 14 separate events stretched over 1 week. Pokerstars Boot Camps are also planned in Monte Carlo during the festival and for the first time players be able to buy-in online to all scheduled tournaments directly through their PokerStars.com accounts. Online registration opens on April 20, 2009. Also for the first time ever, players who buy-in or qualify online for EPT Monte Carlo events will receive Frequent Player Points (FPP) for rewards in the PokerStars VIP Club.
"The other big news this year is that the EPT Grand Final Main Event structure is being changed to 30,000 in chips and 60-minute levels on Day 1, with 75-minute levels from Day 2. This will also be the structure for all Season Six PokerStars EPT Main Events." PokerStars EPT founder John Duthie said: "It is staggering to think that at the very first EPT Grand Final in 2005, we had just 211 players and a total prize pool of €2 million. Last year, both player numbers and prize pool were four times that and this year, it looks likely that we'll smash the €10 million mark for total prize pool. The EPT Grand Final now sits at the very pinnacle of world poker events and will prove a massive draw for top players from all over the globe. The addition of the High Roller event, the new European PLO championship and myriad other side events will provide unending excitement for the players – it looks set to be an incredible week."
THE POKESTARS EUROPEAN POKERTOUR, MONTE CARLO GRAND FINAL FESTIVAL
SCHEDULE – SEASON FIVE
Buy-in Event Date(s)
€500 + €50 Satellite to EPT Grand Final Main Event April 27
€10,000 + €600 EPT Grand Final Main Event April 28-May 3
€500 + €50 Super Sat to EPT Grand Final Main Event Day 1b April 28
€550 + €50 Super Sat to High Roller Satellite April 28 + 29
€500 + €50 Pot Limit Omaha - Unlimited Rebuys April 29
€550 + €50 Super Sat to High Roller Satellite April 28 + 29
€5,000 + €250 No Limit Hold'em freezeout April 30 + May 1
€2,500 + €200 Super Satellite to High Roller April 30
€25,000 + €500 European High Roller Championship May 1, 2 + 3
€2,000 + €150 No Limit Hold'em freezeout May 1 + 2
€1,000 + €100 No Limit Hold'em freezeout May 2 + 3
€5,000 + €250 European Pot Limit Omaha Championship May 2 + 3
€500 + €50 No Limit Hold'em freezeout May 3
€500 + €50 Super Satellite to Any PokerStars Tour - Unlimited Rebuys May 2
$100 - unlimited Battleship tournaments Daily
€200 - unlimited Cash SNGs Daily
Winner of Sky Poker Christmas Tikay Giveaway Hosts Home Poker Game to Remember
Paul Hopkins from West Sussex was treated to a special Sky Poker Home Game with Tony 'Tikay' Kendall this week. Paul beat 700 players to win the Sky Poker Christmas tikay Giveaway tournament back in December, and last week he 'received' his prize, in the form of a visit from the Sky Poker analyst for a home poker tournament to remember.
The Giveaway is now an annual fixture on Sky Poker and in addition to the visit from the great man himself, Paul was also treated to a goody bag containing a Sky Poker table, poker chips and a host of other merchandise.
Tikay said, "We had a tremendously fun evening with Paul and his mates who joined us at his home, with the game going on for about five hours well into the night."
Paul, aka the Bombardier said, "Aside from tikay busting me out of my own home game - when I was miles ahead - the evening was great fun. I'm really grateful to Sky Poker and tikay!"