Jerome Bradpiece on Top in Walsall, London Poker Masters Next Week + more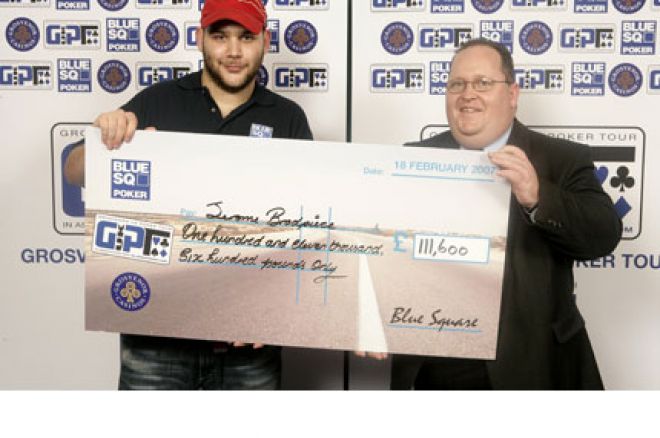 Bradpiece leads the way in Walsall
Day 1a of the Grosvenor UK Poker Tour Walsall main event is over, and the survivors look like a whose who of UK Poker, with a lot of GUKPT success stories leading the pack. Jerome Bradpiece, who won this leg in season 1 and has took down 3 GUKPT side events since is the overall chip leader with 86,050. World heads up runner up Dan Carter is just behind him, with GUKPT final table makers Nick Gibson, James Akenhead and Martyn Cavanagh near the top, as well as GUKPT Cardiff winner Michael Greco. EPT champion and multiple GUKPT final table star Andreas Hoivold is also still in the mix.
Over 185 players signed up; with a similar amount expected today it will be one of the biggest GUKPT main events of the year, the top ten from day 1a look like this, courtesy of Blue Square:
Jerome Bradpiece - 86050
Daniel Carter - 78500
Nicholas Gibson - 72375
James Akenhead - 72275
Joseph Grech - 67750
Martyn Cavanagh - 63475
Arjanit Kondaj - 57300
Michael Greco - 54475
Robert Price - 54150
Jeff Hemmerman - 47800
Live Poker Revenue up at Grosvenor Casinos
While we are on the subject of bustling fields at the Grosvenor UK Poker Tour, the Grosvenor chain has reported revenue was up 34% to £5.1 million in 2008, from £3.8 million in 2007. Rank plc, the owners of Blue Square and Grosvenor also reported that online poker grew 5.7% to £39 million in 2008, from £36.9 million on the previous year.
This is another piece of news that would suggest, like many are saying, that poker is recession proof in the UK. Many expected live poker revenues to go down ad people venture onto the online felt more in these tough economic times, that doesn't appear to be the case. The GUKPT are selling out all of their side events and the main events are remaining very busy too. This is not only a testament to the thirst of the UK poker community but also to the superb work that Grosvenor and Blue Square on establishing the runaway success story that is the GUKPT.
London Poker Masters starts Next Week
We are full of live poker news this week, as the first major festival at the new International Club in London begins. The London Poker Masters is being held between the 2nd and the 8th of March at the International Club at 53-55 East Road, London, N1 6AH. The festival starts as most do, with a satellite to the main event each and every day, but Tuesday gets interesting with a rare HORSE event in the UK. There is also a juicy looking £200 PLO Double Chance event as well as the £500 No Limit Main Event:
Mon 2 Mar at 8.00 pm
£ 30 SupersatelliteRebuys and add-on available.
Tue 3 Mar at 7.00 pm
£ 200 H.O.R.S.E.
Tue 3 Mar at 8.00 pm
£ 30 SupersatelliteRebuys and add-on available.
Wed 4 Mar at 8.00 pm
£ 250 No Limit Hold'em
Thu 5 Mar at 8.00 pm
£ 150 No Limit Hold'em
Fri 6 Mar at 11.00 am
£ 30 SupersatelliteRebuys and add-on available.
Fri 6 Mar at 8.00 pm
£ 200 Pot Limit OmahaDouble Chance.
Sat 7 Mar at 4.00 pm
£ 500 No Limit Hold'em - Main Event
Sun 8 Mar at 3.00 pm
Main Event - Day 2
Sun 8 Mar at 8.00 pm
£ 50 No Limit Hold'em