WSOP 2009 Schedule Released, New Sky Poker Show and Beat Victor Chandler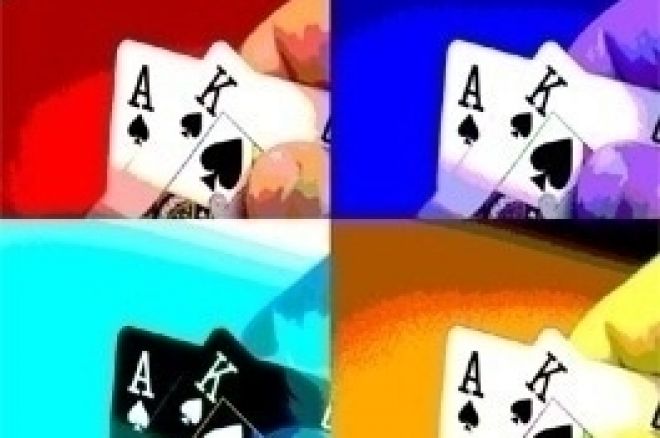 European Championships of STTs on Purple Lounge
We spotted a fantastic looking event later on this year that is truly unique. Tallinn, Estonia is the venue for the European Championships of Single Table Tournaments. You can win an exclusive package to this event at Purple Lounge Poker worth €4000 and book the weekend of March the 20th free if you do.
Unlike traditional tournaments, players will play a number of single table tournaments and get league points based on their finishing positions. The top 18 after 4 rounds will progress to a two table freezeout for the €120,000 prize pool. There will also be a €550 side event, a €110 blackjack tournament and lots of partying in what is fast becoming the best place in Europe for a weekend jolly.
It's about time that SNG experts got some recognition and had a live tournament of their own and this event looks both great fun and awesome value. You can qualify exclusively at Purple Lounge Poker who are currently giving out a $1000 sign up bonus too.
Beat Victor Chandler for $100,000
UK Bookmaking legend Victor Chandler is set to give players at VC Poker a big payout for getting the better of him at the SNG tables over the next 10 weeks. There is over $100,000 in prizes and ten trips to Spain on offer, which ends with the ultimate prize of playing Victor heads up live for $50,000.
There are four individual challenges to get you there, including a weekly SNG leader board which feeds directly to weekly finals and eventually the live final in Spain. For more information on this awesome value event, go to VC Poker.
$2.5 Million Guaranteed on Titan Poker
Talking about great value, Titan Poker are once again venturing into the world of multi million guaranteed tournaments, with a $2.5 million guaranteed event on March the 8th. You can buy in for $1,500+$80 or qualify in a huge number of ways between now and then including sit and goes, daily feeders and weekly direct satellites – all starting as little as $1.20.
What makes these events awesome value is firstly because the event is crammed with satellite winners, meaning plenty of soft spots at the table. They also often have massive overlays where they don't meet the guarantee, meaning all that extra money for less than expected competition for anyone that cashes.
In Poker on Sky Poker
We were pleased to see the imaginatively titled 'In-Poker' is once again on our screens on Sky Poker. The poker magazine show presented by Tony 'Tikay' Kendall and Dave 'Compo' Compton follows the UK circuit and brings you all the news and gossip going on at the felt. We all sorely missed Poker Week which is very much the earlier incarnation of In Poker and this surely plugs a much needed gap in the TV poker market. You can see this week's show following the boys round the GUKPT Brighton and the next stop on the tour is the Sky Poker UK Tour in Edinburgh.
WSOP Schedule Released
It took much longer than normal for the 2009 World Series of Poker Schedule to come out, but ESPN have just released the full line up. First of all, it seems like the final table delay will become a permanent fixture after television ratings went through the roof over previous years in 2008. The main event looks set to start on July 3rd and finishes on November 10th (With a 4 month delay in between of course).
As previously speculated, rebuy events will no longer be in the series as organisers were concerned pros could 'buy a bracelet'. However, there looks like being 57 events this year, up from 55 last year. Finally, there looks set to be a staggering $40,000 no limit hold'em event at the start of the series to commemorate the 40th WSOP, which could steal the show this summer.
Event Number Date, Time Tournament Buy-in
1 May 27, noon Casino Employees Event no-limit hold 'em (two-day event) $500
2 May 28, noon 40th annual no-limit hold 'em (four-day event) $40,000
3 May 29, noon Omaha high-low split eight or better (three-day event) $1,500
4 May 30, noon No-limit hold 'em (four-day event) $1,000
5 June 1, noon Pot-limit Omaha (three-day event) $1,500
6 June 1, 5 p.m. World Championship seven-card stud (three-day event) $10,000
7 June 2, noon No-limit hold 'em (three-day event) $1,500
8 June 2, 5 p.m. 2-7 draw lowball (three-day event) $2,500
9 June 3, noon Six-handed no-limit hold 'em (three-day event) $1,500
10 June 3, 5 p.m. Pot-limit Omaha/hold 'em (three-day event) $2,500
11 June 4, noon No-limit hold 'em (three-day event) $2,000
12 June 4, 5 p.m. World Championship mixed event (three-day event) $10,000
13 June 5, noon No-limit hold 'em (three-day event) $2,500
14 June 5, 5 p.m. Six-handed limit hold 'em (three-day event) $2,500
15 June 6, noon No-limit hold 'em (three-day event) $5,000
16 June 6, 5 p.m. Seven-card stud (three day-event) $1,500
17 June 7, noon Ladies no-limit World Championship (three day-event) $1,000
18 June 7, 5 p.m. World Championship Omaha high-low split (three day-event) $10,000
19 June 8, noon Six-handed no-limit hold 'em $2,500
20 June 9, noon Pot-limit hold 'em $1,500
21 June 9, 5 p.m. HORSE (three-day event) $3,000
22 June 10, noon No-limit hold 'em shootout (three-day event) $1,500
23 June 10, 5 p.m. World Championship 2-7 draw lowball (three-day event) $10,000
24 June 11, noon No-limit hold 'em (three-day event) $1,500
25 June 11, 5 p.m. Omaha/seven-card stud high-low $2,500
26 June 12, noon Limit hold 'em $1,500
27 June 12, 5 p.m. Pot-limit Omaha high-low split $5,000
28 June 13, noon No-limit hold 'em (three-day event) $1,500
29 June 13, 5 p.m. World Championship heads-up (three-day event) $10,000
30 June 14, noon Pot-limit Omaha (three-day event) $2,500
31 June 14, 5 p.m. HORSE (three-day event) $1,500
32 June 15, noon No-limit hold 'em (three-day event) $2,000
33 June 15, 5 p.m. World Championship limit hold 'em (three-day event) $10,000
34 June 16, noon No-limit hold 'em (three-day event) $1,500
35 June 17, noon Pot-limit Omaha (three-day event) $5,000
36 June 18, noon No-limit hold 'em (three-day event) $2,000
37 June 18, 5 p.m. World Championship seven-card stud high-low split (three-day event) $10,000 TBA
38 June 19, noon Limit hold 'em $2,000
39 June 20, noon No-limit hold 'em (three-day event) $1,500
40 June 20, 5 p.m. World Championship pot-limit Omaha (three-day event) $10,000
41 June 21, noon No-limit hold 'em shootout (three-day event) $5,000
42 June 21 , 5 p.m. Mixed event (three-day event) $2,500
43 June 22, noon Seniors World Championship (three-day event) $1,000
44 June 22, 5 p.m. Razz (three-day event) $2,500
45 June 23, noon World Championship pot-limit hold 'em (three-day event) $10,000
46 June 23, 5 p.m. Omaha high-low split $2,500 TBA
47 June 24, noon Mixed hold 'em (limit/no-limit, three-day event) $2,500
48 June 25, noon Pot-limit Omaha high-low split (three-day event) $1,500
49 June 26, noon World Championship HORSE (five-day event) $50,000
50 June 26, 5 p.m. Limit hold 'em shootout (three-day event) $1,500
51 June 27, noon No-limit hold 'em (three-day event) $1,500
52 June 28, noon Triple chance no-limit hold 'em (three-day event) $3,000 TBA
53 June 28, 5 p.m. Seven-card stud high-low (three-day event) $1,500
54 June 29, noon No-limit hold 'em (three-day event) $1,500
55 June 29, 5 p.m. 2-7 triple draw lowball (three-day event) $2,500
56 June 30, noon Six-handed no-limit hold 'em (three-day event) $5,000
57 July 3 — July 15 No-limit hold 'em main event $10,000