Willie Tann - UK Legends of Poker: Willie Tann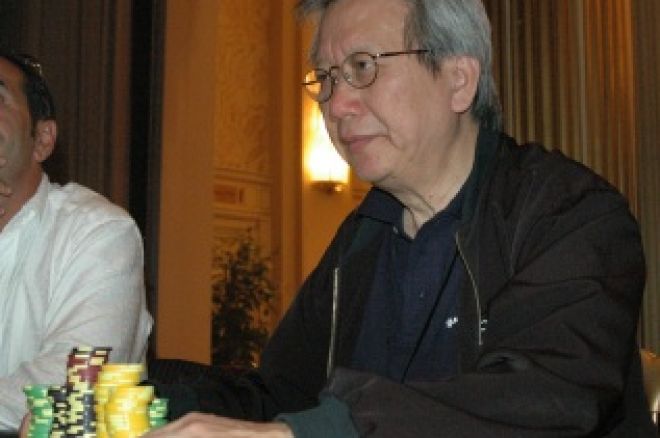 Unfortunately so far our UK Legend series has been short of bracelets, but that isn't the case with this next man. Willie Tann has been a regular face on the UK and European Circuit for as long as most can remember, hence a selection of nicknames, including 'The Dice Man', 'The Governor' and 'Mister Miyagi'.
Tann came to England from Singapore in the 1960s to study Law. He started winning money from all his friends in home games and decided to take his game to the casinos of London. Realising he could make more money playing poker than pursuing a career in law, he promptly dropped out of law school and became a poker pro. Law was clearly something the Tann name has a knack at, as his son is now a lawyer.
Like many UK Legends, Tann made an appearance on the hit show Late Night Poker. He gets his 'Mr Miyagi' nickname after successfully mentoring a number of successful players. This included guiding Zac Goldsmith, the editor of The Ecologist magazine, to a third place finish in the 2004 Poker Million.
A feared player on any table, Tann has numerous titles to his name including the 2004 Grosvenor UK Open and events in the Paris Open and Irish Winter Festival. His greatest accolade was to come in the 2005 World Series of Poker, when he bested 758 players to win the $1000 No Limit Hold'em event for $188,000. This was his second shot at a WSOP final table and he also went very deep in the main event a few years ago, finishing 77th.
He is still racking up result after result, having made final tables in EPT, GBPT, Asian Poker Classic and Aussie Millions events in the last two years. He is also a feared Omaha and Seven Card Stud player and a regular at the cash tables at the Vic when he isn't on the circuit.
His other nickname, 'Dice Man', comes from his well known weakness for other forms of gambling. His fondness for the craps tables has put a considerable dent in his $1,300,000 in tournament winnings and he is rarely seen without a copy of the racing post by his side. Stories of him being a reckless gambler are, however, exaggerated and he is actually a family man at heart.
I've had the pleasure of playing against Willie and I can honestly say that he is the one player that truly destroyed me at the table. He can spot and pounce on weakness like the proverbial shark smelling blood. His ruthless aggression at the table is surely the reason for his success, cultivated way before everybody and their dog knew that bullies did well at poker.
Away from the table he is a humble and jolly man, one with plenty of friends and well wishers at every event he plays. For his bracelet win and nearly 40 years of consistent success at the tables, Willie Tann is truly a legend of UK poker.