Stoledog Wins New Years Sunday Million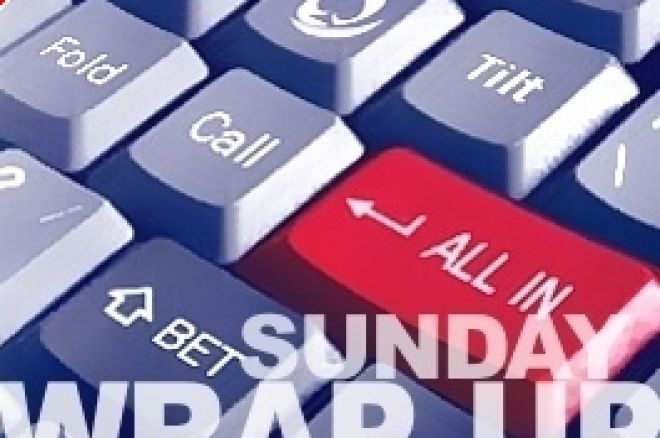 Most of us were still recovering from our NYE escapades, (some of us still are!!) But for some people the New Year started off by winning a poker game and a nice juicy wedge of cash. Who cares if Woolworths has shut down when you've just won the Sunday Million? The tourneys smashed their guarantees this week, thousands of players from all over the world signed up for the thrill of the game and the mammoth prize pools.
Sunday Warm Up – PokerStars
4103 entrants paid $200 + $15 to take a seat in the first Sunday Warm-Up of 2009, raising the GTD prize pool of $750k to a mouth watering $829,600.
The tournament took less than 9 hours with the final table players eventually lining up when aabas hit the cyber rail, out in 10th with $4,103 for his effort.
Stacks were pretty even going into final table action with luetch1 holding the only notable advantage with 10m, almost twice as many chips as the 2nd placed player. The short stacker was warty31 with just shy of 700k but they wouldn't be the first victim.
That unwanted status would go to Drago0906. It started on the 2nd hand when warty31 doubled off Drago's back going all in with


from what might have seemed like an obvious raising position. Drago called from the big blind with


and had plenty of chance to win the pot when the flop landed



. The turn and river hit the cyber felt


and that was enough to put Drago in an uncomfortable position.
Play continued for some time before it finally got to the final 4 players. luetch1 won a big hand with pocket queens vs. the pocket 8's of LOGIST_14 almost clearing him of all his chips and taking his own stack to over 23m. It didn't take long for LOGIST_14 to dump the small amount he had left and he was gone in 5th place.
A few hands played out with 4 players before buller00 doubled their short stack of 3m with


all-in pre flop only to be called with


. The flop rolled out



giving buller00 the open ended straight draw and sure enough, the out appeared on the turn

.
The next notable hand was huge...
Rbeckwith was on the button and pushed his short stack of 2.6m all-in, only to be called by both luetch1 and IW1LLH1TN0Ts. The flop unfolded



and luetch1 took the initiative betting out 5.1m. IW1LLH1TN0Ts went all in and it was only another 3.4m for luetch1 to call into a pot of over 21m, so they did. The cards were on their backs. IW1LLH1TN0Ts was in front holding top pair with


but luetch1 had some far fetched outs to take the entire pot with


. Rbeckwith also had a couple of outs to stay in the game with


but it wasn't looking good. The turn hit and it was another heart

, could luetch1 really hit the backdoor flush? The answer was YES. The turn hit

and I can only imagine the phrases flowing from IW1LLH1TN0Ts mouth when that one rolled out. Ouch.
I'm sure buller00 couldn't believe his luck when the players to both his left and right exited the game in 3rd and 4th leaving them heads up with a minimum cash of almost $74k.
Heads up stacks couldn't be more contrasted with luetch1 holding just over 35m to buller00's 6m. A veritable poker mountain! But buller00 was amazingly confident of his heads up ability asking for an EVEN CHOP! Continuing to say that his final offer for an even deal would be when he had 16m in chips!
The deal breaker hand took place 5 minutes into the match when some pre flop raising took it to a flop of



buller00 had said it was his last chance before the hand had started and so right he was. The betting continued through the hand with the turn falling

and the river

.
Buller00 eventually pushed all-in on 5th street and luetch1 called showing


but buller00 had it, just, out kicking him with


The pot was over 25m and luetch1 now only had 15m. The chat box lit up...
buller00: you were warned
buller00: I'll take a 100
buller00: give u the 5
Play went back and forth for a few minutes with stacks staying as they were. The final hand played out 12 minutes into the match when buller00 called a pre flop raise taking it to a flop of



. He checked it to luetch1 who bet out only to face a sandbag from buller. luetch1 called and the turn appeared

. Buller shoved and put luetch1 to a decision for the game. He considered for a moment, calling TIME before making the choice to call.
The cards were flipped. Buller00 had trip 6's with


and luetch1 was finished with no hopes holding


.
buller00: gg luetch
buller00: remember i warned ya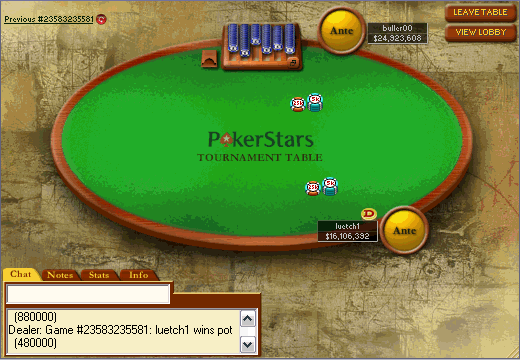 Final table results:
1: buller00 - $105857.40
2: luetch1 - $73854.00
3: IW1LLH1TN0Ts - $49236.00
4: rbeckwith - $41030.00
5: LOGIST_14 - $32824.00
6: frtk - $24618.00
7: SrixXxon - $16412.00
8: warty31 - $10257.50
9: Drago0906 - $6646.86
Sunday Million - PokerStars
This week's edition of the Sunday Million had an attractive first place prize of $205,966.88! That is cash well worth grinding through the knockouts for. 8504 entrants signed up this week with 1260 of getting a slice of dollar pie.
The prize pool needed no overlay standing at an impressive $1,700,800 with even 3rd place edging towards $100k! This is some game; I still can't believe it's held every week and who knows where the New Year will take us?
The tournament took its usual 11 hours with two of those being at the final table. Stoledog had the big stack at the start of final table play with jayveno hot on his tail.
Action was quick to start with the first player gone on the first hand. The short stacker, Fold Ü Phish, pushed all-in with


only to find jayveno calling with


. A board with plenty of low cards and no nines saw the first victim head to the rail with just under $12k for their effort, not a bad night's work!
Jay and stoledog were then neck and neck.
It didn't take much time for the next few players to ditch their chips and before I knew it there were only 4 players left.
This is the point where jayveno took a knock and lost a lot of chips. They found themselves all in with


against Prom Queens pocket kings and a lack of aces or spaces on the board crippled them. They put their last 1.2m chips in the middle with


. Stoledog had the chips to try and finish them off calling with


. The board rolled out





and jayveno was gone with $76,536 in their virtual back pocket.
And then there were 3. As is the custom the players made a deal with $30k for the winner and the following set prizes:
stoledog (40,017,372 chips) - $150,793.55
Prom Queens (35,701,174 chips) - $150,000
USA_20080920 (9,321,454 chips) - $108,182.93
USA_20080920 would find some cards early on in 3 handed play doubling from stoledog with pocket aces. This gave them enough to make it to heads up when Prom Queens found themselves all-in with


against the pocket queens of stoledog. The flop came with the

and that was it for Prom Queens with $150k for 3rd. I'm sure they were praising the deal, especially since they'd pushed for an extra 3k.
USA_20080920 had the edge in chips going into heads up but stoledog chipped away at their stack until it all kicked off on the final hand. USA re-raised stoledog taking it to the flop with the pot at 8m. The board rolled out



and a raising battle ensued. Both players were eventually all in with stoledog trailing with second pair showing


up against the top pair of USA_20080920. They more than deserved the extra $30k but the

on the river game stoledog 2 pair and that was that. Unlucky USA_20080920 but still, congratulations to both players!
Final table results:
1: stoledog - $205966.88
2: USA_20080920 - $138615.20
3: Prom Queens - $94394.40
4: jayvedo - $76536.00
5: bukithepro - $59528.00
6: simon1471 - $42520.00
7: The Midget - $29764.00
8: aceskay - $19559.20
9: Fold Ü Phish - $11905.60
$750k Guaranteed – FullTilt
Congratulations this week to 007Paghman who glided his way through the 3,908 entrants to walk away with the first place prize of $138,382.28. At only $216 to enter and a first place payout always over $100k this tournament is a great opportunity to make some serious cash.
29 of FullTilt's finest pro players were in the game, giving players 29 chances to make an extra $200 in bounty money for each pro they knocked out. Jon Turner and Chip Jett were the last pro's standing, finishing 44th and 54th respectively.
Final table results:
1: 007Paghman -$138,382.28
2: WPChaser -$83,631.20
3: coach257 - $54,712
4: chickensalad - $43,144.32
5: BeNzitO85 - $32,358.24
6: king silas -$23,995.12
7: blackbeanbun - $17,976.80
8: knickadam55 - $14,068.80
9: GoleafsGoEh - $10,473.44
A happy and prosperous New Year to you all, from me and I will back same time next week.