Snookerfun wins Sunday Warm-Up again! Second win for Snookerfun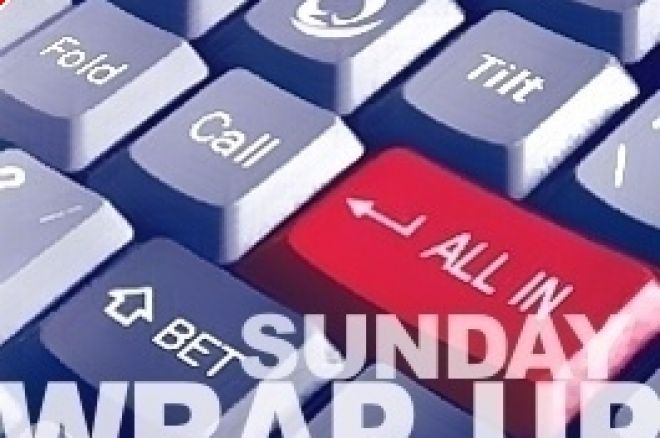 Snookerfun has done it again!! It was only a few weeks ago that I was bringing you the news of Snookerfun winning the Sunday warm up and last night he took first place again and $112,642.80. I watched in awe as this obviously great player battled his way through thousands of other players, showing skill and class. These three huge games provided entertainment and insight, here is what happened.
About $100k every 2/3 months sounds like a pretty decent salary to me. That is how much Snookerfun has been making just from the Sunday warm up recently. Two first place finishes only a couple of months apart is pretty impressive form if you ask me.
4366 players entered the Sunday Warm Up this week creating a prize pool well over the $750k guarantee. It was at exactly 22:22ET that Snookerfun was crowned this week's winner.
Harima was the first player leaving the final table after getting into a raising battle with SexSeen they ended up all in preflop, cards were on their backs harima showed


vs. SexSeen's


. The flop



meant harima was winning with a pair of kings. Turn card

meant harima just needed to avoid an ace or ten on the river. River card, yes you guessed right

. Harima was sent packing in 9th place.
ToBeTheMan and Iteopepe88 were the two players out next, both sending all their chips too Snookerfun giving him a nice chip lead. 21aek21 was knocked out by J0hnny_Dr@m@ when J0hnny had him dominated preflop with


vs. the


of 21aek21, no tens or miracles hit the board and 21aek21 left the tournament in 6th place.
Spiderfrank a U.K player found himself in bad shape when he pushed all in over SexSeen's raise with


only to find himself up against


the board rolled out





. This spider had been well and truly squashed, but with $34,928.00 for his 5th place finish. Johnny_Dr@m@ and SexSeen were next out leaving Snookerfun and the relatively quiet emyjim to start their heads up battle.
One hand, this heads up match only lasted one hand! Snookerfun had nearly double the chips of emyjim so when they ended up all in first hand emyjim had to win to stay in the game. Snookerfun raised from the button and emyjim pushed all in. Snookerfun's cards revealed he was holding pocket tens and emyjim showed us


. The board was no help for emyjim sending him to the cyber rail in 2nd place. Leaving the first place prize once again Snookerfun, I'm sure this wont be the last time we see his name!
Final table results:
1: Snookerfun (Schneverdingen) - $112.642.80
2: emyjim (breda) -$78.588.00
3: SexSeen (San Francisco) - $52.392.00
4: J0hnny_Dr@m@ (Athens) - $43.660.00
5: spiderfrank (u.k) - $34.928.00
6: 21aek21 (limassol) - $26.196.00
7: Iteopepe88 (Budapest) - $17.464.00
8: ToBeTheMan (Athens) - $10.915.00
9: harima (Gwatt) - $7.072.92
Two U.K players were on the Sunday Million Final table Kris Merlot and PaperLamp, finishing 4th and 6th respectively. Exactly 8500 players entered last night's Sunday Million, creating a prize pool of $1.700.00 0.00. The game lasted just under 11hours. With 1260 places paid, a nice portion of players made some cash. But it is on the final table that the ridiculously huge amounts of money are made.
The first 3 players to hit the rail were all short stacks upon entering the final table. Rebel1100, Flamarion and LastChance11 all left pretty fast, each shipping their stacks to different remaining players, meaning the chips were nicely spread between the final 6.
Our winner jnic00 knocked out the next to players giving himself the set up he needed to win the game. U.K player Kris Merlot was next out pushing all in preflop with pocket tens only to be called by marmotte21 who showed pocket kings. No help from the board for Merlot who finished the game in 4th place for $76,500.
Jnic00 had a huge chip lead of over 10 million chips, so when the other two players called for an even chop deal his response of 'NO WAY' was more than understandable. A chip chop deal was finally reached with the usual $30k left behind for the winner; everyone was happy and play resumed.
Marmotte21 was next to meet his fate when he pushed all his chips over the line with


and was called by jnic00 who showed


. Although I'm sure I could hear marmotte21 praying to the poker gods, no luck came and he was out in 3rd place.
Heads Up last about half hour i_lv_beer really didn't want to give up his chips, making hard work for jnic00 who finally managed to get them when i_lv_beer risked them all. I_lv_beer pushed all his chips in pre flop with


– jnic00 took this opportunity, calling with


. Flop



was no help for the beer lover and neither were the turn and river cards


. I_lv_beer finished the game in 2nd place for $138.550.00, plenty of cash to buy a few pints with! Congratulations to jnic00 who has this week's Sunday Million crown.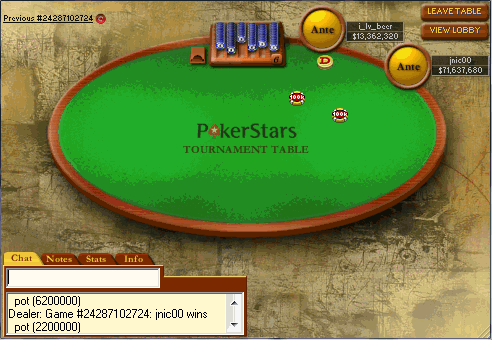 Final table results:
1: jnic00 (Quebec) - $205.870.00
2: i_lv_beer (novi) - $138.550.00
3: marmotte21 (Evry) - $94.350.00
4: Kris Merlot (Birmingham) - $76.500.00
5: calytry (Vinaros) - $59.500.00
6: PaperLamp (Cambridge) - $42.500.00
7: LastChance11 (olosorbcity) - $29.750.00
8: Flamarion (Göteborg) - $19.550.00
9: rebel1100 (Adelaide) - $11.900.00
$750k Guaranteed – FullTilt
3866 players showed up to play the $750k guaranteed on FullTilt this week. The prize pool stood at $773,200k obviously needing no overlay from FullTilt. 34FullTilt pro's entered this game, giving players 34 extra chances to make some bounty money.
Jordan Morgan was the FullTilt pro to get the furthest making it past 38643 players who were all baying for his blood to finish in a very decent 3rd place for $54,124k. Jordan Morgan has made over $1m in career earning and had 8 WSOP cash finishes including 2 final tables, this guy sure knows what he is doing.
Not phased by all the pro's though was dusnguyen who fought his way through the masses, taking every single tournament chip along the way. Dusnguyen is the winner of this week's $750k guaranteed tourney on FullTilt, taking the pride and the cash for his efforts.
Final table results:
1: dusnguyen - $136,895.06
2: NeverScaredB - $82,732.40
3: Jordan Morgan - $54,124
4: farid1221x - $42,680.64
5: hattrick8810 - $32,010.48
6: nickdawgg - $23,737.24
7: TigBitties2 -$17,783.60
8: cashqueen88 - $13,917.60
9: Bluedog428 - $10,360.88
Snookerfun is yet another player to prove that poker is a game of skill and with some strategy studying and good intuition; it could be any of us on those final tables.