Sky Poker £20,000 Bounty Tournaments + more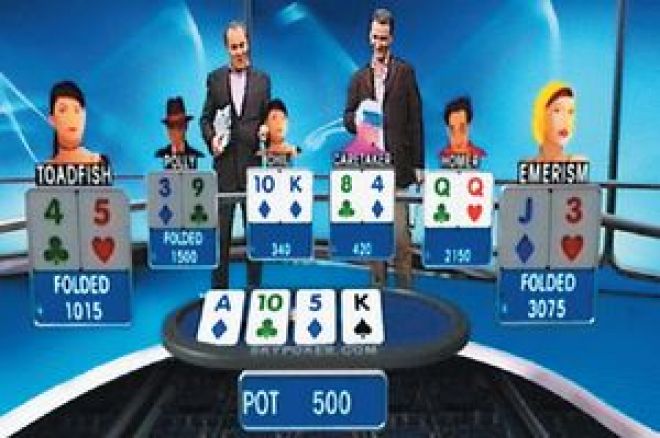 Sky Poker Launches Bounty Hunter Tournament Bonanza
Sky Poker have always been prepared to do something a little different as well as providing some of the most fun tournaments to participate in. Now the fully interactive TV poker channel and card room are launching a new style bounty tournament. All players are bounty players in a massive monthly £20k tournament – the biggest televised tournament of its kind in the UK.
The monthly £55 event will debut at 9.00 pm on Friday 27th February with 700 seats available. There will be daily on-going satellites from £2.65 are now open in the Sky Poker lobby. The winners of these are eligible for the satellite semi-finals each night at 9:45pm.
The concept is that part of the prize pool will go into a bounty fund, and every time you bust a player you win a bounty. What makes this a little different is that the amount you win from a player is entirely dependent on their standing in the event. If it's early, you win a small amount, but if it's deep and this player has been busting players left right and centre, then the bounty will be very high indeed.
"This is a really exciting development for Sky Poker," said Emma Crowe, head of marketing for Sky Poker. "We have an incredible community that love to play against each other, either online or on Sky Channel 865. These new televised tournaments will add even more excitement for our players as they battle it out to win the big prize."
We think the best strategy to adopt is to forget about the scalps for the first few hours of the tournament while survival is more important than winning a nominal amount in bounties. When the event reaches the latter stages, be aware that a lot of players will be gunning for your bounty so start to value bet your big hands strongly, because you are much more likely to get called down light as they smell blood. Most of all, always keep an eye on the first prize in the lobby because this is always going to be the biggest bounty of all and it's not necessarily worth risking your tournament life to claim a smaller scalp.
Charity Tournament added to European Deepstack Championships
To once again prove that poker players are not just a bunch of greedy sharks, a special charity tournament is being added to the European Deepstack Poker Championships in Dublin. The Charity is Poker for the Homeless which is run by Padraig Parkinson and Eamon Connolly and will be a €50+€10 PLO rebuy event, with 10% of the prize pool and all the registration fee being donated to the good cause. There have previously been similar charity events for the Irish Poker Championships and EPT Dublin, this event is at 1pm on Sunday the 8th.
$100,000 PKR Masters Tournament
Virtual reality poker room PKR continue to get bigger and bigger, which includes a staggering $100,000 gauranteed event this Saturday. The PKR Masters will guarantee at least $25,000 for the eventual winner and this new event will take place on the last Saturday of every month. You can buy in direct to the $250 MTT or qualifier via $27 SNGs or a number of daily MTTs for as little as $0.52.
Even if you don't win the PKR Masters, you can be quids in at PKR, the world's fastest growing poker room, with an exclusive $2000 Pokernews sign up bonus.