Careful What You Say: A Controversial Ruling @ GUKPT Brighton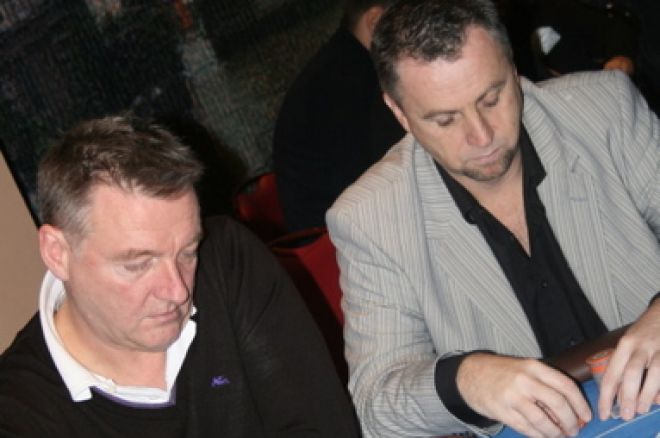 I've been in Brighton for the past few days watching the GUKPT tournament and playing a few of the side events and cash games.
Day 2 of the GUKPT and we're down to the last 2 tables and bubble time. A very interesting hand occurred whilst I was in the middle of playing the £250 freeze out. The important thing to remember is that all throughout this tournament there has been great banter with the players.
A hand occurred between Ian Frazer and Priyan De Mel which caused a bit of a riot. I got to the scene about 20mins after it had happened but it was still being talked about. Priyan and Frazer were involved in a hand, the flop and the turn had been played and the river card had just been dealt. Frazer picked up a stack of chips and at the same time so did Priyan. Priyan announced "I got to call". Frazer turned to the dealer and asked if that remark stood. Iwan Jones was at the table and was simultaneously talking about another person being pulled up for exactly the same thing the day previous and the bet was forced into the pot. The dealer thought that the bet stood but wasn't too sure and so a floor was called to speed the game up.
The floor announced that indeed the bet would stand. Now here is where I think it's a little of a grey area. At no point was any amount of a bet mentioned, it was just 2 guys slightly heated and full of testosterone. Sure they had picked up a stack of chips but none had crossed over the line. Frazer over bet the pot at 37000 chips and Priyan was forced to call and Frazer won the pot.
The major debate is this ruling, which was taken directly from the GUKPT website
rule 44 Verbal declarations in turn are binding, verbal declarations out of turn will be binding if the action to that player has not changed when it is their turn to act, check, call or fold is not considered an action change.
This is a rule which myself along with quite a few poker players all agreed that this rule needs to be changed.
Poker is a game where table talk and banter is used constantly along with poker skills and psychology and to enforce a bet (which was out of turn) is wrong. If chips had crossed the line then I agree the ruling is fine. If an amount of a bet had been said then the ruling is fine, but in this instant I believe that this rule was very ambiguous and extremely open to interpretation from all players.
Every card room has different versions of rules. Some are more available to players, but it does seem even more now that it is about time that the Gaming Board enforces every casino that runs poker games to run the same sets of rules for poker. If they got a team of well respected Tournament Directors to check each ruling in the hand book before every casino runs the same rules then it wouldn't go far wrong.
How would you like your whole tournament life being dangled because you said "I have to call (out of turn)"???
I'll open up a debate on our PokerNews UK forum for our readers to talk about it. All comments will be greatly received and will be passed over on email to Jonathan Raab who is Tour Manager and Press Officer for Blue Square.
Our congratulations go to Jonathan for his recent win at the poker awards.
2009 is the third year for the UK's largest poker tour. Blue Square and Grosvenor/G casinos are adding £150,000 in added value this year.
Mel Lofthouse