aligator67 snaps up Pokerstars sunday warm up: aligator67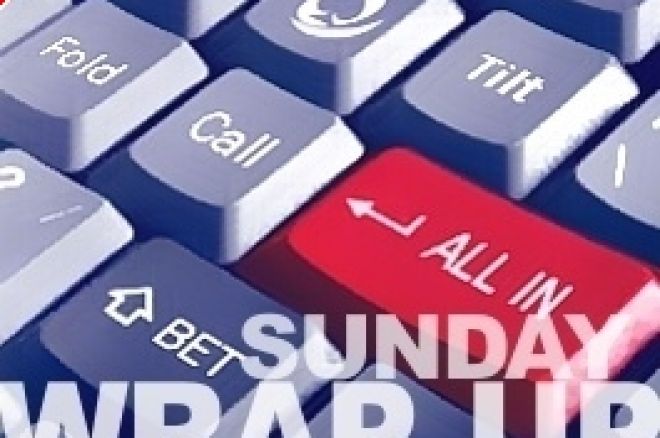 2009 is looking like it's going to be massive in the poker world; the games are continuing to grow and the prize pools are getting bigger all the time. The year has already started with success for 'aligator67', 'livlikunger' and '45 ACP Fanatic' who all won big this weekend. This is how they did it.
Sunday Warm Up – PokerStars
At $200+15 this game costs the same to buy in as the Sunday Million, but with roughly half the players; making a much smaller field to beat to get your hands on the money. Add to that the early start time and you've got a great little tourney.
Aligator67 took down first place this week, earning himself $104,832.00. Final table action was fast paced with players hitting the rail left right and centre. Aligator67 battled his way through it until he finally made it to heads up.
Aligator67 took a deserved win after holding the chip lead through the heads up match using the all-in button regularly. He eventually dealt the final blow when he called tmmy2win's all-in with


vs. tmmy's


. The board made the ace count when it fell





and aligator67 won the Sunday Warm Up with ace high!
Congratulations to aligator67!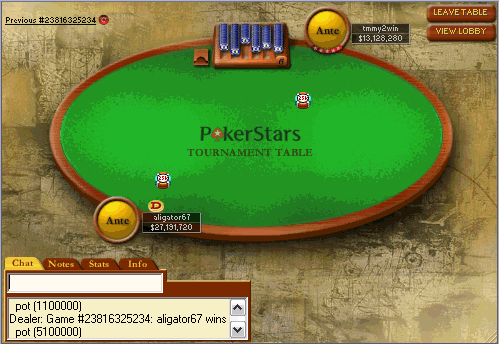 Final table results:
1: aligator67 - $104832.00
2: tmmy2win - $72576.00
3: davrow - $48384.00
4: JPette333 - $40320.00
5: BigRed0000 - $32256.00
6: ramon123456 - $24192.00
7: killbillyboy - $16128.00
8: Vienna Bundy - $10080.00
9: throwinphins - $6935.04
Sunday Million – PokerStars
First place prize was over $200k the result of 8268 players turning out to play the Million this week. The first player to exit from the final table was Mexxximum1, unfortunately losing with


, up against the


of chicokim. The board gave chicokim 2 pair and we were down to 8. Chicokim also knocked out 2 of the next 3 players and suddenly there was only five left. The first player to exit from the final table was Mexxximum1, unfortunately losing with


, up against the


of chicokim. The board gave chicokim 2 pair and we were down to 8.
Chicokim also knocked out 2 of the next 3 players and suddenly there was only five left. 5 handed play lasted for some time, 40 minutes in fact until it was chicokim himself that was hitting the rail. U_TILT_ME had moved all-in with


and chicokim had called with


. The board was a disaster for chicokim rolling out with 3 clubs giving U_TILT_ME a flush. This put him in the chip lead holding just over 32m followed closely by dxu05 with almost 29m.
Minutes later U_TILT_ME lost a lot of his chips finding himself with


all-in against livelikunger who had


. The board rolled out





and the chips slid in livelikunger's direction. This sent U_TILT_ME into all-in mode eventually finding


and a call from livelikunger who held


. The flop came Ace high though and livelikunger was now a massive chip leader going into 3 handed play. Kappe85 only had 3m left too and it was the hand after that he moved in with rags and made his exit
Heads up starting stacks:
livelikunger: 53, 34,800
dxu05: 29,045,200
A deal was discussed and an extra $30k was left aside for the winner, play continued. livelikunger took a chunk of dxu05's chips in the first few hands with


when they hit a river boat on a board of





.
The next big hand was the last, after just five minutes of Heads up play. Dxu05 pushed in his now short stack with


and was called by livelikunger with


.
The Ace high held up and the extra $30k went to livelikunger. Congratulations.
Final table results:
1: livelikunger - $200250.96
2: dxu05 - $134768.40
3: Kappe85 - $91774.80
4: U_TILT_ME - $74412.00
5: chicokim - $57876.00
6: g0lfa - $41340.00
7: Sir_winalot9 - $28938.00
8: Tophandler - $19016.40
9: Mexxximum1 - $11575.20
$750k Guaranteed – FullTilt
3736 players paid $200 +16 to play in this week's $750k guaranteed on full tilt poker. The first few players were gone in the blink of an eye from the final table this week. First to disappear was K7MA who didn't hit with


vs. the


of 45 ACP Fanatic. The hand after another player was hitting the rail again with AQ off hand by highlandfox vs. the pocket fives of timhorr. No pair for the high cards and there were 7 left. Then it was spady 007's turn to leave when their short stack all-in with


got shut down by frickafricka with


. An ace high flop and that was that.
The remaining battled for some time until WSOP Legend who'd made quite a come back continued to build chips with pocket jacks when he finished off frickafricka's


taking his few remaining chips when the board fell with no ace. Then there were 5.
Joeyv1234 was the next player out pushing his short stack with


from the button and getting two callers. One of which was WSOP Legend who held pocket fours. The turn card came

and the Legends stack was a little bigger.
It looked as if deadhedaap would be gone next but a double from timhorr's stack put them in a much better position. The next player out was in fact WSOP Legend who moved all-in preflop with pocket tens getting called by timhorr with


. Another ace high flop to crack a pocket pair and there were 3 left.
Play continued on for 30 minutes with 3 players left dedhedaap took a few chips and started to build a stack until 45 ACP Fanatic took them away. 45 ACP Fanatic totally commanded 3 handed play to the point where chip stacks had ended up looking like this...
45 ACP Fanatic: 9,887,862
timhorr: 703,354
dedhedaap: 616,784
The two short stackers went out of the game in two consecutive hands, firstly when timhorr made the move with


. 45 ACP Fanatic called with


hitting two pair on the turn and sending timhorr away with 3rd place prize money. The hand after saw dedhedaap all in with


vs. 45 ACP Fanatic's


. Dedhedaap had two pair on the flop when it rolled out



but the

on the river cancelled out the pair of ducks and the kicker played giving 45 ACP Fanatic a well deserved win.
Final table results:
1: 45 ACP Fanatic - $132,787.50
2: dedhedaap - $80,250
3: timhorr - $52,500
4: WSOP Legend - $41,400
5: Joeyv1234 - $31,050
6: frickafricka - $23,025
7: spady 007 - $17,500
8: highlandfox - $13,500
9: K7MA - $10,050
Congratulations to the success of this week's winner, who know what next week will bring. I can't wait to find out!