European Deepstack Poker Championships Preview: Interview with Mike Lacey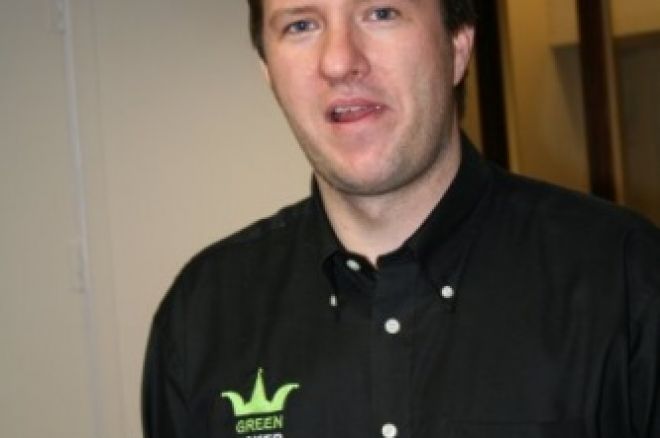 More than the WSOP Main Event, there was one tournament this year I was planning on winning a seat to/getting sponsored/buying in direct/begging or robbing my way to, and that was the European Deepstack Championships in Dublin. I played in the previous incarnation of this event, the Green Joker Poker Festival which my good friend Jen Mason won. The event had a 15,000 starting stack and no running antes, which at the time seemed amazing. I'm glad to say I won my seat online and now I am looking forward to playing with an amazing 50,000 starting stack with blinds at 25/50 to begin with – that's an amazing 1000 big blinds!
So I caught up with Mike Lacey, a well known player on the Irish circuit who is organising this event, to ask him what we can expect from such an amazing structure:
Barry Carter: Why 1000 big blinds? Is this the biggest starting stack in poker or have you seen bigger/equal?
Mike Lacey: I think that at 1000 big blinds it is the biggest staring stack around. I know the WPT Championship starts with 50,000 chips but I believe the levels start at 50/100. We have always tried to do things a little bit different and as soon as we decided on the Deepstack concept it was obvious to us that we had to have a starting stack that is way bigger than any ordinary tournament. Last year some players were wary of how it would play but after playing it the praise was unanimous.
BC: Last year ended in a 5 way chop, can you see it going this way again if there are still lots of chips in play on the last day?
ML: Last year ended in a chop for a few reasons. The first was that Dara O'Kearney had approximately half the chips in play meaning the 30 big blind average stack was a lot less once his stack was taken out of the equation. Also I think once Joe Beevers bust in 6th there was not anyone with a great deal of experience of playing poker for that kind of money and the sums they ended up getting were a big deal to them all.
BC: If it ended in a big chop again, would you consider changing the stack size a little, to maybe a 30,000 starting stack?
ML: Most Poker tournaments end up in chop whether you get to hear the details or not. Sometimes the structure makes a difference but I am sure that it did not in the case of this event. This is The European Deepstack Poker Championships and is a once a year thing so I firmly believe that keeping the starting stack so high is part of the attraction of the event.
BC: How much does a stack and structure like this amplify the skill element of the game/reduce the luck element?
ML: I think it should reduce the element of luck slightly but it does depend on the players. Aggressive players are still going to get in big pots without the nuts and we did see some massive pots in the early levels of last year's tournament. The first player was gone in 17 minutes in a 125,000 chip pot. The winner of that pot did not make day two! The deeper the stack the more amplified any mistakes become.
BC: Do you think this event suits the cash game players a little more than the tournament players, because of the deeper structure which they are arguably more used to?
ML: Live cash game players maybe where the stack sizes are often much larger in comparison to the blinds. I don't think online cash players will have a huge experience advantage early as effective stacks rarely get above 300 big blinds online. Once the tournament is a few hours in the average stack is going to be more like an online cash game so they may have an advantage then.
BC: Who can we expect to see in Dublin for the event? Any big names confirmed?
ML: As with last year it is proving very popular to the French players. We have around 40 of them confirmed already. Big names already confirmed include Joe Beevers, Surinder Sunar, Dave Colclough, Marc Goodwin, Julian Thew, Padraig Parkinson, Ian Frazer, Jon Kalmar, Michael Greco, Nicky Power, Stuart Rutter, Michel Abecassis and there are plenty more who are almost definite.
BC: You are also hosting a unique short handed festival this year, can you tell us more about that?
ML: The European Short-Handed Poker Championship will have a €1000+€100 main event and we are just finalising details of the venue. It will be a 20,000 starting stack event with a 1 hour clock. The venue will be a hotel in Dublin and full details will be announced before the Deepstack event. There will also be short-handed Omaha tournament and all the cash games at the event will be short-handed.
So if you want to experience what a real stack feels like, get yourself down to the €1500+€150 main event (Plus two deep stack side events) next week at the new venue of the Red Cow Hotel in Dublin between the 5th and 8th of February.