Rory Brennan wins Irish Poker Championships, Durrrr issues Million Dollar Challenge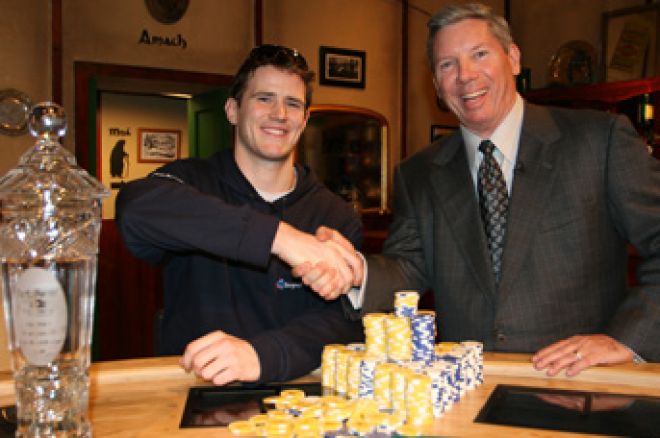 Rory Rees Brennan wins the 2009 Irish Poker Championship
The first major tournament of 2009, the Party Poker Irish Poker Championships, concluded last night in Galway. 255 people entered the €2,000 main event including Kenna James, Mike Sexton and Marty Smyth, but they all fell by the wayside as UK player Ben Vinson (Son of Alan Vinson) went into the final table as the chip leader, which included Irish poker star Rory Liffey, Polish Krzysztof Gwvszk and a number of Irish circuit players, including Rory Brennan.
You rarely see players hanging on to move up the money ladder in Ireland, and this event was no different, as the high octane final table saw Ben Vinson, Rory Brennan, David Poole and Chris Dowling all knocking lumps out of each other right from the get-go. Eventually Ben Vinson exited in third place for €55,000 leaving Rory Brennan to dispatch of Chris Dowling (€90,000) for the first title of the year and the massive €160,000 first prize.
Matt Cartwright wins DTD 3-2-1 Main Event
The monthly ranking 3-2-1 festival at Dusk Till Dawn made a tremendous statement last weekend, when it started the year with an attendance of 298 players for the £300 main event. That made an amazing £89,400 prize pool for such a modest buy-in and this has surely set the bar for what to expect from the Nottingham poker club in 2009 as well as sticking two fingers up to the very idea of a credit crunch affecting live poker. Lots of big names were in the field which included EPT Budapest champion William Fry making the money, but Matt Cartwright would be the one to defeat Sharbel Koumi heads up for the £15, 940 first prize (Which would have been a staggering £27,446 had the table not done a deal earlier in the night).
Durrrr issues Million Dollar Challenge
High stakes supremo Thomas 'durrrr' Dwan has kicked off the new year with a high stakes challenge to the nosebleed stake community. He has officially put the challenge out there to anyone who wants it that he will put up $1.5 million to their $500,000 that he can beat them at the cash tables over a minimum of 50,000 hands. The rules state that they will have to play 4 simultaneous tables of heads up at the minimum of the $200/$400 level (PLO and No Limit Hold'em) and whomever is up by at least $1 after rake will scoop the wager. He clarified the prop bet on a recent forum post:
[I]"1) 200-400min (nl/plo obv)
2) can change tables anytime eff stacks are >250bb
3) have to reload when stacks are