Doyle Brunson Poker Legend - Doyle Brunson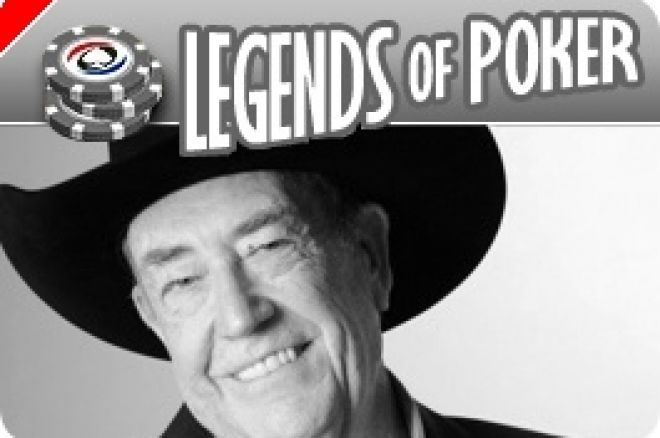 Doyle F. Brunson has been walking the earth for just about three quarters of a Century now. He was born on August 10th, 1933 in Longworth, a small town in the middle of Texas. The town has a population of just over one hundred people, which certainly influenced the youth of young Doyle. The son of a farmer regularly had to make trips to nearby towns, and seeing as means of transportation were not accessible to everyone those days, he would have to go the distance by foot. Doyle often returned from his trips earlier than expected, as it seemed like he had a natural talent for sports, especially for athletics and basketball. Doyle became very interested in basketball and even made it into the All-State Texas basketball team. During the off-season he would concentrate on athletics, and when he was 17 he won the 1 mile race at the 1950 Texas Interscholastic Track Meet with a time of 4:43.
Despite getting offers from many universities throughout the country, Doyle decided to go to Hardin-Simmons University, for the simple reason that it was closer to home. However, Doyle wasn't really that interested in studying and focussed mainly on his ambitions in sports. Signs were even pointing towards a promising basketball career for Doyle when the Minneapolis Lakers (before they moved to Los Angeles) where very interested in signing the young talent. Unfortunately for Doyle, he was involved in an accident during a summer job when he instinctively tried to stop a shifting load of sheetrock, which landed on his leg and broke it in 2 places. He was forced to wear a cast for 2 years, at the end of which he had given up all hope of a professional basketball career. As a result, he started to focus more on his studies, and by the age of 22 he received his Masters in Administrative Education.
His early poker years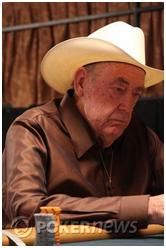 Just like many other American professional poker players, Doyle Brunson came into contact with poker for the first time during his years at university. While in the process of completing his bachelor in 1954 he played his first games of 5 Card Draw. It didn't take long before Doyle described the game as "easy", and he started to make so much money with it that it became his main source of income during his time at university. This source of income disappeared when he took a job as a machines salesman after he graduated from College. However, on his very first day at the job, he got invited to a game of Seven Card Stud. Doyle accepted, and after just 3 hours Doyle left the table with a whole months wages in his pockets. It didn't take long before Doyle realised he was making more money playing poker than he was with his regular job, so he decided to quit and focus on a full time poker career.
In his search for some good games, Doyle found some illegal underground games close to his home in Texas, which he attended with his friend Dwayne Hamilton. Doyle quickly turned into a real 'rounder' and was active in the biggest games in all of Texas, Louisiana and Oklahoma. During this time he met Thomas "Amarillo Slim' Preston and Sailor Roberts, and the three of them travelled together, looking for the best games, and they were all pretty successful. The only downside was that almost all the games were run by criminals who often had ties to organised crime in the south of the United States. It won't be surprising to hear, therefore, that things didn't always get solved in the nicest way during these games. According to some of the stories, Doyle once watched a man next to him get shot, and even Doyle himself was held at gunpoint before, not to mention all the times he was robbed and beaten up.
Overcoming the set backs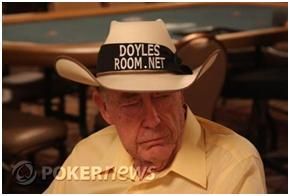 In the meantime, Brunson met his girlfriend Louise, and the two of them got married in 1962. Although everything was going great, it looked like the marriage wasn't going to last very long, as doctors discovered a tumour in Doyle's neck during that same year. The doctors gave Doyle very little chance to survive as the cancer had spread throughout most of his body. Doyle still chose to go for a very risky operation to try an extend his life, even if it was just to witness the birth of his first child. The operation was successful and as if by a miracle, the cancer had completely disappeared. Shortly after, his wife Louise was also diagnosed with cancer, but again the operation was successful and the cancer was beat.
Together with Preston and Roberts, Doyle decided it was time to get back on the road and test his luck in the poker world. The three of them played from one combined bankroll and started travelling ever increasing distances. The three men played poker, golf, and gambled on pretty much everything that was possible. Their first trip to Las Vegas was anything but successful, as they lost their entire 6-figure bankroll. They decided to no longer play as a team and go their own ways, while still remaining good friends. Brunson seemed least affected by this decision, and he decided to take his wife and his four kids and move to Nevada for good. The fact that poker was legal here offered the Brunsons more opportunities and more security.
Successes at the WSOP
Brunson's decision to move to Vegas and stick with poker would soon turn out to be the right one. He was making good money in cash games and together with his friends Preston and Roberts he took part in the very first World Series of Poker in 1970. He saw the popularity of poker increase and kept finding more ways to 'carry out' his profession. In 1976 Brunson celebrated his First success at the WSOP in form of a bracelet. He won the $5,000 Deuce to Seven Event, and it wouldn't take long before he would take down the Main Event of the Worlds most prestigious tournament series. With Thomas Preston (1972) and Sailor Roberts (1975) having won the Main Event already, it wasn't very surprising to see Doyle be the next in line. He secured his Main Event win in 1976 after beating Jesse Alto heads-up with


, winning round about $200K in the process.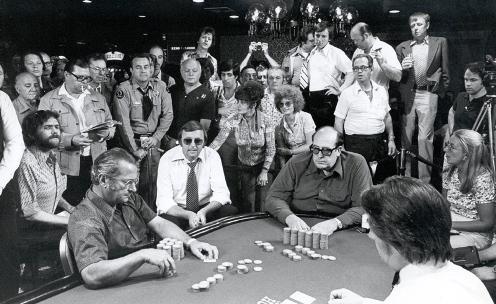 In 1977 Doyle managed to repeat his performance from the previous year. He first won the $1,000 Seven Card Stud Split Event before taking down the $10,000 Main Event for the second year in a row. This time it was Gary Berland who had to watch while Doyle again decided the final heads-up with


, again hitting a full house, and taking home $340,000 in prizemoney. Since this year the starting hand with a ten a deuce is still referred to as the Doyle Brunson. In the years to follow, the Texan managed to keep up his successful performances at the WSOP. In 1978 he won the $5,000 Seven Card Stud Event and one year later he took down the Mixed Doubles Event together with Starla Brodie. After his 6th bracelet things started to quiet down a bit in terms of more tournament wins, but that doesn't mean Doyle wasn't still active in the poker circuit. In 1980 he was close to writing a new chapter in poker history when he came to sit heads-up for a potential third WSOP Main Event bracelet, but it would be poker wunderkind Stu Unger who would end up winning the bracelet and walk away with the prizemoney. In 1982 and 1983 Doyle again managed to finish in the top 5 of the most important poker tournament in the world.
With the number of WSOP participants increasing from year to year, the chances for Doyle to win another bracelet were obviously shrinking. However, Doyle showed the world that he was able to compete with the new generation of poker players. The first time he did this was in 1991 when he took down the $2,500 No Limit Hold'em Event, winning about $200K. Seven years later he proved that he was also a master in close to all poker variations after winning a bracelet in the $1,500 Seven Card Razz Event. Not even the internet generation could stop Doyle's success. At the age of almost 70 he took down the $2,000 H.O.R.S.E Event in 2003. One year later he won the WPT Legends of Poker Event, not only securing him his largest prizemoney to date ($1.2 million), but also making him the first player to ever win a WSOP Main Event and a WPT Event. In 2005 Brunson secured his 10th WSOP bracelet after winning the $5,000 6-max No Limit Hold'em Event, which at that time put him in first place, together with Johnny Chan, who had just won his 10th bracelet a couple of days before. By now both have been overtaken by Phil Hellmuth Jr. who has 11 bracelets to his name.
Brunson in the media
Apart from being an active player, Doyle also made a great impact on poker away from the tables. In 1979 he became one of the first poker players to publish a book. Doyle Brunson's 'Super System' was written with the help of some of the top pros of that time and was considered to be the 'pokerbible' for years to come. Even today the book is still seen as one of the better books for beginning poker players, although some aspects are slightly outdated by now. As a result, Doyle brought out an updated version of his book in 2004, titled 'Super System II', but even some of the aspects in this new version are already out of date. The influence of Doyle Brunson on the poker world is, however, as respected as never before. Back in 1988 Brunson became a member of the Poker Hall of Fame, and in 2006 Bluff Magazine elected him as the most influential person in the poker world.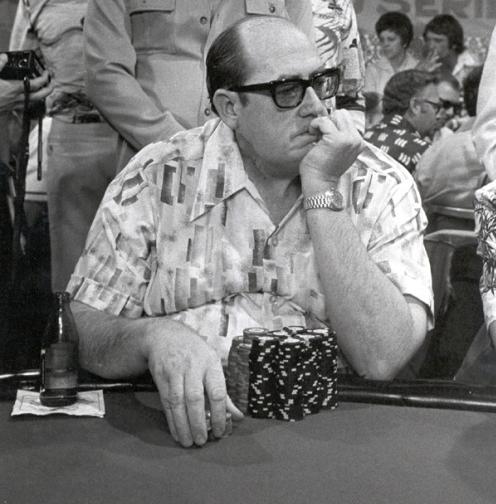 Apart from that, Doyle opened up his own poker room called DoylesRoom a couple of years ago. Although the room didn't turn into a great success, the room is still active today. Brunson himself is regularly active on the site if he isn't playing a live tournament or cash game at the time. The room even signed a couple of professional players to make the site more popular. Doyle himself can often be seen wearing the rooms logo on his cowboy hat and clothes. This guarantees him a lot of exposure, as he is a regular guest on poker shows like High Stakes Poker and Poker After Dark. Although Doyle would probably prefer to stick with cash games, I'm sure we'll regularly see him playing the big events, and who knows, maybe he can even win that 11th bracelet. Doyle has already said that this will be increasingly hard for him, as with his 75 years of age he is having a hard time to stay fit and concentrate for the duration of a whole tournament. Nonetheless, Doyle's popularity in the poker world will remain unsurpassed and the crowd will keep on cheering every time he enters or exits a tournament room.
Take a look at Doyle Brunson's crib:
{id:7}