Yankees31 scores home run in Sunday Warm up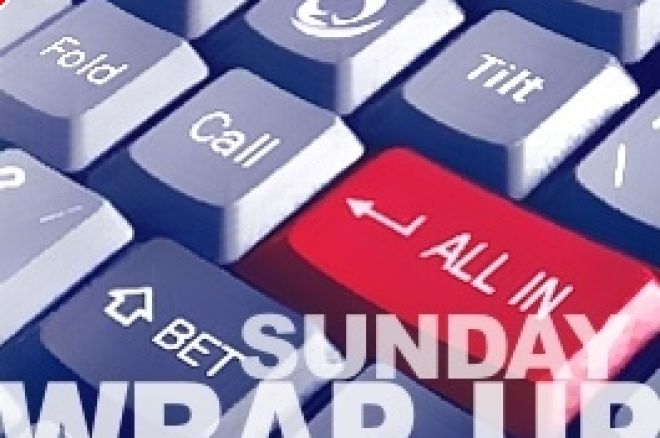 A close friend recently said to me; "Em why do you love watching these tourney's so much?" My answer was simple, they inspire me. Where else can you go and pay just a couple of hundred dollars for the chance to use your skill to outwit others and take home hundreds of thousands of dollars in just a few hours?! Add to that the valuable lessons learnt in watching how others play and I can't resist. Numbers are still steadily rising in the turn out for these games making bigger prize pools and more excitement. The PokerStars Sunday Warm Up being the tournament that is growing the most. I noticed a lot more Brits playing this week; I want to be writing about UK players winning these tourneys, especially PokerNewsers! After watching all the action; I am ready to fill you in on the details.
Sunday Warm Up – PokerStars
Things kicked off on PokerStars with the $750k GTD Sunday Warm-Up. 4066 entrants bumped the prize pool to $813,200.00 and with a first place prize again over 100 grand it was set to be quite a game.
Gbwrestler was the first player to win a big pot on the final table, making a flush with


and knocking out moaninator in 7th position. Gbwrestler then had a big chip lead with over 14m in chips. Propell was Gbwrestlers next victim, a preflop all in by propell was quickly called by Gbwrestler. Cards on their backs please, propell shows


– Gbwrestler


, flop



looked good for propell but the turn fell a ten and propell was drawing dead.
Next it was time for Yankees31 to start making some chips and that he did. Sending ClaudeX out in 5th position. Yankees31 pushed all in preflop, ClaudeX called, the cards were turned showing Yankees31 with pocket 2's vs.


no help for ClaudeX meant the game was over for him.
That hand was the beginning of the end. Yankees31 continued with an aggressive style out playing the final 4 until it was heads up. Yankees31 (33,640,456 in chips) vs. Frost10000 (7,019,544). Yankees bullied frost10000 stealing the blinds until he finally gave in and called Yankees preflop all in only to take a pretty sick beat. Frost10000 flipped over


and Yankees31 showed


, the flop was



, frost10000 still winning just needed to avoid a heart and he did on the turn

but the evil river dropped

, frost10000 was out in 2nd place, leaving Yankees31 the winner after hitting his home run!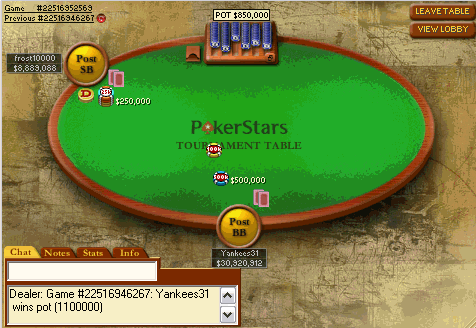 Final table results:
1: Yankees31 - $105716.00
2: frost10000 - $73188.00
3: Gbgwrestler - $48792.00
4: Troels1 - $40660.00
5: ClaudeX - $32528.00
6: propell - $24396.00
7: moaninator - $16264.00
8: Hallrmonky2 - $10165.00
9: yaron1209 - $6993.52
Sunday Million – PokerStars
$1,600,200 was the impressive prize pool for the Million this week due to the 8001 entrants, paying $215 each. Lasting 11.5hrs the final table was huge and it was twirlpro that finally took away the Sunday Million crown and of course the cash, $196,024.50.
Last week NewsKoool made the final table and 6th place in the Sunday Warm-Up scooping $23,394 for his effort. This week's big Sunday games would see a continuation in his form making it to the final three in this week's Sunday Million. It looked as though NewsKoool would only make 4th place at one point but two double ups courtesy of fratzl made things easier. Four handed play was long and drawn out with a number of un-contested all-ins.
Something had to give though and it finally did when svansa took on twirlpro in a preflop raising battle. The flop came



prompting twirlpro to bet out and putting svansa to a decision for their tournament life. A call saw the cards on their backs. svansa was in front with top pair,


with twirlpro needing to hit an out or two with


and hitting outs is exactly what he did. The turn came

giving him a straight flush draw. The river came

giving them the standard flush and that was it for svansa.
NewsKoool was low in chips and was trying in vain to figure some kind of deal with the big stackers but they weren't interested. NewsKoool's stack would need a boost to make it to heads up but the deck was cold when he finally chose to level off with


to twirlpro's


, the board rolled out





giving twirlpro a flush and the last 9m chips. 3rd place earned him $89,611.20 and along with the $23,394 from last weeks Sunday Warm-Up that's not a bad week's work.
Heads up stacks looked like this:
twirlpro - 37,782,346 in chips
fratzl - 42,227,654 in chips
Stacks were quite even and it could have gone either way. Twirlpro knew this and slowly but surely edged the lead into his own stack. fratzl was down to around 20m when the final hand hit the virtual felt. Twirlpro raised it preflop only to be confronted with fratzl's 20m being pushed in the middle. Twirlpro was never going to fold his


and you couldn't blame fratzl for pushing with


either. The flop gave fratzl some hope of a double rolling over



. The turn gave them even more hope being as it landed

giving the ace high 4 to a flush. The river?

did nothing but improve the pocket kings and that was it for another week. What a game!
Congratulations twirlpro and all that made the money for that matter!
Final table results:
1: twirlpro - $196024.50
2: fratzl - $132176.52
3: NewsKoooL - $89611.20
4: svansa - $72809.10
5: Terkel1 - $56807.10
6: 1bobbyL - $40805.10
7: ankolo - $28003.50
8: PureProfitFo - $18402.30
9: omba - $11201.40
$750k Guaranteed – FullTilt
The star studded $750k from FullTilt took under 9 hours to complete. Dave Colclough and Ram Vaswani are the FullTilt pro's that got the furthest, finishing at 189th and 82nd respectively. Doc Sands started as he meant to go on entering the final table with a 2m chip lead on the closest player.
Doc Sands was knocking out players literally left right and centre until he was finally heads up with andressoprano after sending tibzen home in 3rd place. Tibzen barely had enough chips to cover the blind when he went all in; the two other players called and obviously checked it down until the river where Doc put in a small bet as he had hit a flush. Both players had relatively equal stacks entering HU, but it would be Doc Sands who finally won the $132,787.50. Here is the final hand: andressoprano on the button raised to 320k (just over double the blind), Doc Sands re-raised to 865,385, Andres shoves all in followed by a fast and confident call by Doc Sands. All cards are faced up Andressporano had


vs. Doc Sands


, no help came for andressoprano, leaving Doc Sands the well deserved winner.
Final table results:
1: Doc Sands - $132,787.50
2: andressoprano - $80,250
3: tibzen - $52,500
4: A6540 - $41,400
5: Big_Lou-Aces - $31,050
6: dignan550 - $23,025
7: Chairdaddy - $17,250
8: cosmo - $13,500
9: Ravenut - $10,050
Congratulations as always to all the winners. Catch up with me again next week to find out all the results and gossip.