Sunday Wrap-Up: UFman2 takes down $1 Million Guaranteed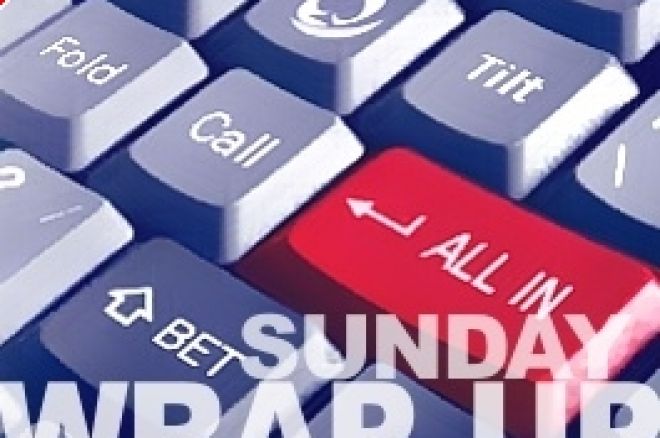 Forget Santa baby slipping a sable under the tree, how about slipping around $100 to $200k under it instead? That wish came true last night for snowking_85, KopplarJocke and UFman2 who will no doubt be celebrating today after winning the huge Sunday night tourneys at PokerStars and FullTilt.
Sunday Warm Up – PokerStars
The prize pool was, as always, above expectation in this week's edition of the 750k GTD Sunday Warm-Up, standing at a tidy $767,400. The prize structure was a little different this week with 1st place cash sitting just beneath the usual 100k+ mark at $99,762.
A field of 3837 paid $200+$15 to start the event with the top 585 players receiving a return on their investment. Congratulations to snowking_85 who combined patience, stamina and skill to lay his claim on the top spot and a very merry Christmas!
snowking_85 had a good lead early on, entering the final table 2nd in chips. He played consistently well taking a huge 5m pot early on when he had eitishoo all in with pocket jacks vs. His


and the turn showed an ace, knocking eitishoo out in 8th.
Snowking_85 then managed to lay a big hand down after his raise was re-raised by Phidias 'ael1979' Georgiou, I know I would have been wary of ael1979 as he is certainly no stranger to the warm up final table cashing in it at least 3 times before, his tournament history is extremely impressive.
Finally after nearly 2 hours the game was heads up snowking_85 and jas21 were to battle it out for the win. Snowking doubled jas21 up early in heads up when jas21 raised and snowking_85 put him all in, cards were flipped showing jas21 with pocket 9's


and snowking with


, the board brought nothing of interest for either player therefore doubling jas21's chips.
The final hand was to come a few minutes later though when jas21 got all in on a



flop, he was holding


and was quickly called by snowking_85 who showed two pair


, the turn was the

giving snowking_85 a full house and victory at last.
Final table results:
1: snowking_85 - $99762.00
2: jas21 - $69066.00
3: dan82mur - $46044.00
4: ael1979 - $38370.00
5: OMGSHIPIT - $30696.00
6: cadillacsa - $23022.00
7: AhKhQhJh10h - $15348.00
8: eitishoo - $9592.50
9: liverdracon - $6599.64
Sunday Million – PokerStars
The Sunday Million also exceeded guarantee this week being pumped more than 100k by a huge field of 8015 players. More than double that of the Sunday Warm-Up. First place stood at a mouth watering $196,367.50 and with such a large field, the winner would have to pull out all the stops to get their hands on the cash. Congratulations to KopplarJocke who did just that!
It was a busy night for the pros too with 8 from Team PokerStars alone still in the game 3 hours in and edging closely to the bubble.
Chris (Money800) Moneymaker was leading the way jumping from 18th to 4th place while I watched. It may have well been 2nd too with such tight stacks across the top ten. Tight except first with russchampion holding more than 30% more chips than 2nd. Still, it really was anyone's game.
The million was eventually won by Kopplarjocke after a gruelling heads up where crazylarry43 played very well constantly putting on the pressure and gaining chips from Kopplar. But it wasn't to be enough, crazylarry43 went all in and was called by KopplarJocke cards on their backs showed crazylarry to be behind with


to KopplarJockes


a seven on the turn made KopplarJocke this weeks winner.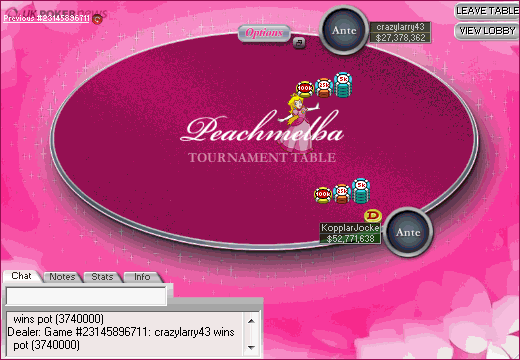 Final table results:
1: KopplarJocke - $196,367.50
2: crazylarry43 - $132,407.80
3: phil steve - $89,768.00
4: vuki - $72,936.50
5: DFGBOYS - $56,906.50
6: dstrung - $40,876.50
7: gladik - $28,052.50
8: tAAggart - $18,434.50
9: mezyoureyez - $11,221.00
$1million Guaranteed – Full Tilt
It was a big night over on FullTilt with the $750K GTD upped to it's once a month guarantee of a million bucks! The buy-in followed suit and was increased to $500+$35 but with a reduced field of just 2,194 players and a first place target of over $200k it was well worth the extra dollars. No only that but the $1 million was fuelled by an extra $97k. Usually some overlay is needed on Tilt but not this time. Maybe they should make it a million GTD every week!
Team FullTilt were up to their usual tricks with just about everyone playing but without noticeable finishers. Despite this a couple still made it past the bubble. Trond Eidsvig managed 242nd with Isaac Baron scraping his way to just over $1k for 177th.
The final table took about an hour and this is how it went down. First out in 9th place was Jimbostar who pushed all in from a late position with


to be called by Gator93 who turned over


it was the two on the flop and no help for Jimbostar that sent him packing.
Next out was s00tedj0kers89 who went all in from an early position


he was called by EIephant who showed pocket 9's


, nothing of interest whatsoever from the board and s00tedj0kers89 was gone in 8th for $20,294.50.
It was a good while before anyone else was knocked out and when they were it was to a nasty bad beat. Cards were already on their backs bl4z3j4ck had


and bellbop


, the



flop looked pretty good for bl4z3j4ck as long as he avoided a Jack, guess what the turn card was....

his heart must've sunk as he was thrown out in 7th.
Smfit29 was next to go out in 6th position, having already cashed $17,250 in this tournament just last week for 7th place, nice run! Next week 5th smfit29!
EIephant got sent to the cyber rail next after his pocket tens were beaten by the


of bellbop when bellbop hit a straight on the river.
Pocket tens were also the downfall of All4non who was out in 4th place when UFman2 hit a set of aces on the flop with his


, pocket tens sure were unlucky last night.
Bellbop left in 3rd after calling the all in of UFman2. Bellbop showed


and UFman2 showed


, UFman2 no doubt got a bit worried when the flop fell with an 8 but the turn soon helped him relax by throwing down a Queen, no 8 on the river and it was goodbye to bellbop.
Heads up between UFman2 and Gator93 lasted only a few minutes after their break.UFman2 had a very strong chip lead, so when he raised Gator went all in to steal the pot, unfortunately UFman2 called with


making Gator93 turn over his


, the board of





sealed Gator93's fate leaving UFman2 the winner of the FullTilt $1m guaranteed.
Final table results:
1: UFman2 - $201,848
2: Gator93 - $123,961
3: bellbop - $81,178
4: All4non - $64,723
5: EIephant - $49,365
6: smfit29 - $35,323.40
7: bl4z3j4ck - $25,779.50
8: s00tedj0kers89 - $20,294.50
9: Jimbostar - $15,358
A very merry Christmas to all this week's winners and PokerNews readers. Catch up with you all next week for the final Sunday before the New Year!