The Orleans, Las Vegas - UK PokerNews Review - The Orleans Hotel and Casino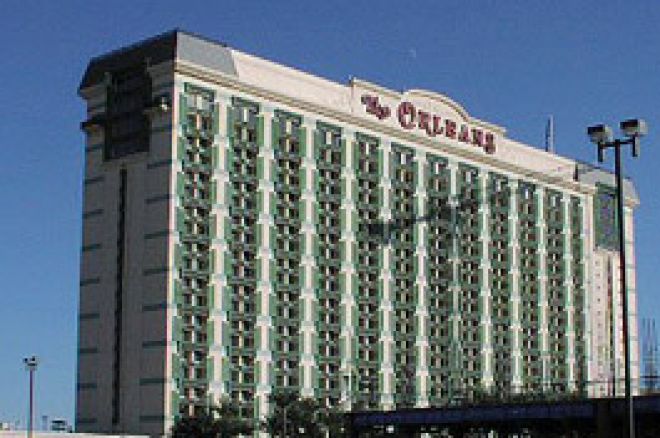 The Orleans Hotel and Casino is a regular favourite of British players visiting Las Vegas. Built in 1996, The Orleans has one of the nicest card rooms on or off "the strip".
If your pockets aren't deep enough to stretch to one of the more well known strip hotels, then you might want to consider The Orleans Hotel and Casino when visiting Las Vegas. The Orleans is a charming casino that offers everything you'll need for a fabulous stay in Vegas. It is also priced competitively throughout the year.
Finding the poker room, for first time visitors to The Orleans at least, can be a challenge! Wander by the casino tables games, the sportsbook, some slot machines, hang a right and heads towards the neon green Subway sign and you're almost there! It's worth the effort, trust me.
Firstly, if you're going to play a lot at Orleans, and if you're staying here you probably will, then get yourself a players card. Your card will get you a big room discount when it comes to checking out.
The poker room here is very large. With tournaments twice daily and 24 hour cash games you'll find plenty of action to keep you occupied. Stud, Omaha and Hold'em are all catered for at varying stake limits. $1/$2 No Limit Hold'em is by far the most popular game at The Orleans and it attracts a great mix of local regulars and tourists.
Views on the standard of play at The Orleans differ wildly from player to player. However, if you hit a table of regulars you can expect the play to be pretty good. Hit a table of tourists and things may be a little more interesting! Just like most poker rooms in Las Vegas really.
The facilities are impossible to knock. Restrooms are sparklingly clean and very close to the tables, so you won't miss too much action when nature calls. The cocktail waitress service is excellent. Across the room is a Subway restaurant which serves healthy sandwiches and snacks. If you need a quick sugar boost then close by vending machines will satisfy your chocolate fix.
The staff in the poker room are very friendly and helpful. The dealers are excellent and often bring a game to life with cheerful banter.
British poker players are very savvy when it comes to recognising value for money. Don't be surprised to see a large number of Brits frequenting The Orleans on your next visit.