Sunday Wrap Up - All the Big Winners from the Big Day!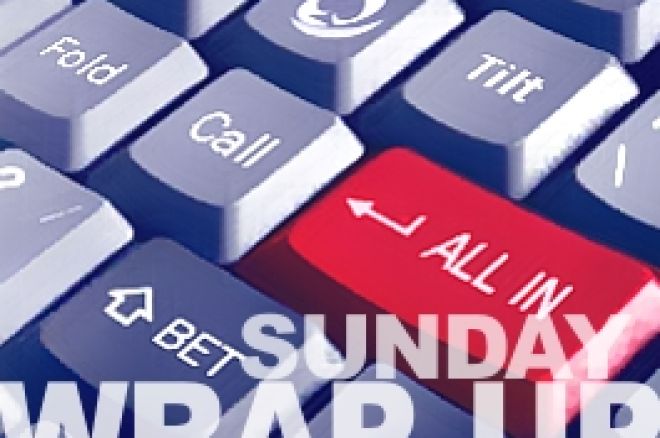 Well what a night. The first Sunday in December proved to be full of Christmas cheer, there was that unmistakable festive excitement in the air. It could have been the fairy lights from my tree getting in my eyes, but to me the display of poker last night seemed dazzling. Drritalin, basebaldy and shotgun78111 were some of this week's huge winners making Christmas shopping that little bit easier for them, although I'm sure most of you leave it until xmas eve, so still time for you guys to win!
Sunday Warm Up – [URL="https://uk.pokernews.com/pokerstars-code/"]PokerStars[/URL]
PokerStars proved yet again they knew their numbers, when the prize pool for this week's Warm-Up was just one buy-in over the guarantee, making it $750,200. Anyone with a mathematical brain, or equally a calculator, could figure out that this meant 3751 players paid the $200+$15 to take a seat in this popular tournament. There's a reason it's popular too what with a regular first prize of over $100k!
Busto_ soon was the first player to be kicked off the final table. He got all in preflop for his last 1.5m chips against eatyourstack, cards in the air showed Busto_soon


vs. Eatyourstack


, no help for either of the players and Ace high took the win.
Busto then wiped out nearly all of sbj1000's chips when his pocket kings


made a set, beating sbj's


. Sbj1000 could only go all in the very next hand to be knocked out 8th.
Then it all got a bit fast, FatsoFat6969, vishnu24 and keramiken all finished the game pretty quickly. Leaving the final four discussing a deal, no deal was reached so play continued. Next out was KevinV. The last three players reached a deal they were all happy with and carried on playing.
Stirthepot must've been happy with his deal as he was to end up finishing in 3rd place from 2nd in chips. Going in to heads up eatyourstack had about 10m in chips to Shotgun78111's 30m. HU lasted 6 minutes with eatyourstack trying desperately to build his chip stack only to lose all in with


against the pocket Jacks


of stirthepot who hit a set on the flop leaving eatyourstack praying for a K to make a straight. No K came and Gardar 'eatyourstack' Hauksson was out, making stirthepot this week's champion, well played.
2nd place finisher Gardar 'eatyourstack' Hauksson played amazingly well surviving the entire tourney and building his stack with impressive plays throughout. I managed to grab a few quick words with him after.
EW: Firstly, congrats on your win! It was great to watch. I just have a few quick questions before you start the celebrations or sleep, it's so late!
EW: How long have you been playing poker?
GH: I started playing online in July 2007
EW: Who is your poker inspiration?
GH: There are many great players out there but Johnny Bax inspires me the most
EW: What style of player would you say you are?
GH: Tight-aggressive
EW: What's your secret to outlasting a large field in an MTT?
GH: Be patient, wait for spots, pick on weak players
EW: Which player did you fear the most on the final table?
GH: Busto Soon
EW: Do you believe players when they make a terrible call and claim it was a miss click?
GH: No
EW: Final table breaks, love them or hate them?
GH: Hate them
Some of the final action: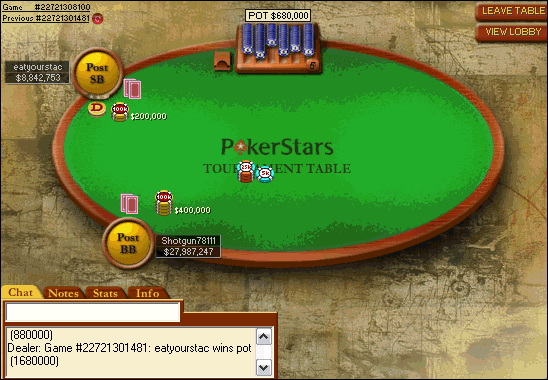 Final table results:
1: Shotgun78111 - $101277.00
2: eatyourstack - $71269.00
3: stirthepot - $48763.00
4: KevinV - $38635.30
5: keramiken - $30758.20
6: vishnu24 - $23256.20
7: FatsoFat6969 - $15754.20
8: sbj1000 - $9752.60
9: busto_soon - $6751.80
Sunday Million – [URL="https://uk.pokernews.com/pokerstars-code/"]PokerStars[/URL]
The biggest weekly tournament was again bigger than promised this week with the GTD prize pool bumped by $15,400, an amount most people would be more than happy battling over, let alone with a mind boggling $1.5 million on top!
If you'd blinked you would have missed the exit of the first 7000 players in this week's Sunday Million, all at the rail after just 4 hours of play.
Some of these 7000 included the usual turn-out of Team PokerStars players such as Isabelle Mercier and John Duthie, with Steve Paul-Ambrose sneaking his way into 1083rd. The remaining 577 players seemed to dig their heels in with a notable finish from Barry Greenstein in 351st, but eventually, as always, it finally got to the final table.
Here's how the stacks levelled off:
ggiillaadd - 15,455,000 in chips
drritalin - 14,670,216 in chips
herdgolf86 - 9,750,193 in chips
mrvogt - 7,929,158 in chips
Winn8D - 7,103,357 in chips
Aftret - 6,387,148 in chips
hiclimber - 6,243,555 in chips
JSchnett - 4,743,206 in chips
mozitas - 3,488,167 in chips
Mrvogt and Aftret had both doubled by the time it was down to 5 players and time to draw up a deal. It was finally agreed with fair chip-chops and $30k for the champ! Ggiillaadd was still in the lead at this point and took $114,355 for the achievement.
Winn8D finally began to build his stack directly after the deal was struck, but a run-in with the chip leader left him with half the chips he'd brought to the final table. He eventually hit the rail with


thanks to Aftret who had


. The flop rolled out



giving the jacks plenty of outs to hit a straight but the turn and river did nothing but improve trips to a full house being as they fell


.
Aftret saw off mrvogt in 4th place too when he thought an all-in from the small blind with his


would steal back what looked like a standard button raise. There was nothing standard about Aftrets


though and a flop of



gave mrvogt no hope and Aftret the chip lead.
The next notable hand saw another pocket pair match-up that didn't go quite to plan for the player in front. Aftret and drritalin both put in raises preflop making the pot 14 million before



hit the virtual felt.
Aftret checked it to drritalin who was as good as all in after betting 12 million Aftret check raised and the cards were on their backs. Drritalin


, Aftret


. Drritalin said "nh" but it wasn't over yet. The turn and river came


giving him the flush as well as the straight and the pot of 47 million gave him every chance of taking the extra $30k for the win.
Aftret was next to go with


vs. The


of ggiillaadd, ggiillaadd's hand held up and it was goodbye to Aftret. Ggiillaadd entered heads up with the most chips but drritalin soon took care of that with a king high flush taking most of ggiillaadd's chips. ggiillaadd finally went out in 2nd with a flopped two pair vs. A set. Nice work and congrats to drritalin he will need to self prescribe after all that excitement.
Final table results:
1: drritalin - $185636.50
2: ggiillaadd - $125172.04
3: Aftret - $84862.40
4: mrvogt - $68950.70
5: Winn8D - $53796.70
6: herdgolf86 - $38642.70
7: JSchnett - $26519.50
8: mozitas - $17427.10
9: hiclimber - $10607.80
$750k Guaranteed – FullTilt
Congratulations basebaldy for taking down this weeks 750k GTD on FullTilt!
The prize pool of this FullTilt tournament is structured in such a way to give first place a little more meat than other 750k events, this week set at the standard but still amazing figure of $132,787.50 after a touch of overlay.
Former computer programmer and FullTilt pro Steve Brecher took 19th place with a large number of other FullTilt players making the money. Other notable players towards the top of the field were DahJinerat who took 13th and Julian Verse who managed 26th. Both players have proved themselves before in this event. Another well known was Annette 'Annette_15 Obrestad' who made it to 30th.
The real action started when there were just 4 players left.
AllinwithdaBEST (I can't even say that name without laughing) found himself not all in with 'da' best when he raised pushing most of his chips in preflop with


to be called by playnwithnada's


. The chips were always going all in but a flop of



left Allinwithdabest in bad shape. He didn't hit his miracle and was out in 4th place.
It was a long time before anyone else would be leaving but eventually ZioStefano was knocked out in 3rd, closely followed by playnwithnada who was all in preflop with


vs. The


of basebaldy





Final table results:
1: basebaldy - $132,787.50
2: playnwithnada - $80,250
3: ZioStefano - $52,500
4: ALLinwithdaBest - $41,400
5: thinkinghard - $31,050
6: BerkeleyBoss - $23,025
7: MattZman - $17,250
8: JLizzard - $13,500
9: 13TH BASS PRO - $10,050
Congrats to all winners as always, special thanks to Gardar 'eatyourstack' Hauksson who answered my questions when you wanted to sleep. Catch you all next week.