MGM Grand, Las Vegas - UK PokerNews Casino Review: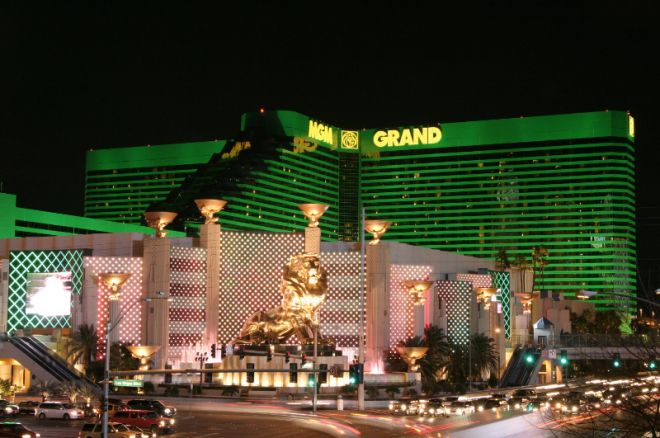 Sin City has many fabulous hotels to check out. Here is our review of one of the finest; the MGM Grand.
The MGM Grand is one of the most famous sights on the Las Vegas Strip. The giant, neon green building stands out among many opulent Las Vegas hotels.
Finding the card room in the MGM Grand is something of a task in itself! The huge casino floor is bewildering and the temptation of the floor games is a hurdle many fail to overcome. My tip is to head down towards the lion enclosure (yes, there are real live lions in this casino!) then the impressive card room should soon become apparent.
The card room staff at the MGM are immediately welcoming. The front desk, with plasma screen displaying available games and waiting lists, is always fronted by a knowledgeable and friendly staff member. A variety of games are always on offer and if your chosen stake level and/or variation of poker is not currently available then simply express interest and a list will be created for you.
Higher stakes cash players will find plenty of action during the evenings and weekends here. Social players will enjoy the 1 – 2 and 2 – 5 games which seem to be on offer around the clock.
One particularly impressive feature of the MGM Grand card room is the ability to "log in" with your Players Club card when you sit down at a table. The dealer simply swipes your card and designates your "seat name". The dealer then becomes aware of every players name and this makes for an, almost, home game atmosphere. In addition to that; players are "comped" $1 for every hour played. That might not sound like much but it could buy you a free lunch!
It's tough to find any negatives regarding this card room. Perhaps if you are looking for a quiet game then the MGM Grand won't be the place for you. This is due to the popular Centrifuge Bar being situated next to the card room. Across from there is the famous Studio 54 nightclub. As you might imagine, things can get pretty lively around this card room during evenings and weekends!