Salvatore Bonavena wins EPT Prague, Marty Smyth wins the Poker Million and more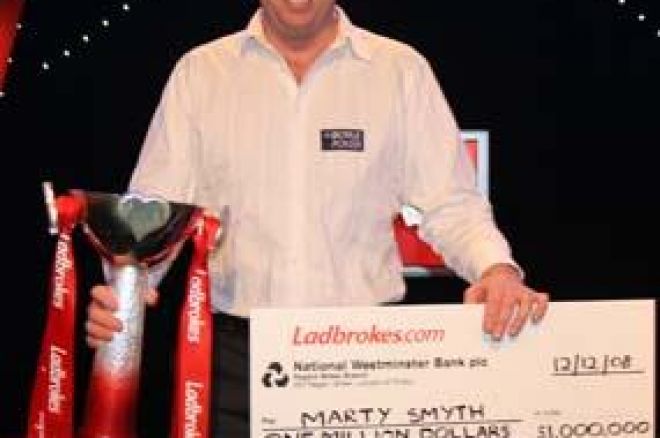 Marty Smyth wins the Poker Million
It was only fair that one of the most successful players in Ireland won win the nearly all Ireland Ladbrokes Poker Million, even fairer when you consider he has been at that final table a staggering three times in a row. Marty Smyth came back from the brink of elimination to finally take the Poker Million title he has wanted for so long.
At one point he went down to a severe short stack and was quoted at 100/1 on the in-running betting markets to win the title, after running ace-king into the pocket kings of Liam Flood. But he made an amazing comeback to get heads up with Eoghan O'Dea, who had been impressing everybody along the way, and defeated the son of Irish poker legend Donnacha O'Dea for the $1 million pay day.
"I can't quite believe it still," said Smyth. "I thought I was gone when I lost most of my chips early in the tournament. To come back and win $1 million is probably the highlight of my career. It just shows it's never over until it's over."
This tops off an amazing year for Smyth, whom many believed would not top 2007 when he made this final and also won the Irish Open. But this year Marty Smyth also won the PartyPoker World Open for $250,000 and the WSOP PLO Championship for $859,549. This result takes his earnings to $3,663,939, which puts him within earshot of beating Andy Black to become to most successful tournament player of all time in Ireland.
Final Table Payouts
1 Marty Smyth $1,000,000
2 Eoghan O'Dea $250,000
3 Ciaran O'Leary $175,000
4 Liam Flood $130,000
5 Kevin Allen $100,000
6 Svein Petter Neilsen $75,000
Salvatore Bonavena wins EPT Prague
The first Italian EPT Champion was crowned last week in Prague, after a lengthy final day and one of the biggest fields of the year. Salvatore Bonavena went into the final table the chip leader, lost it and regained it again, as he duked it out with fellow Italian Massimo Di Cicco in an hour long heads up match to win the €774,000 first prize. The 37 year old Estate Agent defeated 570 other players to become only the 6th amateur to win an EPT title.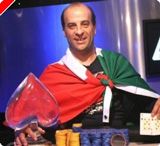 Bonavena, who will also be competing at the PCA in the Bahamas next month, said: "I'm really happy but it hasn't sunk in yet. I actually feel like crying – it's one of the best days of my life because I have done something no other Italian has done. I feel very proud."
The next stop on the EPT will be the PCA in the Bahamas, not only will there be a $10,000 main event but also a $25,000 high rollers event, as well as the World Cup of Poker finale. You can still win your seat to this event round the clock at Pokerstars.net.
Final Table Results
1 Salvatore Bonavena Italy €774,000
2 Massimo Di Cicco Italy €445,000
3 Andrew Chen Canada €257,000
4 Konstantinos Alexiou Greece € 199,000
5 Francesco Cirianni Italy €166,000
6 Fredrik Nygard Finland €130,000
7 [Removed:197] Germany €99,500
8 Raul Mestre Spain €71,800
Gutshot London Masters Announced
The brand new International Club in London have announced details of their first poker festival, the London Poker Masters sponsored by Gutshot. The event is between the 2nd and 8th of March and includes a £200 HORSE tournament, which is a first for the festival, and a £200 PLO double chance event. These all lead up to the £500 2 day main event on the 7th of March. We'll bring you more news on this exciting festival when we get it.
Pokerstars to hold record breaking tournament
We are pretty used to Pokerstars.net breaking just about every possible record that demonstrates how popular they are with the online community, but they are about to try and outdo themselves even more. They are planning to break the record for the largest ever online tournament, with a $500,000 guaranteed MTT with just an $11 price tag. The tournament, on December 28th, is capped at 35,000 players (3,500 tables) and will see one lucky player turn $11 into a small fortune (This also means that $150,000 of the prize pool must be being added by Pokerstars). Here at the Pokernews office we are already trying to work out what the over/under is for the full length of this amazing tournament.
Norway passes own UIGEA
Last week Norway passed their own version of an Unlawful Internet Gambling Enforcement Act (UIGEA) which effectively would stop banks from processing transactions to online gambling operators. The ban will be enforced from the end of 2009 and only state owned gambling services such as the national lottery, will remain legal.
The European Union have already criticised the move, suggesting it is merely to protect the state owned gambling industry. The Norwegian Financial Services Association have also spoke out on the ban, mirroring concerns by the Dutch Financial Services Authority who are in a similar predicament, saying that it is not there job to police what Norwegians do with their money.
The Remote Gaming Association has lodged a formal complaint with the European Surveillance Agency regarding this case.