2009 is the Year of Huge Sign Up Bonuses, Marc Goodwin may be the European Player of the Year and more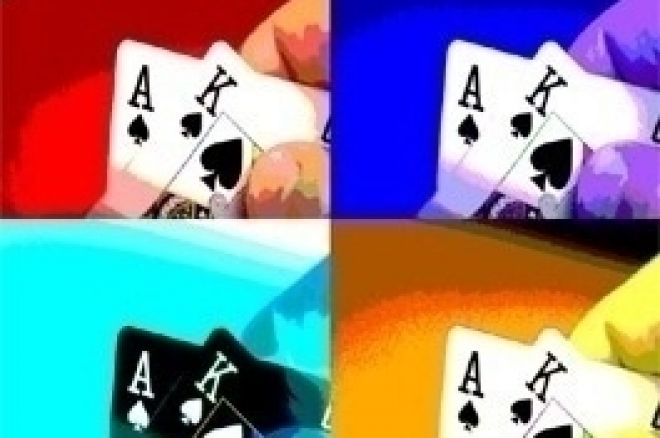 Marc Goodwin is the European Player of the Year?
We have been shouting this one from the rooftops for a month or two now, but it almost looks certain that GUKPT player of the year Marc 'Mr Cool' Goodwin has won the PokerinEurope European Poker Rankings title for 2008. With all the major events done for the year, Goodwin is in the top spot with 6,332 points, just ahead of Jason Mercier with 6,107 points.
This is great news for both Goodwin and the GUKPT, where Goodwin had the most fantastic run of final tables in the second half of the year, including a win at the GUKPT Manchester Main Event. Neil Channing, Fuad Serhan and Dave Penly of the UK also made the top ten (And Penly also looks nailed on to win the PLO player of the year too).
We'll bring you the official verdict when it comes in, possibly at the European Poker Awards early next year.
Greek Poker Tour Announced
Hot off the heels of a successful Greek Poker Championships at Dusk Till Dawn this year, the first Greek Poker Tour has been announced for 2009. Poker tournaments are not legal in Greece, hence the hosting outside of their homeland, and the venue this time will be the Concord Card Casino in Vienna, Austria between between the 30th of January and 1st of February 2009.
The event is open to all nationalities, but is a great chance to take on a predominantly Greek field. The Main Event will have €50.000 guaranteed, while each side event will have €15.000 guaranteed. The full schedule looks like this:
The "Warm Up" event with €100 + €15 buy-in and one rebuy, on Friday 30th of January.
The "Main Event", a €500 + €50 buy-in, freezeout tournament that will be held on Saturday the 31st of January
The "Last Chance" freezeout, will have a €200 + €20 buy-in and is scheduled for Sunday the 1st of February.
[B]2009 – the year of the massive sign up bonus
The credit crunch obviously is a bad thing for all of us and hopefully we'll find a way out of it pretty soon, but there certainly are a few benefits for us poker players. To get you playing at the tables and to pad your bankrolls, we've noticed a lot of poker rooms increasing their sign up bonuses significantly and we think that they are only going to get bigger in 2009.
For example, Fatbet Poker on the new Pokernexus network have a whopping 100% sign up bonus up to €1,000, Additionally, all PokerNews players are entitled to 50% rake back. When you also factor how strong the Euro is right now, and that's a lot of extra cash for grinding at the real money tables.
Purple Lounge Poker and Gnuf Poker are two rooms with new $1000 sign up bonuses. Ultimate Bet are back with a juicy $1,600 bonus for Pokernews sign ups, who are also eligible for the excellent $8,500 Alpine Cup freerolls we are hosting with them.
PKR also have an outstanding $2000 sign up bonus for new players and the biggest one we have seen so far is the staggering $2,500 maximum bonus you can claim at Redkings Poker. All in all you can get over $10,000 in sign up bonuses when you sign up to poker rooms via Pokernews and keep an eye on all these rooms, because we think they are going to get bigger and juicer in 2009 for sure.
And at which point we would just like to wish all of you a happy and profitable new year from all of us at Pokernews.