Play Golf with Negreanu in the Caribbean and more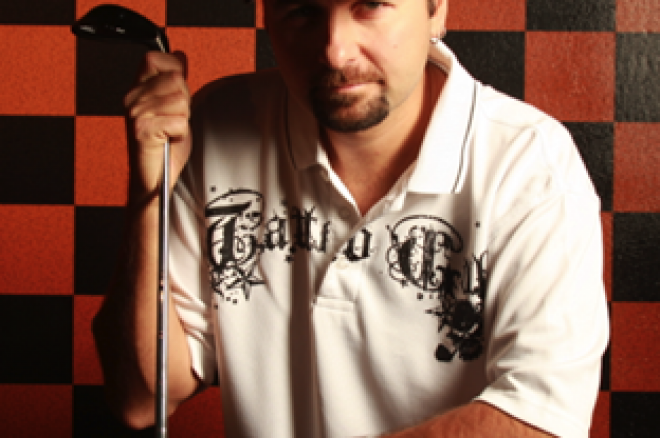 Eat, Golf and Swim with Pokerstars.net
The Pokerstars Caribbean Adventure is one of the most popular stops on the International tournament circuit. Not only is it one of the biggest tournaments, with a nice flat payout structure and hundreds of online qualifiers, it is also one of the most fun events of the year.
On top of all the shenanigans that take place during the event, Team Pokerstars have arranged some start studded activities for their online qualifiers. This Sunday, PokerStars are running three freerolls that will give satellite qualifiers a chance for a one-in-a-lifetime opportunity:
Dolphin swimming with Humberto Brenes:
That sounds like lots of fun and to be frank, Humberto could make an Insurance Seminar fun so swimming with the man himself in a 14 acre Dolphin sanctuary would certainly be a once in a lifetime opportunity, if not a totally surreal one.
Golf with Daniel Negreanu:
Everybody knows how crazy KidPoker is about golf and many of us would love to do a round with the poker icon. The top 3 winners of the freeroll will get 18 holes and presumably plenty of side action with Daniel at the Ocean Club Golf Course.
Luxury Dinner with Vanessa Rousso and Chad Brown:
Hmmmm, ok, I'm sure plenty of people would love to win this but for me, going to a fancy dinner with a couple (any couple) is my idea of personal hell, but you can win this too for free at Pokerstars.
The freerolls as well as all the PCA qualifiers can be found this Sunday at 14:00 ET at Pokerstars.net. Don't forget that Pokerstars.net will be attempting to break the world record for largest tournament attendance on the 28th of December when up to 35,000 players will contest a $500,000 prize pool for a measly $11 buy-in. Make a small fortune and a bit of history at the same time only at Pokerstars.net.
European Masters of Poker Tour for 2009
The Entraction network are running qualifiers for an exciting looking poker tour that looks like an affordable alternative to the EPT. The European Masters of Poker tour will start in Tallinn, Estonia, from the 22nd of February and also will feature stops in Czech Republic, Spain, Cyprus and finishing in Malta in September. Each event will be €1,100 with an estimated €100,000 prize pool.
Is it just me, or should we have more of these Europe wide poker tours next year? It is doubtful that the EPT will be topped for a very long time because it is such a successful and well organised business model, but European poker probably needs more of these mid stake festivals that allow us grinders an excuse to travel more.
Boxing Day Special on the Club
Boxing Day has to be one of the dullest days of the year (New Years day being the dullest of all) but Sky Poker are putting on a Boxing Day special of 'The Club' for those of you already sick of the latest Peter Kay DVDs. The show will focus mainly on a special tournament that took place amongst 'friends of the club' including Tony Kendall, Matt Broughton and yours truly Barry Carter. You can see your Pokernews hero as he bravely won the last longer bet in the tournament, which amounted to not much really. The two hour special will be on at 8.30pm Boxing Day.
Down to 18 at the Bellagio
The last WPT event of the year, the Doyle Brunson Classic, is down to a star studded final 18 players. Mike Matusow continues to run hot in these events despite never having won a WPT final, David 'Chino' Rheem is proving his is no one hit wonder, WPT champion Martin de Knijff is also on for a repeat of his World Poker Tour success as are Hoyt Corkins and Robert Mizrachi.
Perhaps most intriguingly, controversial figure Clonie Gowen is still in the field. She already shared a table with one of the men she is suing, Howard Lederer, in this event and could do the same against Mike Matusow tomorrow if they both run hot tonight.
Final two tables
Table 52
Seat 1: Justin Young 1,807,000
Seat 2: Tom Pniak 1,041,000
Seat 3: Hoyt Corkins 1,251,000
Seat 4: Robert Mizrachi 1,266,000
Seat 5: Nick Schulman 480,000
Seat 6: Mike Matusow 1,435,000
Seat 7: Amnon Filippi 1,374,000
Seat 8: Joe McGowan 420,000
Seat 9: Ben Straate 3,197,000
Table 54
Seat 1: Martin de Knijff 298,000
Seat 2: Steve Sung 1,359,000
Seat 3: Evan McNiff 1,532,000
Seat 4: Ben Tollerene 492,000
Seat 5: Bill Klein 999,000
Seat 6: Chino Rheem 1,200,000
Seat 7: Brett Richey 2,164,000
Seat 8: Clonie Gowen 1,049,000
Seat 9: Jack Wu 1,412,000