Ash Hussein wins Champion of Champions, Ladbrokes Open Poker Million Betting Markets and more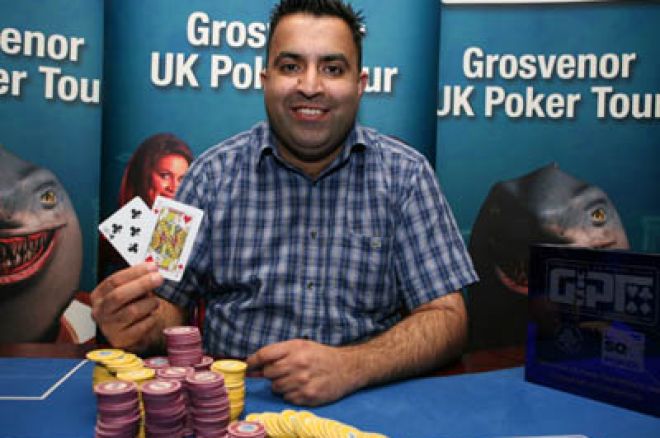 Ash Hussein is the Champion of Champions
The first Champion of Champions event on the GUKPT calendar was a crazy affair, with a lot of the 93 GUKPT winners playing like lunatics in the freeroll in order to build a big stack or have an excuse to get on the road and play in one of the two other big festivals on offer yesterday. Marc Goodwin once again made a final table appearance that seems pretty standard in the GUKPT these days, as did man of the moment Paul Foltyn.
But it was to be former European player of the year Arshad Hussein who would take the honours. After taking a hiatus from poker he bounced back by winning the Grosvenor Grand Prix in Walsall and also made a deep run last week in the main event at the Vic. He bested David Rudling heads up for the title and £20,000 first prize.
Picture courtesy of Blue Square
Poker Points bonus at Sky Poker
Just in time for Christmas, our good friends at Sky Poker have unveiled a new cash giveaway. You can earn up to an extra £100 this month for accumulating 'poker points' at the cash, SNG and MTT tables. The cash releases at the following rate:
Sky Poker Points
1000 £10.00
2000 £30.00
3000 £50.00
4000 £75.00
5000+ £100.00
To take part simply log on to Sky Poker , click on 'my account' in the top left hand corner, under 'free stuff' select 'free bets' and enter the code 'DECPOINTS' in the box marked 'redeem promotional code.'
Impressive turnout for the DTD Anniversary Cup
Many wondered what the attendance would be like for the first £1000 main event at Dusk Till Dawn, particularly because two big events were taking place elsewhere in the UK. The answer was a staggering 183 players for the 4 day, super deep stack affair. 90 players remain with some very big names left in the field including Maria Demetriou and EPT winner William Fry. The competition restarts today, as does the £300 deep stack side event that this writer will be donating to:
Top Ten chip counts
Peter Wilson 133600
Ben Mayhew 115800
Alan Stearn 103325
John Eames 97925
Luke Marsh 88150
Mark Wilson 82925
Trevor Reardon 78875
Kevin Matthews 74325
Neil Giblin 72900
Sean Phillips 70275
Bedi on top at the GCBPT Bristol
GCBPT Nottingham champion Rupinder 'George' Bedi is 2nd in chips after day 1a of the GCBPT Grand Final in Bristol. Some big names made it down to the Harbourside Casino for the £1,500 main event including Michael Greco, Vicky Coren and Barny Boatman. Day 1b begins today and both sets of players will meet up again on Saturday:
Top Ten Chip Counts
1 Niko Hanninen 61,175
2 Rupinder Bedi 60,125
3 Jacob Abramson 59,150
4 Richard Kellett 57,375
5 Mark Mcgill 56,950
6 Rob Akery 55,875
7 Barry Grime 55,250
8 Daniel Nutt 55,250
9 H Gumnam 51,750
10 Barny Boatman 45,975
Ladbrokes Open Poker Million Betting Markets
As the Poker Million competition reaches the semi final stages, it makes perfect sense for Ladbrokes Poker to open up a betting market on it. Next Wednesday is the start of the semis, with the live final taking place on Friday the 12th of December.
TV specialist Marty Smyth is the odds on favourite at 7/1 and the Devilfish is right behind him at 8/1. Ladbrokes Poker pro Jonas Danielsson is at 9/1 and another TV tournament winner, Liam Flood, looks good at 10/1. Roy Brindley also looks great value at 12/1. The markets include 'who'll qualify for the final', 'who'll finish with the most chips' in each semi final' and 'tournament winner'.
Outright winner Odds
MARTY SMYTH 7/1
DAVE ULLIOTT 8/1
JONAS DANIELSON 9/1
TONY G 10/1
LIAM FLOOD 10/1
ROSS BOATMAN 10/1
ROY BRINDLEY 12/1
EOGHAN O'DEA 12/1
CIARAN O'LEARY 12/1
BARNY BOATMAN 12/1
RYAN FRONDA 12/1
ANTHONY HARDY 14/1
SVEN PETER NEILSEN 14/1
KEVIN ALLEN 16/1
KENNETH SORENSEN 25/1
SAMMY GEORGE 25/1