Eastgate and Demidov heads up for the WSOP Main Event and more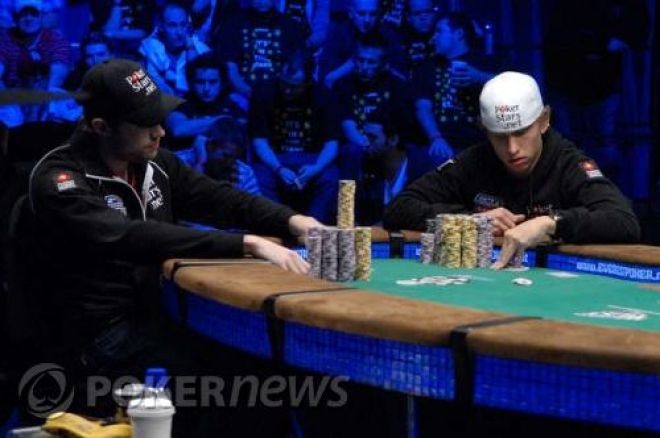 Europe is guaranteed a WSOP Main Event Champion
Just in case you have been living under a rock for the last three months, the World Series of Poker final table started yesterday and played down to two men this morning. The heads up match begins today in an exciting encounter that will guarantee the first European main event champion since Carlos Mortensen. Russian Ivan Demidov will take on Danish Peter Eastgate, with advantage Eastgate going into the match up.
Poor old Dennis Phillips, he spends three months with the pressure and expectation of being the WSOP chip leader, only to give away most of his stack in the first 18 hands, giving up a huge pot to Ivan Demidov early on. The oldest player at the table was able to regain his composure to finish a highly respectable third place for $4.5 million.
Kelly Kim defied the odds as the short stack by finishing in 8th, rather than 9th, for an additional $388,000. The first player out was Craig Marquis who went out in a sickening hand where his pocket sevens made a set on the flop but lost out to the runner runner straight of Scott Montgomery. David 'Chino' Rheem had a poor start to the day that got much worse when his ace-king was outdrawn by the ace-queen of Peter Eastgate, sending him out in 7th.
Scott Montgomery sent self confessed underdog Darius Suharto out in 6th, when his ace-queen dominated the ace-eight Suharto, who pocketed $2.4 million from what was a $80 satellite entry. Montgomery was next out in 5th, when he paired his ace-three on a A-Q-4-A-6 board, which was no good for the pocket sixes of Eastgate.
It seems the ace-x was to be the undoing of most of the table, as Ylon Scwartz holding ace-ten tried to bluff Eastgate off a full house on the river, unsuccessfully for his entire stack. Eastgate also sent Phillips packing when he flopped bottom set and Phillips chose the wrong time to bluff the Dane.
The chip counts are close, with Eastgate in the lead holding 79,500,000 to Demidov's 57,725,000. It will be a very interesting encounter, both men are young (Eastgate is in with a shot at breaking Phil Hellmuths record of being the youngest main event champion)and both have displayed fearlessness at the tables. Demidov has already proved he is the real deal by making the final of the WSOPE last month and Eastgate is well known as a heads up specialist, so it could really go either way.
One thing is for certain, not only are we guaranteed a European main event champion, Pokerstars.net will once again be the home of the world champion, as both men are sponsored by the top poker room. The action kicks off again tonight and you can watch all the action using our exclusive live updates service.
The Mouth in charge at WPT Foxwoods[/B]
Not long after the news that the World Poker Tour are being sponsored by, a Full Tilt Poker pro is holding the chip lead at the final of one of their main events. WPT Foxwoods started with 412 hopefuls all after the $1.2 million first prize, but now Mike 'the Mouth' Matusow is just 8 players away from clinching that elusive WPT title. He will have his work cut out, with prolific WPT regulars Jonathan Little and David Pham hot on his heels:
Seat 1: David Pham - 1,242,000
Seat 2: Jonathan Jaffe - 1,780,000
Seat 3: Jonathan Little - 1,407,000
Seat 4: Dimitri Haskaris - 945,000
Seat 5: Tom Nguyen - 615,000
Seat 6: Henry Doiban - 591,000
Seat 7: Charles Marchese - 963,000
Seat 8: Jack Schanbacher - 1,600,000
Seat 9: Mike Matusow - 1,857,000
Seat 10: Anthony Newman - 1,391,000
Medic and Coren confirmed for Premier League
Two more big names have confirmed for the Party Poker Premier League later this month. WSOP and WPT winner Nenad Medic and EPT champion Vicky Coren will be joining Annette Obrestad, Roland De Wolfe, Andy Black, JC Tran and Juha Helppi in London from the 24th of November.
Premier League regular Coren is looking forward to this year's event " I'm really pleased my friend Annette is in the new line-up, because I'm a huge fan of hers for many reasons. On the other hand, she's the only one I fear. The rest of them are darling little poppets but - like all men - they can't take pain, they can't keep secrets, they can't hide their feelings. They are emotional, stubborn, impatient and hamstrung by pride. When they put shelves up, they hammer their thumbs, wail, shriek and pretend to be fine when they're obviously not. Translate that to the poker table: this is Christmas."