WSOP Final Table this Sunday, Full Tilt sponsor WPT, Keiner leads 888 UK Open and more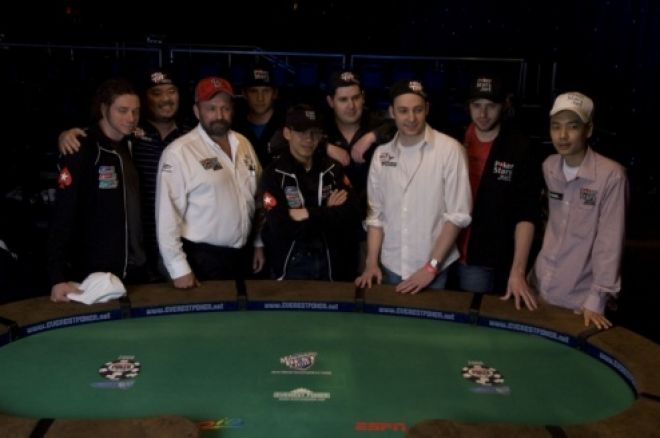 WSOP Final Table this weekend
Has it really been three months? Yes the much debated and anticipated WSOP main event final table finally goes down this Sunday, with the winner being crowned on Monday night. The 'November 9' will be fighting for their chance at a $9.11 million first prize, with roughly $1 million being awarded for every player they survive; this will be a fascinating encounter.
If one thing is for certain, these final table players have already benefited massively from the final table delay. They are all now officially sponsored by a major poker room, they have become recognisable names on the circuit and in the case of Ivan Demidov, he has parlayed this success already into a final table appearance at the WSOPE.
The show is broadcast on 11th of November in the States and soon after on Youtube and ESPN Classics in the UK. Will the players have improved? Has anyone struck a deal? Who will be going for the win and who will be hanging on to cash bigger? Will the ratings be significantly higher than previous years? Will Dennis Phillips wear a Pokerstars cap? All these questions will finally be answered from this Sunday.
Dennis Phillips - 26,295,000
Ivan Demidov - 24,400,000
Scott Montgomery - 19,690,000
Peter Eastgate - 18,375,000
Ylon Schwartz - 12,525,000
Darus Suharto - 12,520,000
David "Chino" Rheem - 10,230,000
Craig Marquis - 10,210,000
Kelly Kim - 2,620,000
Michael Keiner in front at 888 UK Open Final
The 888 Poker UK Open has reached the final table after a week of hectic poker action. German bracelet winner is out in front with over 500,000 and is joined by popular UK Players Paul Zimbler and James Akenhead. The final is underway right now and we'll bring you the result next week when one of the following players is crowned the champion:
Michael Keiner 518,000
Paul Zimbler 418,000
Craig Young 411,000
James Akenhead 289,000
Richard Wheatley 282,000
Mike Partridge 182,000
Sky Poker Tour hits Birmingham
The latest leg of the SkyPoker UK Tour is at the Broadway Casino in Birmingham tomorrow. 140 players will be competing for the lion's share of a £5000 prize pool and seat in the £25,000 gauranteed final next year in Nottingham. It's too late to win your seat to this event but if you want to play the cash games, soak up the atmosphere or just meet Norman Pace, Michelle Orpe, Richard Orford and Tony 'Tikay' Kendall, get yourself down to Birmingham tomorrow.
WPT and Full Tilt reach Sponsorship Deal
In the last twelve months most news items about the World Poker Tour have been bad news for the pioneering poker show, however today there is some very good news as Full Tilt have been unveiled as the sponsor for the entire Season VII.
Steve Lipscomb, WPTE founder, president and CEO, commented: "We are delighted to be in partnership with FullTiltPoker.net™ and bring together two very strong brands with proven global reach and loyal network of poker fans. With WPT's incredible brand value and TV distribution through FSN coupled with Full Tilt's massive online following, this partnership opens more channels to reach new fans and continue feeding the appetite for new poker content."
This is indeed fantastic news for the revolutionary poker tour that has at times looked to be on the ropes. Not only is it a real shot in the arm for the TV poker show but it also could significantly improve the field sizes, as surely Full Tilt Poker will soon be offering a vast array of qualification routes to WPT main events.
Two for one tournaments at PartyPoker
An odd yet intriguing offer from Party Poker this week as they have unveiled a new tournament, '2-for-1 tournaments'. The premise is simple, register for one and you will have two simultaneous tournaments to play against the same player pool, with two separate prize pools on offer. It seems like a great way to reduce variance, get extra value and practice multi tabling. How long until we see a player take down both simultaneous tournaments we wonder?