EPT Budapest Winner William Fry Interviewed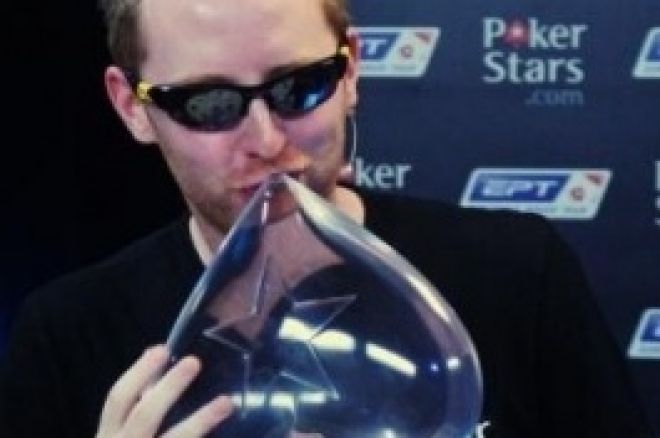 We caught up with the first European Poker Tour Budapest champion and second EPT champ from Nottingham, William Fry. Fry has been playing online cash games professionally for about three years after a life time of playing the game, which started at a young age with his family. He bought into EPT Budapest using FFP points on Pokerstars.net which he parlayed into a €595,839 pay day:
PokerNews: This was your first shot at a big tournament, did you win your seat online and what attracted you to this event?
William Fry: I had never been to Hungary before, and was told what a beautiful city Budapest was so I wanted to check it out having travelled to lots of other cities in the world. I actually bought in with 400,000 Frequent Player Points on Pokerstars.net.
PN: You went into the final table one of the short stacks, at what point in the event did you realise 'I can win this' ?
WF: When he turned over A6 and I held JJ heads up with all the chips in the middle.
Errr, honestly.... when Jonny Lodden had been knocked out and my 99 stood up against an AK and I doubled up to over 1million. I was pretty confident after that. Even at the start of the final table I felt pretty good, and knew I had a shot because I'm an experienced player. Even on the first day when my QQ doubled me up against a JJ I thought, I aint giving it these chips up easily...... and I felt a nice tingle scooping up the pot.
PN: Did you come up against any big names in your time there (obviously other than Johnny Lodden)?
WF: Yeah I came up against two very strong ladies in Kara Scott and Annette Obrestad on the same table. I knew that both these ladies were strong players and I had to be on my guard. But I did actually avoid a host of top stars; maybe I was lucky in that respect?
PN: You are the second EPT champion from Nottingham, is there
something in the water there?
WF: Julian Thew is a really nice guy, so it's great to follow him in the world of taking a top title. Noittingham has some good players coming out for sure. I like the water... but I don't want to know what's in it.
PN: Do you realise just how huge this result is? Do you feel like a star yet?
WF: No way, I'm more seeing it as my 15 minutes of fame. I mean sure, give me another big result this year and I'll start talking a bit more positively but for now I'm just gonna try and fly under the radar.
PN: You've indicated that you'll be using part of your winnings to raise awareness and make a donation to charity, how is that going?
WF: I haven't decided what to do with my money yet. Everyone is asking me the charity question because I have signalled these good intentions. Actually my brother Nick has been a good influence in my life, and he's been saying I should go out to Africa for a bit (I kinda thought this myself as well but Nick has a good way of putting things) and take in some of the problems out there. Then maybe i can help specific people or committees. I mean, for me, it would be great to actually see where the money is going, and know the people that I'm helping. Really, in the long run, I just want to raise awareness of these problems in our world.
PN: You've been described as 'mad' (in a nice way) by some of the regulars in Nottingham, care to comment on that?
WF: Yes I do. It totally depends on who said it. I mean, to be honest, I don't have a great reputation down there. I mean there are some real jerks down there who I tend to talk back to (they don't like it when you defend yourself) and then there are some really nice/friendly people. So it kind of depends who was talking. I mean, i don't even play down at DTD..... the cash games aren't big enough (unless there is a festival) . I am a bit quirky and different, and i usually wear glasses down there and could be seen as quite weird/geeky but that's just by the people that are too ignorant to get to know me. I'll talk to anyone , black , white, pink .... whatever. When I'm at the poker table, usually, I'm there on business.... not to make friends anyway. Between you and me - yes ok I agree... I am a bit mad.... Jesus you only live once.
PN: What's next for you? Are you going to play more of these big events or maybe look for a sponsor?

WF: I'm not directly going to look for a sponsor.... but I've had a brief chat with blue square before I won this event so maybe if I keep my head down and produce some more results sponsors will look for me. At the moment.... I don't need a sponsor; the poker is going really well for me and I'm a consistent winning player be it cash or tournaments.