Will Fry from Nottingham Wins PokerStars.net EPT Budapest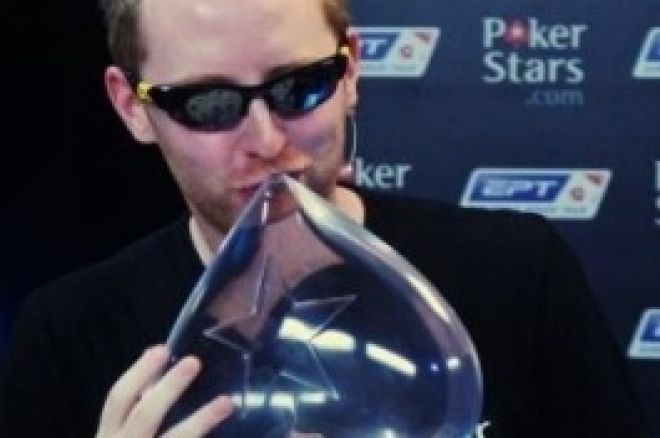 Last night around 8pm Will Fry was able to hoist a PokerStars.net EPT trophy above his head and be called the EPT Budapest champion. This was the first major live tournament ever entered by Will, making this win an impressive display of guts, luck and solid poker play. It took four long days and 562 runners to complete this tournament, with a first prize of €595,839 being awarded to the Nottingham local.
This was the biggest tournament ever in Hungarian history and once again it is normal on the EPT to see UK talent coming out and taking home the big prize. Will Fry not only won the tournament, but he also won the respect of many onlookers by explaining "I'm going to pay my mortgage. Help out my family and friends. And look into some good charities to help stop third world hunger. I'm going to try to do my bit to help and hopefully others will get involved."
Fry is certainly a class act doing his part to fight hunger and poverty, but don't let this generous demeanour fool anyone as to what kind of poker player he is. Will has been a pro for over three years and remarked "I have been playing poker since I came out of the womb."
He mentioned in his pre final table bio that he actually started playing when he was six years old which explains where he got such blatant 'poker instincts.' He exhibited poise and poignant aggression on the way to his triumph and it was a pleasure to watch.
He beat out Romanian player Ciprian Hrisca head-up after falling to roughly a 4-1 chip disadvantage. After winning a coinflip with


against


and stealing a few small pots Fry pulled slightly ahead of Hrisca to set up for the final hand. Fry was all-in preflop with


against


and dodged the ace to win the tournament. The final board read





. Fry did not seem surprised when he won the tournament telling PokerNews reporter DrPauly that "Right from the start I thought I could win. My chances were not easy. But I know how to play. We all get two cards and if I get good cards I definitely know what I'm doing. It all worked out for me." This makes one have to believe in karma and Fry clearly has lots of the good kind. Congratulations to Will Fry for taking down the inaugural PokerStars.net EPT Budapest.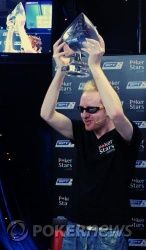 These were the final payouts:
1. Will Fry (UK) - €595,839
2. Ciprian Hrisca (Romania) - €342,608
3. Martin Jacobson (Sweden) - €197,904
4. Albert Iversen (Denmark) - €153,216
5. Marino Serenelli (Italy) - €127,680
6. Gino Alacqua (Italy) - €100,016
7. Zoltan Toth (Hungary) - €78,736
8. Johnny Lodden (Norway) - €53,200