Sunday Wrap-Up - TherookieQQ9 Wins HUGE!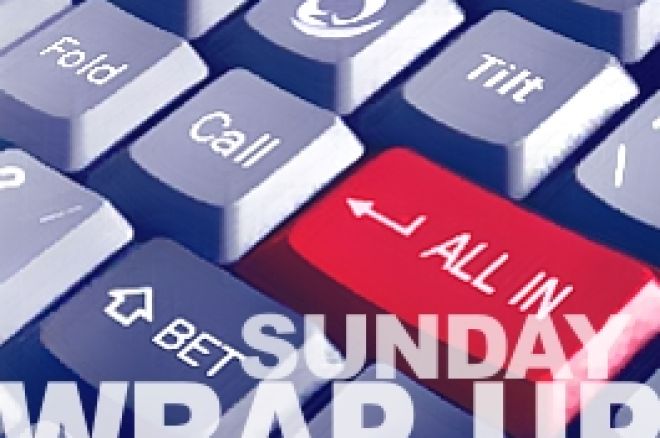 With the WSOP final table being played out this weekend, it seems everyone was in the mood for making the big bucks playing poker. I had been out for the evening and with my favourite designer glasses on and my hair up all neat; I was just back in time for a night of watching poker. As the evening progressed and the poker action got more intense my hair came down and I had to check my glasses weren't deceiving me. It was a night packed with excitement, anticipation and epic battles as the players fought it to be this week's winners.
Sunday Warm Up - PokerStars
SnookerFun certainly cleaned up and got the maximum, but rather than finish on '147' he got all the chips to take first prize $98,930.00.
Starting at 17:45 GMT with 3805 players was the Sunday Warm Up. The Sunday Warm Up is the first of the major tournaments on a Sunday. You could be sitting there with extra tens of thousands of dollars in your account before morning.
Entering the final table our winner SnookerFun was already chip leader with about 14m in chips, double that of the closest player dave_steven9 who was holding about 7m. The other 7 players were all relatively even with around 2/5 million chips each.
First hand at the final table is the old classic: bullets vs. cowboys. RoadV ended up all in with


only to be quickly called by luluxxx who flipped over RoadV's worst nightmare


, no help from the board sent RoadV out in 9th position. That was a nice pot that left luluxxx with about 8m chips, edging closer towards SnookerFun.
Luluxxx played well and made it to 3rd. They finally went out, holding


all in, trying to draw against SnookerFun's


. Ace high takes the pot and luluxxx is gone. Heads up lasted awhile but was finally over when the blinds were 150/300k.
Dave_steven9 on the button (with only roughly 8m in chips) raised to 1,200,000. I don't know if he was trying to steal or thought he was winning, but SnookerFun must've loved his hand, re-raising the minimum and putting dave_steven9 to the decision. After a long think dave decides the pot is not worth giving up and pushes all his chips into the middle, a fast call from SnookerFun as I expected. Dave_steven9 shows


while SnookerFun flips pocket jacks


. No king for dave_steven9 makes SnookerFun this week's Sunday Warm Up winner, he really played well and deserved to win after successfully holding his chip lead and pocketing players chips throughout the final table.
Final table results:
1: Snookerfun $98930.00
2: dave_steven9 $68490.00
3: luluxxx $45660.00
4: VBOOS $38050.00
5: groggy $30440.00
6: Schmufix $22830.00
7: Polyhymnia $15220.00
8: Top-Hand $9512.50
9: RoadV $6544.60
Sunday Million – PokerStars
Congratulations to TherookieQQ9 who didn't live up to their name! They outlasted the rest and won this week's Sunday Million; and what a game it was!
I opened the tournament lobby and wondered why I wasn't playing this week's Sunday Million as well as writing about it, next week I have to get in this game! With 7711 entrant's rocketing the firework weekend's prize pool to an inviting $1,542,200.00. A first place prize of $188,919.50, there was everything to play for! VandAAgnog,
JBlaze20 and Ellusionists got the wooden spoon being the first players to hit the cyber rail and get the bustout ball rolling. Well at least you didn't waste much of your evening! Not like the bubbler, Pokerl)eviL who battled his way to 1171st allowing the top 1170 players to finish in the money. Sorry for reminding you!
RunThisTable definitely did live up to their name when they busted the 4th and 3rd place finishers within a couple of minutes of each other taking his stack from 10m to 41m ready for heads up with the rookie.
It was a long heads up. Stacks swung no more than 10m until the fuse was finally lit 40 minutes in. RunThisTable decided to shove his 31m, over the top of TherookieQQ9's button raise. There was a call and the cards were flipped. RunThisTable was already slightly in front with his


to The rookie's


but a flop of



pretty much sealed it. This put RunThisTable way in front with 5 to 1 in chips.
The next hand would bring more action when both players were all in again preflop. RunThisTable had


trailing TherookieQQ9 who held


the board hit with two Aces and that was double up number one! A lot more all-in's followed by both players, with no call until RunThisTable chose


to take on the rookie's push with


. The board,





and that was double up number two! The final hand again saw both players all-in preflop with RunThisTable behind holding


to TherookieQQ9's


. The flop



, wow, the rookie needed a jack to win the match! The turn card

THE RIVER

!
Here is a classic hand that went down (second to last hand):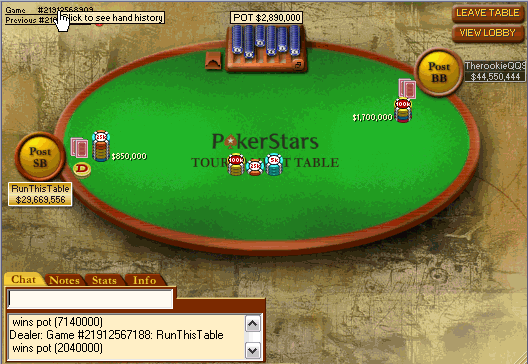 Final table results:
1: TherookieQQ9 $188919.50
2: RunThisTable $127385.72
3: rickyhatton $86363.20
4: Mazelucky $70170.10
5: 1011001011 $54748.10
6: elemonator37 $39326.10
7: Lamberjack12 $26988.50
8: ragsrellum $17735.30
9: adamx $10795.40
FTOPS Event #8 – Full Tilt
FTOPS event #8 on FullTilt poker was a $600,000 guaranteed NLHE tournament hosted by Andrew Black. $240 + $16 got you into this event which boasted some well known pros to get your teeth into. Experienced pro and TV poker celebrity Barney Boatman was playing alongside the Host, Andrew Black.
Jose-Luis Velador (Luis Velador 7) L.A. cash pro and WSOP Bracelet holder was also at the cyber felt in Event #8 taking 230th place, the highest finishing Full Tilt pro in this tournament.
The real star of Event #8 was whatariver1 who outlasted the celebs and unknowns to take the win. The successful tournament player biggest cash to date was almost 92k back in June when he won a 1k Monday tourney on Full Tilt. Congratulations on your latest victory!
Final table results:
1: Whatariver1 - $137,153.80
2: Emansnrg - $86,075.40
3: Fzth1- $58,783.20
4: Gogogivestack - $45,487
5: EddyStoefs - $31,840.90
6: Zapatero - $21,693.80
7: Fkscreennames - $13,786.06
8: Olikawe -$13,786.06
9: Andrebicudo - $8,992.43
FTOPS Event #9 – Full Tilt
Hosted by Howard Lederer, Event #9 of the FTOPS was a $1.5m Guaranteed NHLE tournament. The game lasted nearly 12 hours. 5,370 players each paid $300 + $22 for a shot at the money and the pride. With a first prize of $277,929.72 it was a great battle. FIFTY Full Tilt pro poker celebrities played like Dag Martin 'dmmikkel'
Mikkelson who finished 177th for $1,047.15. Berry Johnston finished 189th for $934.38, Clonie Gowen 663rd, Howard Lederer 5238th, Dave Colcough and many more.
Final Table results:
1: bigdogpckt5s - $277,929.72
2: xtheory - $168,349.50
3: megax82 - $108,259.20
4: Stamdogg - $84,577.50
5: lapozie - $63,634.50
6: pocketrockets11 - $47,524.50
7: Wachovia - $37,053
8: SN8WMAN - $28,192.50
9: Fdidier8 - $15,223.95
Congrats to this week's winners! Join me again next week for more adventures in internet poker-land.