Peter Eastgate is the 2008 WSOP Champion, 'hahila' wins LEOCOP main event and more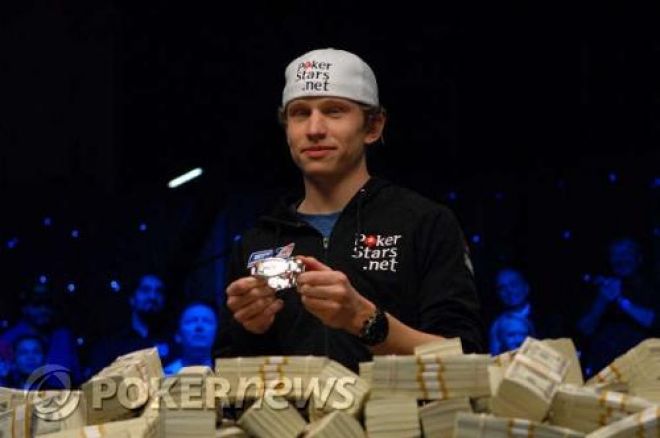 Peter Eastgate is WSOP Champion
After nearly 80 hours of play, including a 3 month delay and the longest main event final table in history, Peter Eastgate of Denmark is the 2008 World Series of Poker Champion. He defeated Russian Ivan Demidov in a lengthy heads up battle to win over $9 million and be crowned the first Danish main event champion, as well as breaking Phil Hellmuth's record for youngest main event champ by two years, at 22.
Eastgate couldn't be more different from Hellmuth, however, as the softly spoken and modest player remained calm throughout the event, the hype and the victory. Eastgate went into the battle with Demidov with the chip lead, but the talented and resilient Russian rarely let him take advantage of it. Eventually he managed to scoop a monster pot of 44 million against Demidov when he made a 7 high flush against the ace high of Demidov, to take a 6-1 lead. Soon after he took Ivan out when he made a wheel with ace-five on a baby flop where Ivan made two pair with 4-2.
The Pokerstars.net pro was quick to salute the online generation following his win:
"It's an honour to hold the record as youngest World Series of Poker main event champion," said Eastgate. "I played really solidly throughout this tournament and I'm proud of that. This gives a new level of credibility for young online players. Thanks to sites like PokerStars, we have become a force to face on the felt."
Ivan Demidov, also a Pokerstars.net may have come second today, but he has already made a big name for himself after making the final table of the WSOPE main event in the 3 month break. We are sure that his $5.8 million pay day won't be the last big score on his record.
So what will this mean for the new main event champion over the next 12 months? There is little doubt that Eastgate will be a big figure both online and live, unlike the last two main event champions who haven't been seen that much on the circuit lately. This is obviously fantastic news for European and Scananavian poker, hopefully it will have some positive influence on the troubles the game of poker is having in that part of Europe with the local authorities.
More than anything, this is the coming of age of the internet poker generation. After many years of derision from the live peers, finally a young internet whizz has taken down the biggest title in the game. It also means that the high stakes tables on Pokerstars.net might get a little more interesting very soon.
'hahila' wins LEOCOP Main Event
It has been a fantastic few days for Danish poker, as Ladbrokes Poker concluded their LEOCOP festival in the early hours of yesterday morning with their $250,000 added main event. 'hahila' of Denmark bested over 600 runners for the added value first prize of $229,500. He maintained the chip lead from start to finish and replicated the talents of his countryman Peter Eastgate, who originally bought into this year's WSOP main event with Ladbrokes Poker, so maybe it was an omen?
Ed Ihre or Ladbrokes commented: "Ladbrokes Poker is really proving to be a lucky talisman for the Danes. At the same time 'hahila' was dominating the final table eventually winning $230,000 after over 14 hours of play, Peter Eastgate, who flew out to Las Vegas as part of Team Ladbrokes in July of this year was bossing the WSOP final table. Both events have been great for Ladbrokes Poker this year."
He continued "One of the primary objectives for Ladbrokes Poker this year was to provide a poker experience for our qualifiers unrivalled by any other operator and to produce a WSOP final tablist. The many positive comments that followed the trip proved that the former was achieved and now news of Peter Eastgate's win is the icing on the cake."
All that is left for this year's LEOCOP Masters Event on November 22nd, eligible players for which will be notified in due course. Ladbrokes will also be running qualifiers to next year's WSOP early next year.
Keiner wins 888 UK Open
German WSOP bracelet winner Michael Keiner held onto his chip lead for the final table of the 888 Poker UK Open, taking down the $200,000 first prize. He defeated Craig Young heads up for the title, as well as outlasting popular UK players Paul Zimbler and James Akenhead. He commented after the victory ""It feels unbelievable to win this – it's a beautiful and exciting moment, I really wanted to win this tournament. You have to win your coin flips if you want to win the tournament and luckily I won mine. He (Craig Young) played really tough and I didn't have a good read on him – he's a good player and has a good future. "