Dave Penly closing in on European Rankings, Devilfish on Celebrity Darts and more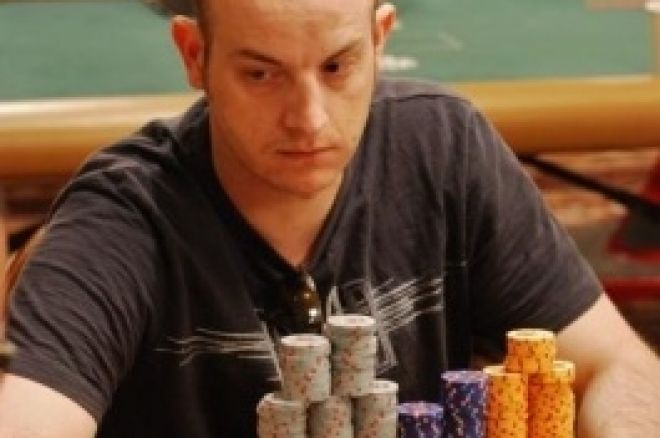 Dave Penly is number 2 in the European Rankings
Dave 'Riverdave' Penly continues his hot streak as 2008 draws to a close and it looks like he is in contention for two major European honours. Not only is he the favourite to win the PLO player of the year but he has just skipped passed Neil Channing for the number 2 spot in the overall European Poker rankings. This comes after a run of form that saw him final table GUKPT Thanet and come second in a side event at the World Heads Up Championships in Barcelona. This puts him at 5,666 points, which is hot on the heels of Jason Mercier (Who has confirmed he won't be playing in Europe again this year) at 6107.
The good news for Penly is that these points do not yet include his final table at last weekend's DTD 3-2-1 event which is now a European ranking event. All those that know Penly know he is a sick individual who is likely to play a lot of tournaments between now and the end of the year, which in my mine makes him a favourite to lift the title at the end of the year. Neil Channing, his good friend, I'm sure will have something to say about it and expect to see both these players in plenty of action for the next two months.
Devilfish on Celebrity Darts
After years of Darts players invading TV poker tournaments it's about time we sent one of ours their way. The Devilfish has been confirmed to play in a celebrity darts heat on ITV1 on the 14th of November, just before the Grand Slam of Darts final. He will be up against Barry McGuigan, Neil Ruddock, Steve Davis and Phil Tuffnel in his heat. Eddie Hearn of Matchroom sports commented:
"Regardless of what you may think of Mr Ulliott, I am delighted to get him into the line up because I think to get someone (who is perceived by the poker World as a celebrity) access to a mainstream ITV audience can only be good for the game. Hopefully he won't swear too much."
I'd fancy the Devilfish to do well in the heat, as he is a mean pool player and the two games do seem to go hand in hand as a sign of a misspent youth.
LEOCOP is hotting up
The Ladbrokes Poker LEOCOP IV is well underway and every night poker players are taking down massive guaranteed tournaments. This is all leading up to the hotly anticipated grand final that has an amazing $250,000 added to the prize pool.
Not only is that great added value, there is also the matter of the LEOCOP Leaderboard which is beginning to heat up. Anyone who makes it into the top ten will get a prize up to $4000 and all players in the top 80 will win a seat into the LEOCOP Masters on the 22nd of November. The winner of this invitation only tournament will receive the last Poker Million VII Semi-Final Seat worth $120,000, which guarantees $20,000 prize money and the opportunity to progress to the Live Final table on Friday 12th December 2008 and walk away with the $1,000,000 first prize.
The current top ten look like this:
1. slim_boy (767 points) — $17,956.15
2. james666 (763 points) — $18,650.00
3. Hehellover (744 points) — $22,865.55
4. princessaces (670 points) — $26,204.86
5. Hefaistos (666 points) — $34,937.51
6. MadeInSweden (650 points) — $11,294.80
7. Inoriisss (629 points) — $12,497.75
8. Plymlegend (629 points) — $2,944.82
9. Lucass (608 points) — $2,245.16
10. Sophiexxx (599 points) — $24,382.20
Adrian Lambe wins Star City £100,000 Gauranteed
One of the biggest events ever held at the Star City Casino in Birmingham last weekend, the £500, £100,000 second chance main event. The event had names like Dave Colcough and Marc Goodwin confirmed to play alongside the 217 runners that surpassed the gaurantee. Ladbrokes Poker pro Jon Kalmar made the final table, which was eventually won by Adrian Lambe:
1st Adrian Lambe — £33,634

2nd Nicky Evans — £17,360

3rd Jon Kalmar — £10,850

4th H Tran — £8,138

5th Ken Clark — £5,968

6th David Yang — £4,882

7th Sally Smerdon — £4,340

8th Stu Rutter — £4,340

9th Cheryl Wood — £3,255