Negreanu wins BC Poker Championships, World Cup of Poker is back and more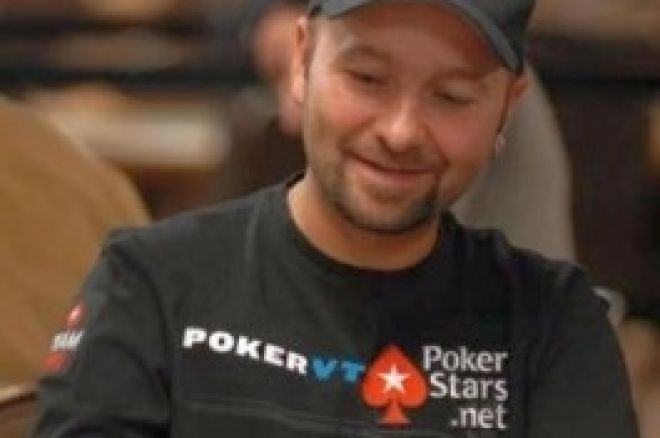 Daniel Negreanu wins BC Poker Championships
What an end to the year it has been for Pokerstars.net pros; ElKy wins a WPT title, Hevad Khan wins the Caesars Palace Classic, Peter Eastgate wins the WSOP Main Event and now Daniel 'Kid Poker' Negreanu has just took down the BC Poker Championships in Canada.
Negreanu went back to his home country of Canada to add another prestigious title to his resume that includes 4 WSOP bracelets and 2 WPT titles. He won $371,910CAD ($299,562 US) and the win takes his career earnings to $11.2 million, which is just under $1 million less than all time money leader Jamie Gold (Negreanu is currently second in the all time money list).
"Being Canadian myself, playing and winning the BC Poker Championships is extra special to me," says Negreanu. "The tournament was extremely well organized and my opponents were very good. It may have been a smaller tournament but I would say this has been the best $2500 buy-in event structure I've ever played."
1: Daniel Negreanu — $371,910
2: Adam Croffut — $238,191
3: Warren Russell — $150,285
4: Vorakbotgh Eam — $118,335
5: Vincenzo Abate — $97,204
6: Tyler Patterson — $76,580
World Cup of Poker is back
Still on Pokerstars.net and the World Cup of Poker is returning in January as part of the PCA. $290,000 in prizes will be contested for nine teams representing their home Nations with $100,000 going to the winning team of 5. Players compete first to represent their national or regional team in a series of freerolls which decide the team line-ups, and then the teams battle it out in a series of Divisional and/or National play-offs to claim their spots at the live Final.
If you want to represent the UK at the World Cup of Poker, then sign up to Pokerstars.net and register for the regional freerolls.
Tran and Tony G make good Premier League starts
JC Tran and Tony G have both won their opening rounds of the Party Poker Premier League yesterday. They bested two young guns of the game in the form of Peter Eastgate and Thomas Dwan respectively, both of whom impressed along the way and picked up vital league points. Heat 2 will be one for the fans when it is televised, as the long rivalry between Thomas Dwan and Phil Hellmuth continues, when Dwan flopped a full house against the turned flush of Hellmuth, who eventually managed to make the big laydown. The action kicks off again today and you can view the live updates at the matchroom website:
PartyPoker.com Premier League III – Heat 1 – Monday 24th November
10 points - JC Tran
6 points - Peter Eastgate
4 points - Annette Obrestad
3 points - Andy Black
2 points - Roland de Wolfe
0 points – Devilfish

Heat 2
10 points – Tony G
6 points – Tom Dwan
4 points - Vicky Coren
3 points - Phil Hellmuth
2 points - Juha Helppi
0 points - Nenad Medic
Demidov won more than Eastgate at the WSOP
Spare a thought for Peter Eastgate (yes, I'm about to ask you to feel sorry for a millionaire poker champion) as although he is living it up at the Premier League right now, he is there to do a job not bask in the spotlight. The main event champion may have taken down $9 million for his bracelet win, but after the Danish government have done with him he will be down to less than $3 million. That's because they will be taking around 72.77% tax for the main event champion, which means that Ivan Demidov, who will be charged a flat rate of 13% as per Russian tax, will have won more money than Eastgate taking home more than $5 million.
Ouch.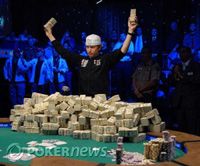 So next time you want to complain about being taxed too much, I'll remind you that UK citizens don't pay a penny of tax on their poker winnings. Eastgate was rumoured to be planning to move to the UK to avoid getting taxed but wasn't granted citizenship, which is a shame because we would have loved to see him at the Vic and DTD.