Ireland win APAT Team Championship, Christmas freerolls at Ladbrokes and more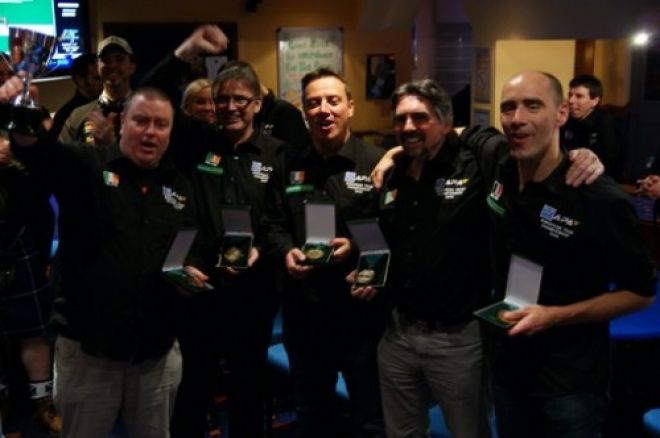 Ryan Fee wins LAPT San Jose
20 year old American Ryan Fee has just taken down the Costa Rican leg of the Pokerstars.net LAPT in San Jose. Stars such as Humberto Brenes and Victor Ramdin joined in with the proceedings but they played second fiddle to Fee, who bulldozed his way through 218 players and made short work of the final table, which netted him $285,773 as well as the title.
56 days of Christmas at Ladbrokes
It's usually sickening when people start putting out the Christmas lights and playing their Slade LPs around about this time of year, but in the case of Ladbrokes Poker we'll forgive them. The top online poker room are embarking on eight weeks of credit crunch cracking festive fun, with over $500,000 of giveaways.
Starting on the 10th of November until the 4th of January, 56 days of freerolls will commence for the princely sum of 0-1500 player points. All you have to do is earn player points and you will be eligible for nine weekly freerolls worth $50,000, this amount will double over the Christmas period to a massive $100,000 per week.
Edward Ihre, Managing Director of Ladbrokes Poker said: "I think we are the first operator to put on the Christmas lights so to speak and get the Xmas countdown underway. By starting our promotion in November it gives players plenty of time to accrue player points to utilise on our great value Freerolls with a Christmas booty of cash and top of the line premium watches up for grabs."
He continued: "This celebration is open to everyone so even those without enough player points can qualify via our daily Freeroll satellites with 10 seats guaranteed for the next day's Freeroll."
FTOPS X makes promising start
The 10th edition of the Full Tilt Online Poker Series has kicked off with a real bang. Not only has the first event attracted 5,124 players with a million dollar prize pool (Awarding $195,757.30 to davin77 but the traffic at the cash tables has soared. According to independent tracking statistics the average number of players in a 24 hour period reached 9,704 this week, which is the highest seen this year.
A lot of players are also speculating that the success of Barack Obama in the Presidential Election has played its part in boosting traffic, as US players were in celebratory mood as many believe the appointment is very good news for the online poker industry.
Ireland wins APAT European Team Championship
Once again APAT were behind a novel, well structured and generously priced event this week, as they held the European team Championships in Brighton. The event featured eight National teams of four, from England, Ireland, Wales, Scotland, Netherlands, France, Germany and Hungary. The teams were selected by non playing team captains and they played over several events including single table tournaments, heads up and finally a multi table tournament.
Ireland made a decent start in the opening events and were always going to snag the title when all of their horses ran deep in the final event. Pat O'Callaghan won the event outright and was helped along by his team mates John Murray, Colin O'Prey, Brendan Byrne and was led by non playing captain Len Collin.
The final result of the APAT European Team Championships was as follows:
1st Ireland 67 points : £2,600, Championship Cup and Gold Medals
2nd Scotland 51 points : £1,600 and Silver medals
3rd Germany 44 points: £1,000 and Bronze medals
Shares in iPoker to rocket
Financial Analysts Daniel Stewart & Co have predicted that shares in Playtech, the company that owns iPoker, will soar following their joint venture with William Hill. They commented "the agreement with William Hill is significantly earnings enhancing and locks Playtech into a long-term software contract with a major new client. We are increasing our TP from 620p to 713p. Playtech has completed a fantastic deal, but with zero impact on its share price. Investors should be buying aggressively."
iPoker seems to be getting bigger and bigger over the last 12 months, they have firmly overtaken PartyPoker as the third biggest network and are constantly hot on the heels of Full Tilt for 2nd place behind Pokerstars. As well as their new partnership with William Hill, they also recently acquired Mansion to its stable of poker skins. With many of the other networks struggling at the moment, we won't be surprised to see even more skins migrating to iPoker in the next 12 months, making them a powerhouse in the industry.