Marc Goodwin running away with GUKPT Player of the Year award and more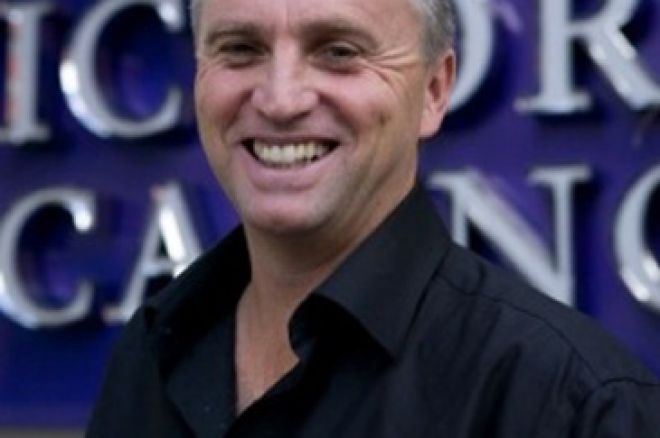 Marc Goodwin running away with GUKPT Player of the Year Title
The final leg of the Grosvenor UK Poker Tour has kicked off at the Vic in London and Mansion Poker Pro Marc 'Mr Cool' Goodwin has already put a lot of ground between him and the other players contesting the GUKPT player of the year award. This week he has already made two Omaha final tables and is now a full 100 points ahead of nearest rival Jeff Kimber and light years ahead of Nik Persuad, Sam Trickett and Julian Thew.
Goodwin won the GUKPT Manchester event in April this year and a £300 side event in Blackpool. On top of that, he has made 7 further final tables in GUKPT events including 3 2nd places. So far he has made £127,000 in cashes at the GUKPT this year and has had a great year outside the GUKPT, making final tables in the World Open and the Dusk Till Dawn deep stack festival. Goodwin also heads into the Champion of Champions event with a huge chip stack thanks to his two first places (Had he been a bit luckier in some of his 2nd place finishes it might have been a very short event indeed).
Elsewhere, Jeff Kimber and Sam Trickett haven't given up the player of the year chase, having both made final tables this week in side events. Popular circuit pro Paul Parker has also won his seat in the Champion of Champions event next month, after winning a PLO hi/lo event and final tabling a seven card stud event this week.
The GUKPT Player of the Year standings currently look like this (Courtesy of Blue Square):
Position - Player - Points
1st - Marc Goodwin - 337
2nd - Jeff Kimber - 237
3rd - Nik Persaud - 230
4th - Zachary Ford - 216
5th - Sam Trickett - 204
6th - Julian Thew - 161
7th - Dave Penly - 155
8th - Ketul Nathwani - 153
9th - Brian Clarke - 150
9th - Tony Phillips - 150
The £3000 main event begins tomorrow and the Champion of Champions freeroll takes place in Luton on December the 4th as part of the Luton Christmas Cracker.
Phil Hellmuth launches Poker Clothing Line
I don't know about you, but whenever I see all 7ft 8" of Phil Hellmuth stand up at a poker table donned all in leather with a backwards baseball cap and sunglasses, watching him berate the table and spend the next 20 minutes telling everyone how stupid they are, I always think "I really wanna look like him". Thankfully I no longer have to wait, as the Poker Brat has launched his own clothing line.
"I love the people who designed these shirts," said Hellmuth. "We've worked with artists in Las Vegas, Missouri, and West Hollywood, and I told them to create whatever their hearts desired and, man, did they create some great poker designs!"
I'm waiting on a Phil Hellmuth thong before I make my purchases. Stay tuned for news of Poker Brat garden furniture, fat reducing grills and home pregnancy testing kits hitting the stores in time for Christmas.
Sijbrand Maal wins Belgium Poker Championships
843 players attended the fourth annual Belgium Poker Championships and Sijbrand Maal from Holland has won the €1,500+€150 main event. This was officially the largest field assembled for a European ranking event with a buy-in over €1,000 (beating EPT Monte Carlo by just one player) and Maal won €315,875 for his victory.
Final Table Payouts
1. Maal Sijbrand (Holland) – €315,875
2. Colm O'Brien (Ireland) — €202,980
3. Jolmer Meelis (Holland) — €101,980
4. Michel Fontenoy (Belgium) — €75,980
5. Carlo Giovanni (Belgium) — €55,980
6. Fabrice Vreux (Belgium) — €40,980
7. Gaetano Di Salvo (Belgium) — €30,480
8. Xavier Closset (Belgium) — €20,480
9. Kristof Segers (Belgium) --€15,380
10. Alain Dubreuille (France) --€12,280
Phil Ivey up $9 million on Full Tilt in last two years
There are currently some threads going on some popular poker forums about whether Phil Ivey is the best all round poker player in the world, and here is some evidence to prove he is. Since high stakes poker tracking began in 2007, Phil Ivey is up nearly $9 million at Full Tilt Poker.
Ivey is up $2.3 million in no limit hold'em, $1.4 million in PLO, $3.1 million in Omaha hi/lo and $1.99 million in HORSE. This is all over a sample of less than 200,000 hands, which is an amazing earn rate. Ivey is also the biggest earner ever in HORSE, 3rd biggest in hold'em and 2nd in Omaha hi/lo.
If you consider he has $10 million in tournament earnings and god knows what in live cash games, business interests and prop bets and it is maybe fair to say that Phil Ivey is indeed the best all round player in the world. Not many people have had the live success he has and been able to dominate the biggest games online, but Ivey has with apparent ease.