Danny 'The_D_RY' Ryan wins PS Sunday Million - Sunday Wrap-up
I was on the road this week, staying at a friends' house for the weekend. Sunday night I told her, was poker night! I would be watching the online poker tournaments. She was not best pleased. Sunday came and we were sitting around chatting. When the first game started she didn't pay much attention. After I told her the prize pool was hundreds of thousands of dollars, she was a lot more interested. By the end of the evening Charlotte was making me teach her poker and talking about winning the Sunday Million, proving my point that everyone wants a piece of this action.
Sunday Warm Up – PokerStars
3899 players signed up for this week's Sunday Warm Up exceeding the 750k GTD prize pool by almost 30k making first place cash $101,374! Amazing that online poker has reached a stage where the weekly warm up game has a first place of over 100k!
The tournament reached the final table stage at around 2am GMT after some steady hours of play. Not too late considering the sum's of money involved! That didn't stop Charlotte having a snooze on the sofa after she'd exerted all her energy in the excitement of some huge plays, by some impressive players! No rest for the wicked though, I was too interested in what was going down to go to sleep!
The first victim, IDOLLS, met their fate when they were all in only to come across the two pair, Kings and Tens of fffffs. This set the trend as fffffs continued to send players to the rail, building their stack and taking control of the table holding just under 16 in chips when the 5th place finisher exited the table.
This momentum was taken away just over an hour into the action when Cobus had what I believed to be a genuine hand. The pot was already stoked from a preflop raise by fffffs. The board showed




which Trueblue bet at only to be pushed off by Cobus' all-in reflex. This increase in Cobus' stack to 16m prompted the new chip-leaders aggressive streak, opening a can of poker whoop ass on the short stackers to build even more of a lead.
fffffs still looked okay, slipping low twice but re-claiming the chips from Trueblue both times. One of these hands finally finished Trueblue who'd already slipped low in the hand against Cobus. They'd already survived a couple of near misses too but this was a bullet they couldn't dodge sending them to the sidelines all-in with


against fffffs'


. A board unfolding





was no help for the King high and that was that. This is how the stacks looked when they went 3's up.
Cassidy13: 5,113,680 in chips.
fffffs: 12,336,675 in chips.
Cobus83: 21,539,645 in chips.
fffffs didn't have much luck trying to double off Cassidy's back when he made the move all in pre-flop, slightly in front with


against


held by Cassidy13. The board crushed any hopes fffffs had of a double falling victim to a board of





. fffffs was unlucky really but that's poker. Right now we had a new leader to think about!
Cobus eventually got all-in with


call by


. Maybe Cassidy was too busy dreaming of victory to put the hand down when faced with calling all-in but then again Cobus had proved to be super aggressive and any ace is strong heads up. That said the final board of the tourney rolled out





. The win was Cobus' and they deserved it.
The Final Table Results:
1: Cobus83 - $101,374.00
2: Cassidy13 - $70.182.00
3: fffffs - $46,788.00
4: Trueblue333 - $38,990.00
5: Kameleont - $31,192.00
6: NewsKoooL - $23,394.00
7: Powergolf - $15,596.00
8: Mr nOmadsen - $9,747.50
9: IDOLLS - $6,706.28
Sunday Million - PokerStars
This is the tournament everyone wants to play in and more importantly, WIN! First place was a staggering $190k and everyone had their eyes on the prize.
Another regular feature of the Sunday Million is the long list of well known's and pro's that pencil the event into their diaries. PokerStars pro Isabelle (NoMercy) Mercier was playing along with Ray Rahme who made the final 400 and cash finish just piping Barry (barryg1) Greenstein who bumped out 483rd.
Play was steady as always with the usual up and down of stacks and the inevitable bust outs. And then there were 9.
Congratulations to everyone who made it past the bubble but especially to THE__D__RY who stormed the final table eventually stealing the lead parachuting held from the get go. The hand that did it was all-in preflop. A raising battle had para 90% committed to the pot with


. This weaker ace was up against


and needed help. The flop did help para coming with two hearts



giving him a flush draw. Turn and river were both red but the pips were too sharp edged to give the flush, falling as they did


His winning game shattered by the Ace Seven, para to commit his final chips by calling THE__D__RY's bet on the turn putting himself all-in with second pair kings and a gutshot holding


to a board of




. The river came

and that was it for parachuting. It was a great performance all the same.
The final hand of the Sunday million came just a few minutes into heads up after some back and forth blind stealing with the occasional cheap flop, here's the movie of the final showdown!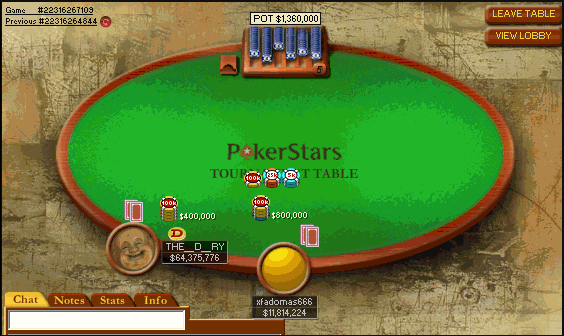 Special congratulations also go to both IDOLLS and NewsKoool who cashed $900 and $1,700 respectively in this event, as well as both making the final table in the Sunday Warm Up. All in a nights work eh?
Here's the full final table Results:
1: THE__D__RY - $189,997.00
2: xfadomas666 - $128,112.60
3: parachuting - $86,856.00
4: Major_BomB - $70,570.50
5: Verichip - $55,060.50
6: Stammdogg - $39.550.50
7: thebosshead - $27,142.50
8: A_lvanovich - $17,836.50
9: Hikkespett - $10,857.00
$750k Guaranteed – FullTilt
The prize pool needed a little overlay for the $750k guaranteed this week, but first place still stood at an impressive $132,787.50! As with Stars the Pro's were out in force on Tilt with Nikolay Evdakov hanging on until 262nd place falling from around 30th in chips after about 4 hours in. WSOP bracelet holder Svetlana Gromenkova managed 207th with Esther Rossi leading the FullTilt pro's to cash just under $1,400 in 53rd. Another familiar face, or should I say avatar was Wasaki cokes who took 2nd place and $80k in this event just last month. Yet again they were looking strong holding 6th position in chips when the bubble burst.
The final table lights were turned on the usual 8 hours into the tournament with Wasaki coke taking a slight edge in stack size. To anyone who calls poker a game of luck, take notice. The same players turn up in the cash or at the final tables almost every week. If that's not testament to poker being a game of skill I don't know what is.
It felt like I'd blinked and all of a sudden it was 3 handed. Wasaki coke wiped the floor in the earlier stages of the final table yet I began to wonder why it was taking so long to go heads up. There was every chance that spandit, even so low in chips, could reach at least 2nd place too because MicoTX wasn't waiting around or playing timid. He had his chips on the line on plenty of occasions. Yet this wouldn't make things move any faster either.
Spandit was never going further than 3rd after letting so many blinds go and playing so tight. He eventually got his chips in with


only for Wasaki to click the big red button marked "LETS GO!", calling instantly on the back of a raise he'd already made from the button with


. The flop and turn rolled out




with spandit needing to dodge just a 9 or a 5 to double. The river?

and goodnight spandit, everything was going Wasaki's way. $52,500 for 3rd isn't exactly a kick in the teeth though so congratulations to spandit.
Although there was a short wait for heads up it was a fast final table by anyone's standards. The heads up starting stacks faced off with Wasaki holding 8.7m to MicoTX's 2m, a bit of a mountain to climb but definitely do-able. Surely Wasaki had to run out of luck soon, right? But hey if you've got the chips, use em.
A disconnect seemed to be just what Mico needed when he found himself all in with


, in front against Wasaki's


. Winning this pot gave him the chips he needed to put pressure on Wasaki and try to make more, which he did. Lots more!
The final break saw stacks at 7.7m to 3.3m, still in Wasaki's favour. With blinds only at 60k/120k we had a game. Then, the sparks started to fly. Mico had his tourney life on the line all in with


and Wasaki had called showing


. Could Wasaki survive another marginal hand and take the win? The board answered the question




and the river

a jack for Wasaki but wait, STRAIGHT FLUSH for Mico's nines! I must admit my heart skipped a beat when I saw the "J" on the end. Stacks were level, and with blinds how they were it could have taken some time and it did just that.
Wasaki coke now the underdog yet he still had the chips to come back but it would be a struggle. He eventually took his chances with


with Mico excruciatingly close behind with


. The Flop rolled



low cards would double Waskai. The turn

and Wasaki's luck had finally run out. The river came

and that was that. MicoTX was this week's winner.
Final table results:
1: MicoTX - $132,787.50
2: Wasaki coke - $80,250
3: Spandit - $52,500
4: SPIN101 - $41,400
5: Davidp18 - $31,050
6: Embetant - $23,025
7: PXFACTOR - $17,250
8: DNA2RNA - $13,500
9: PeppermintHippo - $10,050
SUNDAY BRAWL 350k GTD – FullTilt
$240+$16 got you into this weeks Sunday Brawl, FullTilt's other big Sunday game. This Knockout tournament adds a bit of spice to the Sunday line up and being yet another event exceeding the guaranteed prize pool there was everything to play for.
If you're unsure of the 'Knockout' rules, basically the game plays like any tournament, but about 20% of the players buy in goes on their heads and anyone knocking anyone out at any stage will have this bounty credited directly into their account. A nice idea I'm sure you'll agree!
1,931 entrants had their eyes on a hearty $386k spread over bounties and 189 other paid places. First prize was $79,557.20 and the player to take it was Julian Verse! Verse is a player already in the spotlight for winning the FTOPS main event last week scooping just less than half a million dollars in prize money for that game alone. Congratulations on your continuing form!
The Final Table Results:
1: Julian Verse (United States), $79,557.20
2: liverdracon (Austria), $52,523.20
3: jimmyforreal (Netherlands), $39,006.20
4: DontTryToBlufMe (United States), $30,509.80
5: i_love_Venetian (United States), $22,785.80
6: becks911 (Canada), $15,834.20
7: Half Full (United States), $9,655
8: JCSeelbach (United States), $6,565.40
9: chelt1 (United Kingdom), $4,634.40 - go UK!
Congrats to all this weeks winners! I'll be giving Charlotte her poker lessons, she better not forget me when she wins the million. :P