Some BIG Money was Won this Weekend - This is How!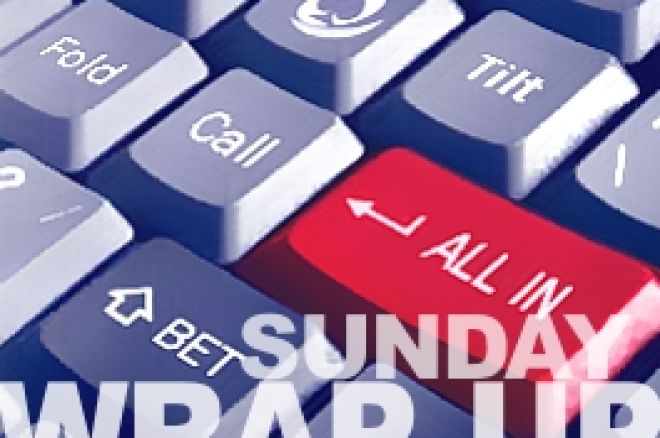 The credit crunch doesn't seem to be affecting the big poker tournaments online, there are more players registering for these now than there were a couple of months ago. For me watching those games is like watching a great movie with all the highs and lows, twists and turns. Last night was definitely a blockbuster! With the climax of the FTOPS and PokerStars putting on their usual dazzling show; I couldn't wait to give you guys the lowdown.
Sunday Warm Up – PokerStars
Despite the FTOPS, PokerStars Sunday Warm Up still managed to pull in 3896 players from all over the world, making a prize pool of $779,200.00. That just goes to show what a renowned and commanding tournament it is.
Chips were spread quite evenly in the early stages of the final table with the top 3 players all holding 6 to 7m in chips. Players were dropping like flies until it was finally 3 handed but this wasn't to last long either. Jeroenromate wanted to double up fast or take 3rd place, going all in what seemed like every hand. He eventually got caught all-in with his pants down holding


, called by slyfox151 who held


. No prizes for guessing what happened and then there were two!
Heads Up and BlackFourz raised from the button which prompted slyfox to come over the top which only sent BlackFourz charging all-in! An instant call by the slyfox had the cards on their backs. Slyfox


! BlackFourz


. The board:





made slyfox151 this week's champion.
Congratulations to all players.
Final table results:
1: slyfox151 - $101296.00
2: BlackFourz - $70128.00
3: jeroenromate - $46752.00
4: aty79 - $38960.00
5: RaisingRay91 - $31168.00
6: Bjorg0010 - $23376.00
7: ArzrA - $15584.00
8: jwaces - $9740.00
9: Bill Ivey - $6701.12
Sunday Million – PokerStars
The Sunday Million exceeded expectations yet again, with a prize pool of $1,599,800 and a first place prize of $195,975.50. Certainly something the 7999 players could aspire to. Congratulations are due to kesher79 who kicked his fair share of cyber players off of cyber seats to seal the win.
The field was no push over either what with players such as Daniel 'KidPoker' Negreanu and Barry 'barryg1' Greenstein also playing. It lasted just a little over 10hrs, starting at 9:30pm GMT and finishing at 07:43am GMT.
Only 8 players were at the final table as LEstradioto was knocked out in 9th position before the table was ready. The first player to be kicked out was jaracho123 who had to ship all his chips to kesher79 in a classic race


vs.


no help from the board and kesher's 4's took the pot.
Kesher79 carried on surviving and sending players out, he got lucky against mjluth when mj pushed all in preflop on kersher's bb. Mjluth showed


– kesher79


, flop



, turn

, praying for an ace on the river didn't work this time and mjluth was out in 3rd position.
A very dramatic finish to a heads up which only lasted 5 mins. rS.Wisdom was after the pot from the start, like a junkie trying to get his next fix, but unfortunately for him he would be sent out to rehab in 2nd position.
The blinds were 300/600k, kesher on the button raised to 1.8m, rS called, flop



, rS checked, kesher bet 2.4m, rS called. Turn

, rS.wisdom checks, kesher79 bet 6m, rS called. River

, rS.wisdom checked and kesher79 went all in, quick think and a call from rS.wisdom. rS.wisdom shows he was slow playing two pair aces and tens but kesher79 flips QUADS!




nice hand to win the game on!
Final table results:
1: kesher79 - $195975.50
2: rS.Wisdom - $132143.48
3: mjluth - $89588.80
4: maverick8487 - $72790.90
5: Mr_BigQueso - $56792.90
6: orkim - $40794.90
7: RiverCardRob - $27996.50
8: jarocho123 - $18397.70
9: LEstradioto - $11198.60
FTOPS Event #22 – [URL="https://uk.pokernews.com/full-tilt-code/"]FullTilt[/URL]
FTOPS #22 was a worthy build up to the main event with an impressive prize pool of $2,000,000! The game was 6 handed NLHE, hosted by internet pro and WSOP 2008 9th place finisher Craig Marquis. It was always going to be interesting poker, what with a buy-in of $5,000 + $200! The fee alone could've nearly bought you into the Sunday Warm-Up or the Million but that didn't stop the 500 hopefuls who locked heads for the incredible first place prize of $550,000!
The two day event actually started Saturday but it was down to the final 9 at 11pm. That's good enough to get it into this week's edition of the Sunday Wrap Up. Craig Marquis gave his fans something to watch by carrying on his impressive streak and finishing 24th for $17,500, this guy is clearly not a one hit wonder. All other attention was on the final table action which didn't disappoint.
Another FullTilt pro Brandon Adams made the final table, Adams has been consistent in his big money tournament finishes since May 2005. Today was no exception, he finished 7th in event #22 for $57,500 sending the remaining 6 to the final table.
Amak316 started the final table with a strong chip lead and which he held onto and built upon until he was heads up with KakeTKa. PureCash25 had lost a huge hand just before the break, where he got into a chip fight with amak316, putting in a huge raise pre flop only to be pushed all in by amak. The cards where turned amak316 showed


, PureCash25


raggedy community cards left PureCash with barely any chips, the last of which were taken in a cruel twist when Pure himself had pocket Q's vs. The


of amak316 who hit that elusive ace from space on the river.
Amak316 had nearly 5/1 in chips against KaKeTKa, making for a pretty fast ten minute heads up. Culminating in KaKeTKa all in with


vs. Amak's


, amak316 won the game with a pair of two's.
Final table results:
1: amak316 - $550,000
2: KaKeTKa - $362,500
3: PureCash25 - $262,500
4: Buster Love - $195,000
5: NEONPILS99 - $137,500
6: dpowell - $90,000
FTOPS Main Event – FullTilt
Hosted by poker pro Scott Montgomery, who won over $3m this year finishing 5th in the WSOP. This was a huge $2.5m Guaranteed NLHE tournament. 5,225 players (including 63 FTP pro's!) bought in for $500 + $35 each, creating an even bigger prize pool of $2,612,500.
Sckilla had the dominating stack going into the final table with just over 11m in chips. Julian Verse wasn't far behind with almost 8m and sinrake with 5.3.
You could spot the different style of players going for the win and the ones which were just hanging on to make the next pay level. One of these players was Hummelhintern who proved to have alligator blood; he held on till 3rd place despite dropping quite low in chips a couple of times.
Heads up took just under 20 minutes starting with sckilla holding a reasonable but not overwhelming lead over Julian Verse (who had 16.4m to the leaders 21.9m). Play was extremely cautious for most of the match with neither player risking a big mistake.
Well, not until 15 minutes in with the blinds at 140k/280k!
Sckilla raised from the button making it 750k only to be re-raised by Julian Verse to almost 2.9m! Sckilla didn't call- he made another re-raise to just over 5m! Julian called taking it to the flop



. The pot was 10m and stacks were level. Julian checked it to sckilla who bet half the pot. Julian called and took it to the turn

. Julian again checked it to sckilla who didn't wait long to move his remaining chips all in. He must have been kicking himself when Julian called so quickly because all that sckilla had was


, a lowly pair of fours and drawing dead to Julian's monster


A king high flush!
Three more hands followed but they didn't really mean much due to the fact that sckilla only had 150k to Julian Verse's 39 million! Sckilla was eventually finished off when Julian hit a pair of sevens with


all in preflop vs. the


of sckilla. Congratulations to Julian Verse. What a win in such a huge event, talk about inspiring!
Here is how the Final Table Turning Point went down: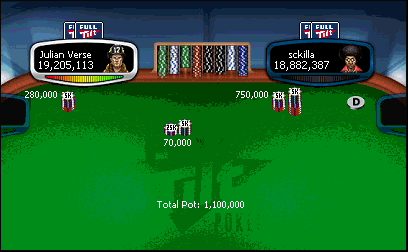 Final table results:
1: Julian Verse - $450,708.50
2: sckilla - $273,006.25
3: Hummelhintern -$175,560
4: ilovepoka - $137,156.25
5: bazeman - $103,13.75
6: Kragg - $77,068.75
7: sinrake - $60,087.50
8: RollinHand1 - $45,718.75
9: sd bum - $33,962.50
*******
Good luck to all you PokerNews readers who enter these games next week, I'll be there in the crowd cheering and booing with the rest. Lastly, join Lucky Ace Poker for the rake race. UK has nobody in it so the prizes will be yours without much of a fight. Here is the page with the details : Lucky Ace Poker Rake Race