Pokernews Credit Crunch Buster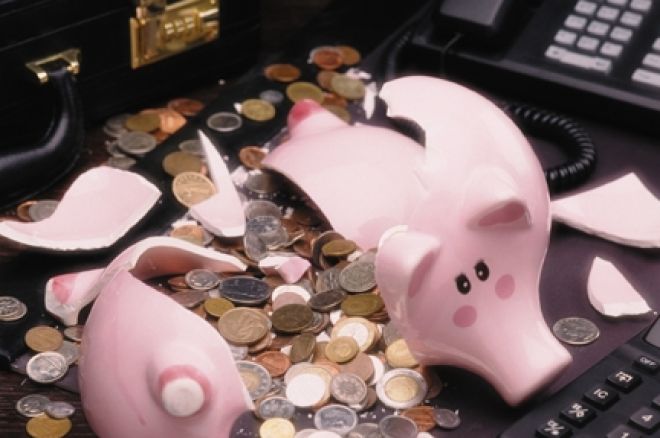 We are back with more tips on surviving and thriving at the online felt during a credit crunch. One of the big concerns a lot of serious poker players have at the moment is that all the good games are going to disappear. Without recreational players at the table, the games become less profitable and potentially dry up, there has been plenty of evidence in the last week to suggest that this simply won't be the case.
It is suggested that the gambling industry can flourish during and even help get us out of a recession and early reports suggest it might just do that. Last Sunday, Pokerstars.net recorded their busiest ever day at the cash tables, with 30,000 players simultaneously. There have also been several quarter three reports from online poker rooms this week proving that poker is growing as well as an independent study suggesting poker will see 16% growth in revenues year on year in the next three years.
But now is still a good time to be keeping an eye on online poker traffic at websites like Pokerscout, to get an idea which networks are least likely to dry up and are generating lots of action. There is no need to worry about rooms like Pokerstars.net and Full Tilt as they have commanded the top two positions in the traffic rankings for several years. The iPoker network will soon have a huge injection of profitable games going as Sun Poker and William Hill will be moving their soon, bringing with them an army of juicy fish.
Dont worry about Sky Poker or PKR, they might have comparatively less traffic but these are two poker rooms that are constantly growing, not losing customers. They also are marketed at new players who would never normally take up the game, so what they might lack in game choice they more than make up for in profitability.
As a general rule, keep an eye on where poker rooms concentrate their marketing, as this gives you an indication of where the juicy games will be coming from and those that seem to appeal to brand new players are the places to go. Sky Poker and PKR have their own dedicated TV channels which bring new blood to the tables and Party Poker sponsor a huge amount of sporting programmes and poker shows watched by the wider public. Finally a great number of poker rooms are concentrating a lot of marketing efforts in the new Asian market (Such as Pokerstars.net and their Asia Pacific Poker Tour) All of which should ensure an influx of fresh meat at the tables for a long time to come.
Credit Crunch Tips for Sit and Go's
We'll be looking each week at how you can benefit the most from the games you play at the table during a recession and this week we are having a look at SNGs, where the golden rule is simple – play at Pokerstars.net. Not only do SNG specialists tend to benefit the most from the excellent VIP programme at Pokerstars.net., but the Battle of the Planets promotion makes it the only place to go.
The weekly leader board for SNG players is tiered into 8 groups dependent on stakes and is then split into two groups, one for casual players and the other for big volume players. Put simply, you get big cash bonuses for running well at the tables and up to $10,000 per stake level is catered for each week and all you have to do is win, which we are sure was the plan anyway.
Not only that, but anyone who makes it into one of these top tens automatically qualifies for a $50,000 freeroll, the Battle of the Planets. This triple shootout is exactly the sort of low field, high prize money tournament MTT players dream of and is not to be sniffed at. If you bear in mind you will be (Hopefully) winning money and making the most of the VIP system anyway, its a no brainer (FYI – the Amazon vouchers at Pokerstars.net are awesome value at Christmas time).
Also one to keep an eye out for is SNG Madness which occasionally pops up over weekends at Full Tilt Poker. This is a much more condensed, faster and madder version of an SNG leader board and pays out based on two hour blocks of SNG Madness.
Party Poker are also worth a peek, as they were the first person to introduce flat fees of $10 max for SNGs, regardless of what the buy-in is. It has to be said, however, that traffic is much bigger for the above two sites, but it's a relatively new idea so the traffic is surely going to increase.
This week's Pokernews Credit Crunch Buster
We brought you news last week of some fantastic freerolls to get you out of the cold and into the sun at the Aussie Millions, but some (crazy) people don't like the sun and we have got just the thing for them. How about a freeroll to win a $7,650 package to the Pokernews Cup Alpine 2009 instead? A week of skiing and poker at the Alpine Palace Casino in Austria in from March 21st to 28th is the perfect Christmas present to yourself, and it's all for free.
All you have to do is download Mansion Poker via Pokernews, set up a new account and accumulate 100 mansion points. Once you have done that, you can use the points to register for the exclusive freeroll on the 23rd of November at 14:30. We must once again add, the fields are usually very very small for these freerolls and they really are like shooting fish in a barrel.
Join us next week for more Pokernews Credit Crunch busting tips