The Catman Tries the Free Poker Scene in this Credt Crunch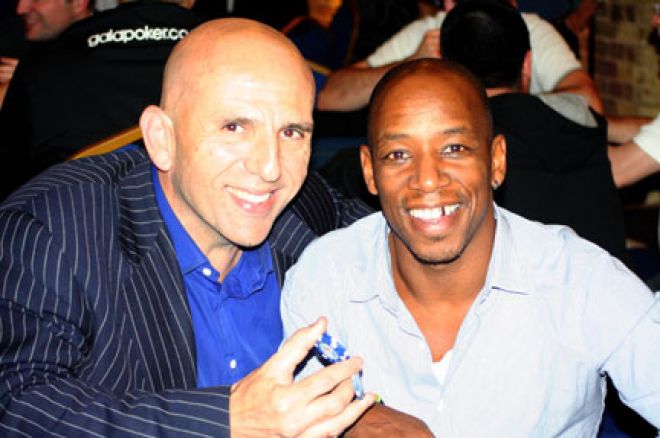 "Catman if you want a free seat, you have got to play the media event, like any other journalist, there is a credit crunch you know," echoed the dulcet tones of the marketing manager of a certain poker room. 'Credit Crunch,' What's new, I had already received 'CC' mail shots for credit crunch poker at Ladbrokes and Betfair, I knew what a crunch was. Who cares, now is the chance to explore budget poker and play the game to win, rather than to idly pass your time for fun. So there are plenty of books on play to win, but my first port of call will be to visit Party Pokers Premiere League launch party this Saturday and see what I can nip off WSOP Champ Peter Eastgate, an 'about to be' best mate of mine. I will come back with a full report for PokerNews, loads of money 'Eastgate,' will undoubtedly lend me in the CC. I am only hoping that Johny 'of his nut' Vegas will be there again amongst the astronomic pro line up, hats off to Party and Matchroom for this delightful coup.
So in the meantime I have decided to polish up my "A" game playing the low budget trail, which started off with dinner at The Paddington Casino. Gorging myself in a 5 Star restaurant seemed to be the only way to enjoy the credit crunch, it also gave me time to think a little more about the game of Poker ahead. The game was to be a quick one, more of a photo shoot with the legendary Boatman Brothers. After a good old gas I discovered an interesting fact, Ross Boatman wasn't just an actor, he was in fact as hardened a pro as you are likely to find anywhere. Ross has cashed 55 odd times and Barny 77, both winning a virtually identical $1,290,00 or thereabouts. Both Boat's are now playing big time on Full Tilt, and both have just made history being the only two brothers to make the semi final for 'Ladrokes Poker Million.' So what makes the Boatman's Poker Play special, let's think Saville Row Bespoke suits, apply this formula to a poker player and you get the Boatman's, old style but untouchable class.
If you can't fathom that one out, then you can bugger off now.
The Paddington Poker Room manager is a beautiful young Lady called Carla and this tied in so well with The Boatman interview, because as an even younger dealer, she was around The Vic and had dealt to us all in the good old days. The Vic has and will always be the home of our pro poker contingent, entering those elite ranks takes a whole new way of thinking, learning and experience, then practising the art like a master swordsman. The only piece of guarded news that you will not find online, is how to really play pro cash poker, one thing is for sure, you won't be taking lesson of Gus Hansen, unless you are sickly wealthy and insane. If you want to win, you have got to play like a pro, I am not yet a pro player, it will happen, for next time I sit down playing a live cash game, I like 99% of the audience will be there, purely to win, but will play with the knowledge of experience only a few % have paid for.
The Boatman's will not suffer the crunch , the Paddington Casino's Poker Room was full, with a blistering little cash game in progress and everyone was having a gas. Many of my dear friends here in London are wondering whether that their ten times their wage mortgage was worth it, but it is unlikely that professional poker players are going to suffer in this credit crunch. I repeat 'professional players.' Playing Pro Poker is a very, very serious proposition and the old school pros will be welcoming many new brothers to our live games. Online gaming may suffer for a period, but let us not forget this is about survival of the fittest, nothing wrong with a little attrition. How is it going to affect live cash games, well I for one am rubbing my hands at the amount of newbies that will now endeavour to play the Pro Fiddle. I believe live cash play will shoot through the roof and online will see some exciting trends, not sure how long for though.
But what about those wishing to either have fun playing poker? Or those who want to aspire to the ranks of pro player? With this in mind I set off for a week of almost free poker, time to tune my skills and see how good or bad low level live play was. First things first and I dashed off to meet the King of Budget poker, the Ricky Gervais of poker, Mr Steve Blapo. Blapo who works in unison with London Poker Meet Up and the London ????????? Another group which was a major player in Pub Poker. So, is there room for fun poker, I mean how often do you meet people having fun playing poker. I wandered down to a big game of Blapo's, it was a £10er at Clerkenwell House a funky bar in London EC1. Well the answer was, yes people do play poker for fun, and fun we had until the news arrived that Gavin (A Martial Arts Expert and flaming nice chap) one of the organiser's, had dented the back of his BMW, whilst doing a handbrake turn. Nothing to do with the poker game, but one of the players had left and gone to a cash point on the way home only to be mugged by 6, 13year old boys. Glasses were raised after Gavin and an ex cop, along with an off duty cop, busted the little scumbags, it was a riot of an evening. Naturally, I didn't mind taking advantage and winning the event, but playing beginners or fun players is the hardest game. Blapo also runs an event every Friday at the Loose Cannon, a venue for which I have a lot of love. Roy Houghton and Sonny Osman have sweated blood and tears for this cavernous venue, operated under a member's club licence which allows for poker, they have now found a solid niche in the low stakes market along with a lot of high stakes corporate action.
So after crushing the Blapo's game I was due two days later to enjoy the company of TalkSport Radio Station, the UK's highest audience sports channel, of which my mate, 'Matt the Mute,' is head of sponsorship. Matt Wilson is a very, very keen player and this event was his baby. The big night arrived with 20 odd players descending on The Loose Cannon , which had been transformed into a neon lit Wembley Stadium of Poker. Laser Borne Logos lit the Loose Cannon 40 foot arches, a P.A system made my words turn to music, as I called players to come learn to play poker with me. No matter how I pumped that the 'Catgirl' was a Poker Rookie and not a pro, the more Matt insisted that pro players were not allowed, it was to be a nearly bath for her, as she headed off to the gym. Of course this thin line between Pro and Rookie can get a reverse twist, no matter how hard I try to convince top PartyPoker Pr man Warren Lush, that , 'Catgirl's' appearance as a wild card Rookie Pro in the 'Premier e League,' would so enhance the ratings, it seems that he has lost the ability to reply to my emails.
The 'Talksport' event was so special, for 'Ian Wright,' and all the fantabulous TalkSport presenters were playing, it was presented and run in Vegas style and off course, it was free and full of prizes. So there I sat in awe of the footy legend 'Wrighty' and chin wagging with Alan Brazil, a man who loves a punt, only to donk my chips whilst 'star struck.' Nothing is better than free poker, unless of course you go the pro way and let a sponsor pay.
Next up was an invite I could not refuse, a free seat on a $1,000 Bluff free roll on Poker.co.uk, run by poker's most eligible bachelor Matt Dale. I never play the damn things, but hey this was credit crunch poker at its best. So after a few hours I was sitting at the final table as one of the last three players.
Luck shared its part until some stinking railbird, going by the name 'ElBlandie,' or 'ElBlondie,' railed me: "Catman, play like a Tiger, not a PussyCat." No idea, what took over my mind, but a good deal of luck and some excellent pro play, went down the tubes and the Blandie character, alias Steve Blapo had made me forget the motto, play like a pro not an Ahole. Deservedly I donked my way out in 3rd, the lesson learned being play for fun but always focus like a pro.
The week was to end at the 'International club' a new club in Islington N1, yes there are a few faces down there that worked at the Gutshot but this is a brand new concern, and to be honest I could not give a brass monkeys who owns it. The old 'Gutshot was an institution, a venue that brought cheap poker to the masses and hats off to that alone. As always there was a pleasant welcome, it was as if someone had rang a bell to summon my arrival, "Catman, I have a lovely Omaha game if you would like to join it," said one of the charming dealer's. Instead, I sat there typing this away last Sunday, watching the Catgirl grimace and pout as she played a very loose game, pouting in a tickler / value bet whilst holding the nuts will always get someone gunning for her. The room is big, it does have a true club atmosphere, the staff are smart, and it feels good. Mike the tournament director is a charming gent, definitely on the ball, Catgirl came a poor third and the 'Smart Car,' had two new tyres paid for.
All in all I can't think of anything but good to say and it has a smoking area for those wishing to place more pressure on the National Health Service.
Well of course I could harp on, 'Credit Crunch' this or that, but what the feck for, there will be more choice and opportunity for live and online value poker, credit crunch poker is the only way to go or indeed to a free party.