'Catfight' at Premier League Launch Party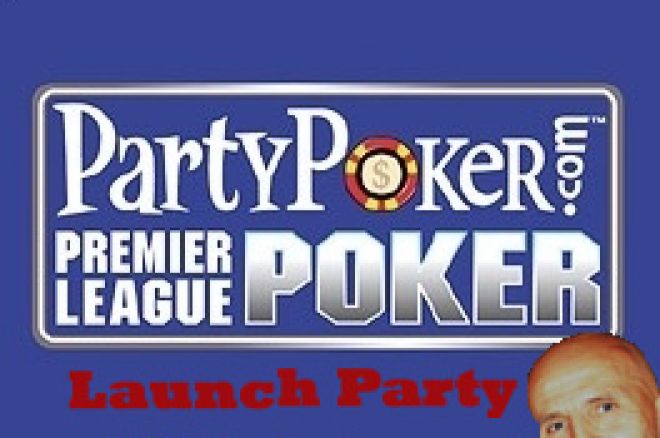 Poker has developed from the very charming and certainly pleasant smoky dens (of which I have fond memories) to a worldwide phenomena, but still frowned upon by all media avenues. From the day when Wild Bill Hickok made the first bad choice of seating position when he got shot in the back to poker as abundant as lap dancing. But just like Lap dancing Poker has always remained a dirty word with the media, a bit like cocaine, they love to do it, but alas will never publicly support the cause. Of course, I am being more than facetious here, but the point is that poker will never be accepted as a sport. It is a game where skill plays a huge roll, but the luck element seems to mean that poker players will never gain the respect of the media where due. From Nixon onwards, most Presidents have played poker, that did not help the cause much. So how do we get the game accepted, will it ever make prime time TV. The answer is twofold keep pushing the standard of play, or learn that TV is about entertainment, just as Matchroom and PartyPoker have discovered.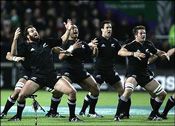 I came up with a great TV idea the other night, instead of X Factor this, Celebrity in the jungle, why not celebrity Rugby, where a famous face play's Rugby with The All Blacks. The aim of the programme being for the celebrity to last more than 3 minutes, before being stretchered off, it would sell and be less eclectic than the Ultimate Fight Club (UFC).
Is the game over exposed, is it dull or boring to watch, generally the answer is yes. In the U.K, even few of our celebrity misfits will be seen playing poker, football players have no chance of being associated with us. A real mainstream star, the one and only Johnny Vegas of course played in a TV event in the days when he wasn't tea total, almost up turned the table in a tantrum and provided some of the most entertaining poker TV ever witnessed.
But PartyPoker and the illustrious Matchroom are pushing the goal posts wide apart. For this year the Premiere League really does boast a world class line up. Jesse May's sensational player analysis, boasts of sparks flying, booze fuelled poker play and the chance of many scores being settled, let us pray it all comes true. Of course this is all brilliant hype and done in genius mode, Poker and entertainment in one package, Jesse May and Mad Marty are entertainers to the core and they know the apple (apple Core = Score) too.
You will find the whole line up blasted all over PokerNews and I can't' face typing it but in terms or real interest, Tom Dwan or Durrrr as he is know by those in the know. Yes, Durrrr is almost pornographic in his ability to crush the world's biggest online cash games, $6 mill up this year alone; the kid is my feckin hero. "Son did anyone tell you that you are a sucker," or words extremely close to that we relayed to the young Durrrr as his Ten's beat Hellmuth's Aces in the NBC Heads Up Championships this year. So that's all I need say, anyone there that will wind Phil up is a great start. Of course, if we could all learn anything from watching Phil or Tom play, and then it would be worth recording every second of the Premiere League. But how good will Durrrr be, I expect sensational, and if not, who gives a monkey, I want to watch this young Einstein in action, and of course Annette is playing too. Along swans another young gun Peter Eastgate, believe he just won a few quid in the main event at the WSOP and 'Bob's your uncle, Fannies your Aunt,' you have got one hell of a tea party. Also in the mix Tony G and The DevilFish, even if Tony G is far too nice these day', Devilfish isn't, but anyone that knows form will tell you these old school boy's can play the pant's of any of the young Biatches that get a little bit too big for their panties. (Term used in a totally non sexist and street/ hip hop, slang directive). You may think I am getting a little carried away here, but at least I am inspired and indeed almost excited at watching the beginning of the re invention of European TV Poker.
So with all that emotional bolllox out of the way, it was time to hit the PartyPoker Premiere League Party, and let me tell you I have done the last three. So along with forum competition winners and other major celebs I was off to the Century Club on Shaftesbury Avenue for a drink and dance with the stars. Well in fact, I was absolutely desperate to meet Durrrr and ask him if I could take a seat behind him while he played his magical fiddle on the net, and say hello to the G Man and of course listen to my mate the DevilFish and listen I did.
Warren Lush is the face of PartyPoker, never met anyone else, and he is the company Pr man and someone I spend a fair amount of time harassing in my continual led promotion of Poker Rookie 'Catgirl.' Unbeknown to Warren Lush there was going to be a chance of a real 'Catfight,' for the Catgirl, Europe's most alluring Poker Rookie, wasn't invited to play, despite numerous bribe offers by her agent, who could that be?
The Lush of PartyPoker is a master of his art and along with Matchroom's Poker Boss; Eddie Hearn has developed the Premiere League TV event into a real spectacle. The Catgirl had promised me she would not hurt the Lush and like a mug I listened, she donned a lavish silk number and I slung on my green velvet lounge jacket, reserved for special events.
I entered to be greeted by the ever cool Beiju Patel, Eddie Hearns right hand man, and then said hello to the Matchroom Posse, a group of brick built diamond geezers that are always around Matchroom Events. I think some drive, some mind and some are shareholders, no idea, but they are all the kind of people you are always happy to see. Rob from Gibraltar and Indestructible came over and invites Catgirl to meet some of the Hendon Mob Posters, who were there on a competition outing, 'Rob, we need some drinks to get on your level,' now that wasn't meant as an insult and Rob agreed, you just can't walk into a party that has been going for twenty minutes, sober.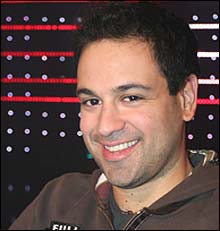 We made it to the bar and grabbed a couple of Red Wines, I downed mine in a nano second and as a virtual tea totaller became pleasantly pissed. Roland De Wolfe joins us, "Roland tell us about the Wheat Germ," I enquire: "Yes I am on wheat germ, it flushes out the system," I asked Roland if he had tried a colonic and that was the end of that conversation. But hey, what else can you ask a poker player; lend us a mill or so.
Bang, I turned round and as if an Angel had appeared, it was the world's funniest tournament director 'Mad Marty.' Marty is as Mad as a hatter, that is cos he is verging on genius and as always he never let me down. "Catman, that Body Paint the Catgirl wore at The World Open, the dealing machines have never been the same, since," said Marty as we reminisced over the Cat girl's almost Naked Poker Appearance at PartyPoker's World Open. Marty had been assisting at an event for Senile persons and people with learning deficiencies, and was explaining to me how good some of them were at poker, at this point I enquired which one of Premieres Pro's was closest to senile dementia. " how many players of the premier league have a vowel at the end of their name, how many names start and end with the same letter, what is the capital of Belarus, Minx and what is it famous for , 9.4 million people and 96.4 of them live in rented accommodation. How many countries are there in the world? In fifty years time there will be no blonde people born on the planet", rattled Marty. Marty, diplomatically ignoring my question as to what kind of dementia Phil Hellmuth suffers from.
The conversation became more abstract, but every second with Marty is pure fun, I got a tap on my shoulder, it was Andy Black. Andy who was heading off and taking with him his 9 year old son, who was in fact a most handsome child, "Yeah he is, but is he mine," joked Andy. As Andy left I explained to Marty, that if I wasn't driving I could spend hours in his company, Marty is a golden arrow to any event. This slowly led us over to the next KingPin in the PartyPoker and Matchroom production, the one and only Jesse May and more body paint talk. There is no one better at Poker commentary than Jesse.
The line up is formidable. The favourites are JC Tran and DevilFish. What about the Big Brother Scenario in the press release, will there be cameras in the shower rooms. "No maybe not," said the Lush. We want entertaining players, who talk at the table, it was at this point At this point we take the Catgirl took her Talons to Lushes throat. After a brief struggle, Lush, a titan of a man conceded.
"The added prize money is $350, 00, we are really happy with the line up and loads of personalities," who are they I retort. " If the Catgirl, get some wins under your belt, we will consider her for the Premiere League next year, a lot of players want to play this." With The Lushman left nursing his bruises, we continued our drunken sortie across the room. Next up we grabbed Eddie Hearn and took him to a quiet spot at the entrance of the communal loos for a couple of quick words. Eddie is not only extremely rich, handsome, but built like a heavyweight from UFC, so no more scraps from the Catgirl. "It's tough to get it better, it's the biggest line up ever seen. I am trying to please everyone and it seems to have worked. We have got a fascinating line up. I watched Tom Dwan play 8 tables with a million on the tables, last night. "Eddie then takes a phone call and we wonder off from our Loo liaison, in search of Durrrr. I bumped into the closest thing, Matt Dale who had just been asked to be Galas Poker Ambassador for the Bristol final, "It is a two day contract, I don't get anything, just doing a photo shoot and posing like Rocky," said the ever laughing Dale.
Norman Pace arrived, he wasn't yet playing the premier league but in training. "Catman, you coming to the Empire," enquired one of the Mob Posse, next minute "Catman, you coming to the Vic," I was being bombarded with game requests, a bad sign and I still hadn't completed my mission.
Durrrr is still on the plane, Tony G is still on the plane, and no one can find Peter Eastgate. Vicky Coren passes us on the stairs and looks very happy, and so she should be. Annette Obrestad wanders in also looking happy and relaxed. Who do I want to win? Vicky or Annette, to trash and pound an event so full of male ego the room will stench of each and every fish they slaughter. The girl's will be correctly feared, and they really are the two most envied female players on earth, imagine the fun they will have, toying with the bully boy's. Otherwise 'Tony G' as he is the man or 'Devilfish,' both are player's with a split personality that will ensure I for one watch them, both gentleman behind their alter egos and both 'PokerBaddies.'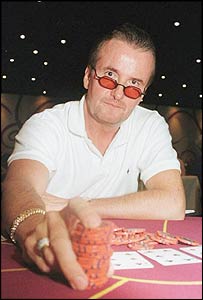 The Devilfish asks if we mind him doing an interview on the couch we are sitting on. I said fine, sit down, but unfortunately there was no room for the journalist interviewing him.
I was still fairly tanked up, but I thought I would go back and grab a few words from the mighty Serbian the 'Serb' Nenad Medic. I grabbed a few words, he was representing pokerbattle.com, he was in London to win, and when asked about his spat with Roland De Wolfe "I have a lot of history with him, he is a good friend. But he is a big fish in the cash."
I then had a quick chat with JC Tran representing Team PKR, now we are talking different gravy. JC Tran is a real Poker Ambassador, charming, delightful and it was his first time in London. With $6.8 million plus behind him, I believe he knows a little about the game. "My first time here, I am loving it. Eddie Hearn is going to take us to a club or a bar after this. I liked six handed tournaments, but never played this kind of format. I can adjust easily, it is a tough field. No fish on the list, I will give everybody respect and let em come to me."
Well it was fun, the thing is the event has stirred my imagination, I am excited and if I had naff all to do I would love to wander down to the studios and watch every game in this next level of Poker TV.
There is still a way to go before Poker becomes as popular as UFC, but then and I asked the Devilfish, on my digital tape recorder one last question,
DevilFish any comments? "Yeah, they are all c**** here."
Russell Brand, Johnathon Ross step back, prepare your TV screen for the DevilFish is in town, and it is his year so they say.
Any damage caused to Warren Lush by the Catgirl was a matter of 'Loose Play.'