Caesars Palace, Las Vegas - UK PokerNews Review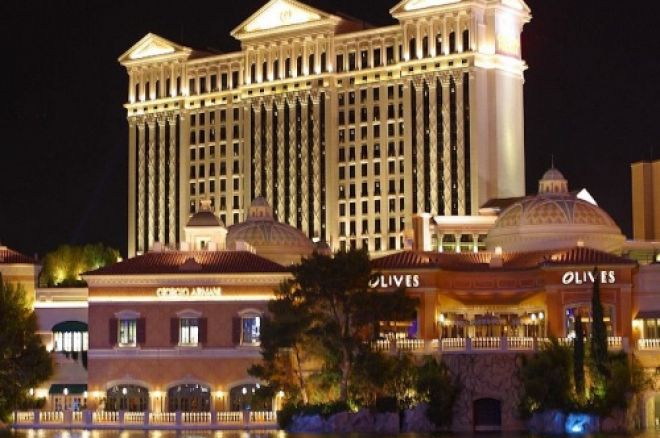 Caesars Palace is probably the most famous casino in the world.
It's a joint that's steeped in rich history – and I'm not talking about the faux-Roman architecture and the reproduction statues that adorn the building. By Las Vegas standards, this place dates back almost to the dawn of man.
Standing proudly on the Strip for more than 40 years, Caesars Palace has evolved and grown with the times. As a result, Caesars is a giant, sprawling monster of a casino, which combines a vintage Vegas charm with all the facilities you would expect from a modern, world class destination.
In 1966, the resort boasted a (then) huge 680-room, 14 storey hotel. Today, there are more than 3,000 rooms towering 46 stories high – and another tower is scheduled to open next year.
Over the years, Caesars has been home to entertainment legends including Frank Sinatra, Diana Ross, Liberace and Celine Dion. Today, the headliners are still megastars: on any given night you can see Elton John, Bette Midler or Cher.
The choice of nightlife ranges from fine dining at one of the Michelin-rated restaurants to dancing with the Pussycat Dolls. The casino, of course, will give you action 24/7.
Then, with the money you don't lose at the tables, you can shop till you drop at the Forum Shops.
So, with all that going on around the casino, what does Caesars have to offer in terms of poker?
Well, as you'd probably expect – it doesn't disappoint. There are 63 tables in total, in a luxurious poker room that's tucked away just off main the casino floor.
Caesars Palace is large that it actually has two casinos. There's only one poker room, but it's so large that's divided into two distinct areas.
When you first walk in, you're in the live action section of the room. There are 30 tables, spreading regular $3/$6 and $6/$12 Limit Hold'em as well as No Limit with $1/$3, $2/$5 or $5/$10 blinds. Higher limits, as well as Omaha and mixed games are offered whenever there is enough demand.
Walk through the dividing partition into the back of the room and you're standing in the 33-table tournament area. This part of the room has an extra high ceiling – it's designed to easily accommodate a TV crew for major tournaments!
Both rooms are very comfortable (the chairs and tables are the same, except for the rake drop on the cash tables) and there's plenty of space.
The waiting list is electronic so you can see at a glance what games are running and – if they're full – how long you're likely to have to wait to get a seat.
If you do have to wait, there are plenty of chairs around the outside of the room, and you can grab a copy of the latest poker magazine to read. Or you could take a walk around the room and admire the iconic sports prints hanging on the walls from the Neil Leifer gallery (which is also inside Caesars).
There are also flat-screen TVs all around the room. Useful when you want to keep an eye on the other game while you're playing yours.
In order to register for a tournament, you'll need a Total Rewards player's card. It only takes a couple of minutes to sign up, but bear this in mind if you're coming to play for the first time.
The card can be used to track your play on slots and table games as well as poker, and you can use the same card at Bally's, Flamingo, Harrah's, Imperial Palace, Paris and Rio, as well as Caesars.
You earn reward credits as you play the various games. You don't get anything for poker tournaments, but each hour of cash games earns you $1. Your credits can be redeemed almost anywhere at any of the participating casinos.
Caesars Palace is so large that you could easily spend half an hour walking around, just trying to get from one end to the other! If you're easily distracted, you could lose yourself for days.
If you're coming in off the Strip, the quickest route to the Poker Room is to come through the entrance underneath Pure nightclub (you can't miss the balcony, even during the day) then swing right past the Elton John store. A short corridor between the Sportsbook and Pure nightclub will take you there.