Brian Clarke Interviewed - Chip and a Chair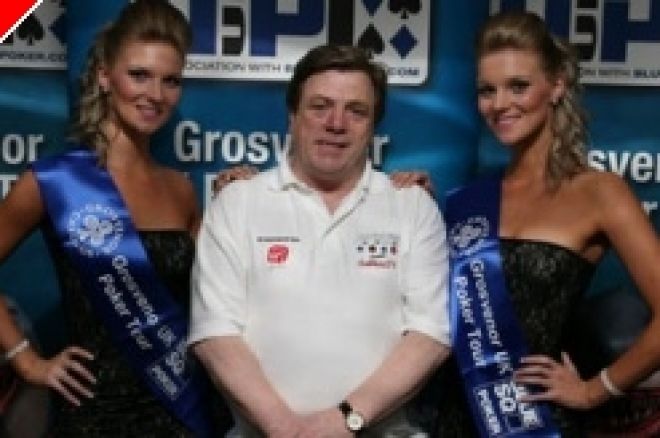 There have been some memorable final tables at the Grosvenor UK Poker Tour in the last two years and it has produced many a noteworthy champion. Most GUKPT winners have been established names like Julian Thew, Jeff Kimber, Dave Colclough, Marc Goodwin and Praz Bansi – but anyone that witnessed it will never forget the final table won by Brian 'WeeBrick' Clarke this month in Blackpool.
The local night-watchmen has been playing as an amateur for 4 years now, live and online. He won his seat in a special freeroll organised by www.aworldofpoker.com (AWOP) and Virgin Poker where he won seats into 4 events including the main event. What made his victory memorable is that he was the short stack for almost the entire tournament, was the short stack going into the final table and remained that way all the way until he got heads up with in-form Zachary Ford and despite being significantly short still, he doubled up 5 times to eventually win the title and the £95,000 first prize when his QQ rivered a Q against the AK of Ford which made two pair by the turn. We spoke to the new champion:
"To be honest I was short stacked for the majority of the Tournament and in the early stages suffered some pretty bad outdraws but managed to always stay in the Event. When I went back on the Sunday I was 11th in chips of the 13 players. I just set myself targets at each stage. Get to the Final table...move up the ladder but always tried to stay in the hunt. I laid down some monster hands in the final along the way which I think was key to getting heads up with Zach."
Despite what must have been a frustrating three days for him having to manage a short stack all the time, he must surely believe in the poker gods now after that late surge to win the title?
"I don't disagree there but I was overdue my run of luck. Zach played a great game but at that stage the poker gods were definitely with me. Having said that you got to be in it to win it and I managed to keep myself in the game for 3 days to give myself in the hunt. That is something I am extremely proud of."
People are always going to remember the late surge of luck in his heads up match with Ford, what many will forget was that it was a really tough final table that included GCBPT champ Zachary Ford, EPT Champion Andreas Hoivold and seasoned pros Alan Vinson and Gareth Jones. Just how tough was it?
"I was exhausted. Very little sleep on Saturday...no sleep on Sunday and sitting there facing some great players was a brilliant experience. Tough is an understatement. However the good thing from my point of view was that they kept knocking each other out as I slowly climbed the ladder."
Now Clarke's name will be etched alongside all those established names that call themselves a GUKPT champion. Next month he will be playing in the Champion of Champions event in Luton and the grand final at the Vic, has it all sunk in yet?
"Even now that hasn't quite sunk in. Playing in the Grand Final next week at the Vic is going to be an awesome experience. £3000 entry and a huge field of great players. Then the week after to Luton for the Champion of Champions event...it is fairy tale stuff. The money is just a dream. I can pay off my mortgage and give my 2 boys a great Xmas as well as giving other family members a treat and still have a bit left for myself. Not bad when month to month I had to budget to make sure the kids were well fed...the bills and mortgage got paid etc...amazing. But the best is that I am the GUKPT Blackpool Leg winner 2008 for the rest of my life...If I achieve nothing else in poker that'll do me. "
As always whenever I interview a new champion of a poker event, I ask the inevitable 'so are you going pro then?' question:
"Now you're being silly. This was my day...my moment. I have no illusions about either quitting work or going pro. I have had to ask for time off to attend the Grand Final and The Champions event. In both cases I will be back to Blackpool and to work. I have no holidays left so have no choice. If I win the London event then I might think about giving up work. "
"I'd just like to add a big thank you to everybody both online at AWOP and live who supported me. That just blew my mind away...it was truly heart warming. And a big big thank you to A World of Poker and Virgin games for giving me this amazing opportunity."
One of the reasons why the GUKPT has been a big success is perhaps because so many big UK names have played in and won the main events, giving the tour both instant marketing and creditability. But maybe it needs a few more Brian Clarke stories too, as it is truly one of the most heart warming poker stories of the year and good to see the money will be being put to good use and not straight back into a casino.
We wish Brian 'Weebrick' Clarke the best of luck as he goes into the GUKPT Grand Final and the Champion of Champions event.