Betfred Ladies Tourney and DTD Greek Champ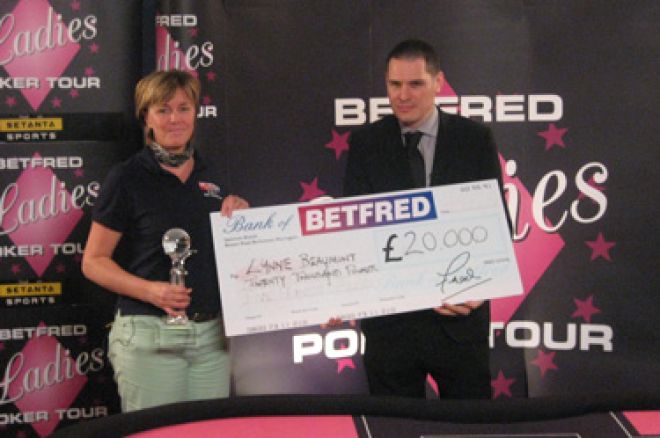 Betfred Ladies Poker Tour 2008 Comes to a finale
The Betfred Ladies Poker Tour has been touring the U.K over the past 9 months and on Saturday 22nd November saw the climatic Final table held at "The Western" poker room in Acton, London.
Seat 1 Karen Dennett,
Seat 2 Linda Blundell,
Seat 3 Michelle Bennett,
Seat 4 Gina Short,
Seat 5 Sue Adams,
Seat 6 Gail Pirie,
Seat 7 Anne Scambler,
Seat 8 Emma Strutt,
Seat 9 Christine Evans,
Seat 10 Lynne Beaumont (Betfred Ladies Poker Tour 2007 Year Winner)
With 20,000 starting chips and a 30 minute clock, it was going to be a very long but very worthwhile final table.
Everybody who made the final table had either won an event leg, had been 1st in points on the leader board or was in the top 20 to play for a play off seat online.
All players received £500 for expenses and the winner receiving a £20,000 sponsorship package for 2009 from Betfred. Setanta Sports were televising the event which is to be shown in the very near future.
Betting on the finalists were:-
11/4 Lynne Beaumont (2007 Champion)
4/1 Sue Adams
9/2 Linda Blundell
7/1 Gail Pirie
8/1 Christine Evans
10/1 Anne Scambler
12/1 Michelle Bennett
12/1 Karen Dennett
14/1 Emma Strutt
16/1 Gina Short
Final 2 ladies battling head to head after knocking out the 8 other finalists were Christine Evans and Lynne Beaumont and after an epic 9.5 hours final table, its all over......
Lynne was all in with K 10 and Chris called with A 4
Flop: 9 A Q, Turn: 6, River: J
Lynne hit a straight and is now the Betfred Ladies Poker Tour champion for 2008!
The Betfred Ladies Poker Tour will resume again early 2009 and I will keep you posted of the event schedule as there will be a couple of new venues added to the list.
Until then "Well Played Ladies" and will see you on the next tour.
DTD Hold the first ever Greek Championships
1am on Friday 14th November, 2 coaches of Greek players arrived at Dusk Till Dawn. By 2am, they had registered, checked into their hotels and were back at the club playing poker! As poker is illegal in Greece, for most of them, this was their first live experience.
For many players after a few hours sleep, the £200 No Limit event got under way with 62 of the travelling players.
This event was won by Christos Vettas.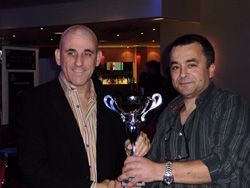 Saturday saw the main event attract an increased field of 79 as UK based players travelled to Dusk Till Dawn hoping to become the Greek Poker Champion. 15 made it through to day 2 and the final 9 created a great atmosphere with many spectators as there were 5 from Greece/Cyprus and 4 from the UK. When we got to heads up, DTD regular Marios Charalambous was against Stefanos Aspiotis but it was Stefanos who battled and won the trophy, title and £11,060.
Results were :-
Entry: £400 Game: Hold Em
Registration: £40 Limit: No Limit
Starting Chips: 10000 Type: Freezeout
Total Entries: 79 Special: Special
Total Prizepool: £31,600
PLACE PLAYER PRIZE
1 Stefanos Aspiotis £11,060
2 Marios Charalambous £6,636
3 Efstathios Manousos £4,424
4 Peter Charalamobus £2,844
5 Menikos Panayiotou £2,212
6 Loizos Protopapas £1,580
7 George Plarkou £1,264
8 Giannis Iliadis £948
9 Mario Andreou £632
The final event on the Sunday had 72 players. This was finally won by Vasileios Kontogiannis of Pokerland.gr who had organised the Greek Poker Championships. He was delighted to give his fellow countrymen the opportunity to play legal poker in Europe's premier poker venue and hopes that more players will support the event next year.
Entry: £100 Game: Hold Em
Registration: £10 Limit: No Limit
Starting Chips: 3000 + 3000 Type: Double Chance Freezeout
Total Entries: 72 Special: Special
Total Prizepool: £7,200
PLACE PLAYER PRIZE
1 Vasileios Kontogiannis £2,520
2 Eleonora Kapetanaki £1,512
3 Nicos Zipiti £1,008
4 Antreas Halkiadakis £648
5 Andrew Partou £504
6 Ioannis Doulamis £360
7 Demetrios Michael £288
8 Jack Serghi £216
9 Carlos Michael £144