$12.5K Aussie Millions Prize Packages Freerolls on Full Tilt Poker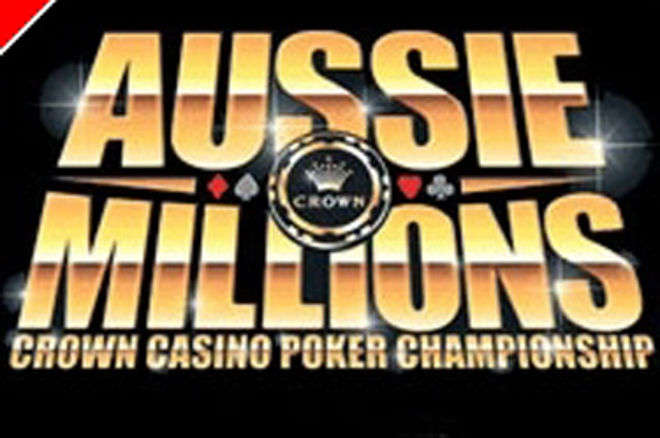 This is your chance to go to Melbourne Australia for free! Full Tilt Poker and PokerNews are excited to announce two Aussie Millions Freerolls. With a guaranteed first place prize of $2 Million AUD, you don't want to miss out on your chance.
The Crown Casino in Melbourne will be the host to the 2009 Aussie Millions, which is in the heart of one of the most beautiful cities in the world. It is time for someone to the UK to win this tournament and join the ranks of the poker elite. These Freerolls are as good as value can get in today's world, so please do not miss out on this chance!
Both prize packages consist of main event entry, accommodations in the Promenade Hotel, and some cash for travel expenses, merchandise and a VIP invite to the PokerNews 'Welcome Dinner.' The hotel is attached to the casino and close to many great attractions so getting around will be very easy.
The tournaments will be:
(1) December 14th, 14:35 EST - Qualification period is Nov 28 (00:00 EST) – Dec 11 (23:59 EST)
(2) December 28th, 14:35 EST - Qualification period is Dec 12 (00:00 EST) – Dec 25 (23:59 EST)
To qualify for this tournament, players must download Full Tilt Poker via the uk.pokernews links, register a new account, make a minimum deposit and make 225 FTP Points between the above listed qualification period. Once the points have been made, players should then manually register for the Freeroll with the registration link in the tournament lobby. Players that already have a FTP account via PokerNews are also allowed to play in this tournament granted all requirements have been met. For all the instructions check the FTP listings on our Freeroll page.
You don't want to be left out in the cold January weather hearing about the credit crunch each day when you could instead be jet-setting across the world to try and win millions! This is what PokerNews is all about: giving people huge free trips and poker experiences, so please try and take advantage of it!
For details on previous winners, tournament structure, prize-pools or anything else check out AussieMillions.com.
See you at the tables and good luck.
Please note: Full Tilt Poker provides a sweet sign up bonus of %100 up to $600!