Ash Hussain wins Grosvenor Gran Prix, Steve Billirakis Wins WSOP Circuit Event and more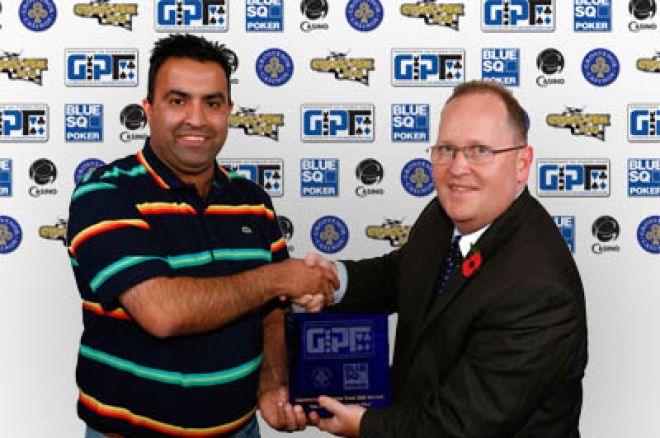 Ash Hussein wins Grosvenor Grand Prix
Former European player of the year Ash Hussein has took down the Grosvenor Grand Prix in Walsall. The qualifier only pot limit hold'em event is now officially a GUKPT event and is perhaps the best value event of the year. Not only was £25,000 added to the prize pool but the field only consisted of 58 qualifiers and this writer is kicking himself for not making more of an effort to win a seat this year.
The result must have had extra special significance for Ash, as this event was won two years ago by his brother Zahir 'Zippy' Aslam. Hussein defeated a tough final table which included long time chip leader Ash Ahmed and online pro Adam 'Clarkatroid' Clark. After receiving his trophy and £20,948 cheque, Ash praised the event and commended Blue Square for adding so much value to live poker in the UK. He also praised the staff at the Grosvenor casino in Walsall for the efficient way that the tournament was run. He has recently taken some time out from playing poker and just three weeks ago he celebrated the birth of his first son. During the post tournament interview, Ash commented "Having had the best part of a year away from poker, I am delighted to have made my comeback to the game in this manner."
The next leg of the GUKPT will be in Blackpool in under two weeks time before all eyes are on London for the Grand Final.
Picture courtesy of the GUKPT
Steve Billirakis Wins WSOP Circuit Horseshoe Hammond
It is a tremendously rare feat for a player to start a three day tournament as a chip leader and never relinquish that lead, but that is exactly what Steve 'MrSmokey1' Billirakis has done at the latest leg of the WSOP Circuit. Billirakis was the youngest ever WSOP bracelet winner (Before Annette Obrestad) and has now added a WSOP Circuit ring to his medal haul (Making him the youngest ever circuit event winner). He also takes home $208,885 and a seat in next year's WSOP Main event for his troubles.
Five way chop at DTD 3-2-1 Main Event
The monthly European ranking DTD 3-2-1 event resulted in a five way chop last night, with Alan Stearn declared the official champion with 2 players taking home just under £7000 and the other three taking £4,500. This was after in form Dave Penly and Billy Ngo busted from the final table and it was all done and dusted before 10pm. It did seem a bit premature but was understandable, as Smokey and the Bandit was on ITV3 last night.
Luton Christmas Cracker Announced
Some people know it's Christmas when they see festive adverts on TV or Christmas lights outside their neighbours houses, most UK circuit players know its Yuletide when the Luton Christmas Cracker schedule is announced. A weeklong festival of poker including a PLO event and a £750+£75 double chance main event, all at the plush G Casino in Luton (Remember to wear your smart shoes)
Mon Dec 1st £100+£10.50 NO LIMIT HOLD EM FREEZEOUT, 5,000PTS 30 MIN clock 1day event 8PM START
Tue Dec 2nd£500+£50 NO LIMIT HOLD EM DOUBLE CHANCE FREEZEOUT 5,000PTS 45 MIN clock 2day event 8PM START
Wed Dec3rd£200+£20 POT LIMIT OMAHA 5,000PTS 30 MIN clock 1day event 8PM START
Thu Dec4th£250+£25 NO LIMIT HOLD EM 1RE BUY OR ADD ON, 7,500PTS 30MIN clock 2day event 8PM START
Fri Dec5th £200+£20 NO LIMIT HOLD EM FREEZEOUT, 5,000PTS 30MIN clock 1 day event 8PM START
Sat Dec6th£750+£75 NO LIMIT HOLD EM FREEZEOUT, 10,000PTS 1HOUR clock day 1 2PM START
Sat Dec6th£150+£15 NO LIMIT HOLD EM FREEZEOUT, 5,000PTS 45MIN clock 1day event 8PM START
Sun Dec7th£150+£15 NO LIMIT HOLD EM FREEZEOUT, 5,000PTS 45MIN clock 1day event 8PM START
The only gripe is that this clashes with both the Gala Coral British Poker Tour Grand Final in Bristol and the Dusk Till Dawn Anniversary Main Event. That said, it will make each of the events arguably easier by diluting the fields so maybe it's a good thing.
Scott Montgomery asking Poker Community for help
We are less than a week away from the final table of the WSOP main event and one of the November 9 has been asking for help from his friends in the poker community. Scott Montgomery, who is one of the favourites to win the main event and this writer has a few bob on him to do just that, has posted a thread on the Pocketfives forum asking the community to study tapes of him playing on TV and PM him if they can spot any obvious 'tells' at the table.
A novel, refreshing and honest attempt to improve his chances at the table, let's hope none of the other November 9 members send him a PM deliberately giving him false information.