Ben "RookieITB" Turnstill Interview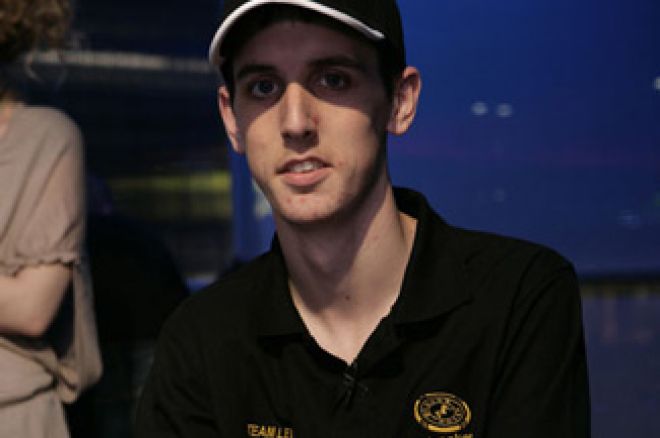 We caught up with Ben 'RookieITB' Turnstill fresh after his major win in the Full Tilt Sunday Brawl where he won $73,377. Turnstill is a popular player both online and on the UK circuit, having also made a GUKPT final table and being hotly tipped as one of the best young players in the country. We reflected on his poker career so far following his big score:
I used to deal home games for my dad and friends. I was only 16/17 at the time but loved just watching/dealing. I used to have 'dealers privileges' and would peek at peoples cards when they mucked their hands and see all their bluffs
I then moved onto joining in every other week and gradually got better and better. I started playing online and my first site I had good success on was Ladbrokes, and I would often receive coaching from a good friend Allan Shields. I moved onto other sites and when me or Allan went deep in multis we used to offer each other 'Twister' lolly's for every $1k we scooped. This was all the motivation we needed I owe him a few boxes after my latest win !
All good poker player s belong to a crew of some sort and you are no different, you belong to a group of players known as In the Belly which is an odd name to say the least, where the hell did that name come from?
There was this home game. There were originally 5 founder members, who used to be there every week, and there were 4 other seats up for grab in the conservatory of our house. We eventually opened up to two table tournaments due to demand and then had to find a venue to host our games. We moved to Leighton Buzzard for a bit and held comps up to 40 runners every Friday night. We now run from a Snooker Club in Dunstable and have space for up to 70 runners each week. More details can be found on www.inthebelly.co.uk
The term InTheBelly came from a few of us saying it in the home games when somebody gets beaten on the river. "Inthebelly!"
At just 20 years of age, you has been a successful player on the online scene for a while now, so we wonder if you ever held a 'proper job' at all or have you always been a pro:
I worked age 17-18, I dropped out of 6th form and found a job. As it happens, this was the time I was getting into playing poker. And about 8 months into the job I was in the taxi on route to work and a car hit us from behind. I ended up having a week off work for whiplash. On my first day I deposited £50 into Titan Poker under advice from Allan that the games were soft. By the time I had to go back to work I had £5500 in my account. I went back into work, got the sack because they wasn't happy with me having a week off sick, I was obviously upset. I cashed out £5500 from Titan poker and spread it around a bit and just decided to last as long as I could!
Ben is in maybe the toughest category of online professional, the tournament pro, which prior to this big result must be a very tough trade indeed?
It is brutal, and has been brutal. I had a very good 2007 but
2008 started pretty horrid. I have had a few wins but saw an opportunity to get backed into comps for a 50/50 split (From fellow player James 'Royalflush' Dempsey). This I needed. I was up in the first two months of play, and then I took the Tilt Brawl down for $73k. The feeling was amazing!
The Sunday Brawl was your biggest win to date and nicely took place on the weekend of the WSOPE main event beginning, does you think that made a difference to the toughness of the field?
The field was nothing unusual for online. I didn't think before I entered it that this was my best shot of winning one because players were in London though! I was quite fortunate to be drawn on tight tables most of the time as I managed to accumulate a few chips without being asked any questions. Then from 20 out it turned into a push fest and whoever got there chips in first generally won the pots. I was short stacked from 12 left after having my KK cracked by QJ and went to the final with 10bb's, just. I sat tight for two rounds and shoved UTG with 88 and 7 bb's and got insta-called from MidPos with AQ. I flopped the 8 and doubled. I then found myself 5th of 5 having the table chip leader to my right. I stole two pots with preflop shoves and then found AQs in the big blind. The button raised and the SB re-raised all in. I thought about it and then called. The SB showed A9 and i held. Three hands later I had AA into the ChipLeaders QQ and was now chip leader! From then on nothing silly happened and I took down the tournament with 9 bounties. That included 4 from the final table. Not many for a 1600+ runner field!
Winning $73k must have been amazing, but having to hand over half of it to your backer must have been both a brilliant and depressing thing to do?
I was more than happy to give Flushy his profit. He does his horses great deals and shows faith in them all! Despite being up overall, I was on a $4k downswing before this Sunday and Flushy happily sent me the money I asked for with no complaints/problems at all. If he wants to show this much faith in me then I couldn't be happier sending across the money!
Ironically I have just started staking a player who taught me the most, Allan Shields, the staker becomes the stake!
You and Dempsey have decided to keep the staking arrangement going and who could blame either one of them, so what's next for you?
More online tournaments, that will always be the norm. I will pick a few live tournaments to attend now and who knows what will happen. I am off to Vegas for my 21st in November with a few poker playing buddies. I wonder if I'll come back?!
Picture courtesy of the GUKPT