PoolStars Battle of the Continents Launch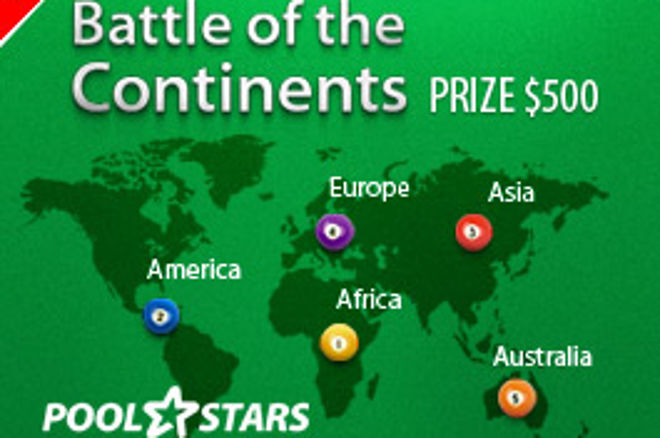 PoolStars is proud to announce the Battle of the Continents Championship coming to you this October 13th - November 14th. The Champion goes home with $500, with other prizes to be given away too!
In brief, countries are categorised into five continents, and will go through a series of satellites culminating in the final tourney. Only 8 from each continent will have a chance to prove that their continent is victorious. For further details on how we're classifying the countries, check the contest rules page.
This is your chance to make your continent proud and to take home some great cash prizes. Tell all your friends - the more players qualify in your home continent, the more chances you have to go home champions in the PoolStars Battle of the Continents!
PoolStars gives pool enthusiasts a chance to play on the game's biggest stage. PoolStars.com allows players to download its software for free and play in online billiards games like 8-ball and 9-ball, with Snooker set to grace their software in the near future. Poolstars currently offers free play and real-money options. The unique currency – PoolStars Credits – have the following value: 1$=15PS$. You can use these credits to play, purchase addons, or redeem fantastic items in the PoolStars store.
For all your online pool needs, don't forget to keep clicking over to www.PoolStars.com