Another Edition of the Sunday Wrap-Up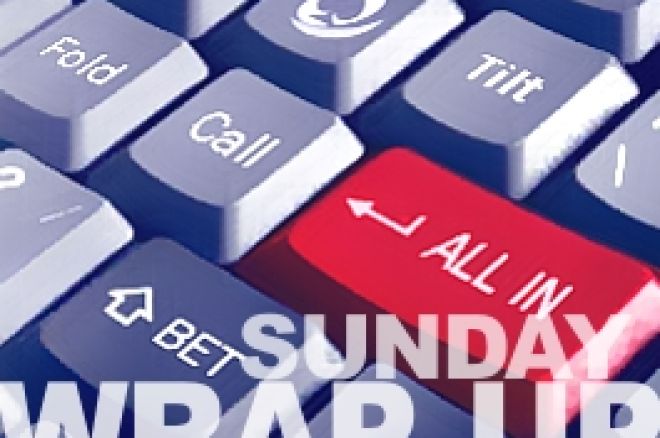 Watching poker and sipping wine until the early hours of the morning! Surely life doesn't get better than this. Unless of course Jude Law had fancied joining me to watch the games! But still, even with the lack of gorgeous celebrity there was still plenty to keep me entertained this week. As always I will be reporting for you on how this Sunday's biggest games went down.
SUNDAY WARM UP - POKERSTARS
About 400 more players for the Sunday warm up this week than last but still not enough to make the guaranteed $750k so PokerStars again topped up the prize pool with some overlay making it even more lucrative for those who did play.
The final 3 players decided to make a deal Phidias 'ael1979' Georgiou was not happy with the chip count deal and asked for another 1.5k each from the other two players, reminding them that he had already won this game twice and needed more money to give up his hopes for a hattrick.
Pokky Star and wdrzich said they would give him 1k extra each and everybody agreed. The final deal was: ael1979 $65,005 - wdrzich $74,649 - Pokky Star $71,595 10k left for the champ.
Phidias 'ael1979' Georgiou was knocked out shortly after when the blinds were 250k/500k, ael was in the big blind, wdrzich raised to 1.2m and Pokky Star pushed all in for just over 17m. ael1979 instantly called with his last 8m in chips, forcing the initial raiser to fold. With just Pokkystar and ael1979 left in the pot the cards were on their backs. Pokky Star


- ael1979


community cards





did not help ael1979 who left the tournament in third place.
Heads up starting stacks: Pokky Star 26,751,337 - wdrzich 9,418,663. wdrzich tried to boost his stack by playing super aggressively and pushing all in allot but still got whittled down by Pokky. A double up after the break was not going to be enough for wdrzich. He found himself in a sticky situation when he again pushed all in and was insta called by Pokky Star. wdrzich was forced to show his


and Pokky Star showed


, flop



the turn

sealed the deal for Pokky Star leaving wdrzich with no outs, river

.
Here is the re-enactment: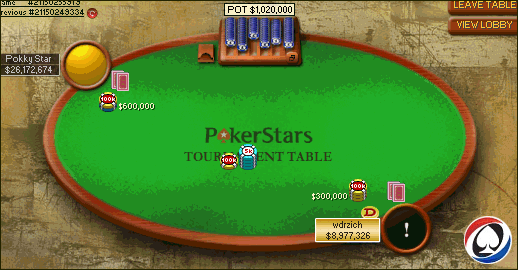 Pokky Star is this week's Sunday Warm Up champion, well played all it was a thrill to watch.
Final table results:
1: Pokky Star (Monte Carlo), $101250.00
2: wdrzich (Hammond ), $71250.00
3: ael1979 (limassol), $48750.00
4: mozitas (YORUGUA), $38625.00
5: wildman22222 (Farmington Hills), $30750.00
6: Pappe_Ruk (Nijmegen), $23250.00
7: Puniponken (Motala), $15750.00
8: bot432931 (minsk), $9750.00
9: IBLUFFULOL (Maribor), $6750.00

$750,000 GUARANTEED – [URL="https://uk.pokernews.com/full-tilt-poker/"]FULLTILT [/URL]
As usual on Sunday, FullTilt were running their $750,000 GTD tournament at 11pm GMT. With 3,450 players registered at the start of the tourney FullTilt only needed to bump up the prize pool by a few thousand bucks showing, yet again, that the organisers know their customers!
The hand that would give Dahlinerat his win was explosive, it happened when the blinds were 50k/100, wasaki coke raised from the button to 320k, Dahlinerat reraises to 999,987k , wasaki coke pushes all his chips in and Dahlinerat quickly calls. wasaki coke shows


- Dahlinerat shows


flop



looks good for wasaki , I could almost hear wasaki coke shouting noooooooo as the turn shows

, his tiny glimmer of hope fades away when the river card falls seemingly in slow motion as

. It's all over!
Congratulations and more importantly the money for first place goes to DahJinerat who took slightly under 9 hours to demolish the field of players and claim victory.
Congratulations to everyone who made the final table:
DahJinerat - $132,787.50 (The 50 cents made all the difference)
Wasaki coke - $80,250
NoBadBeatsPlz - $52,500
Mordi20 - $41,400
Maxflicks - $31,050
sccowboy - $23,025
rokhead - $17,250
Sir_winalot9 - $13,500
SomethingDank - $10,050

SUNDAY MILLION – [URL="https://uk.pokernews.com/pokerstars/"]POKERSTARS[/URL]
$1,500,000.00 guaranteed and only $215 to buy in. 7307 players did just that. After 10 hrs 20 mins govshark2 took away a well deserved first place for $184500.00.
This is how the final table chip stacks looked:
Seat 1: BOKINHA - 11,027,452
Seat 2: DeuceBuster - 4,059,150
Seat 3: trangers15 - 9,872,014
Seat 4: Y2JKID - 3,877,876
Seat 5: princio - 6,606,879
Seat 6: Br0ke24/7 - 6,377,874
Seat 7: Jazz604 - 3,235,053
Seat 8: govshark2 - 19,040,496
Seat 9: MyGambit - 8,973,206
Final table action was furious with govshark2 using his stack to bully his foes, dropping players to the cyber rail left right and centre. govshark2 truly dominated the final table letting the lead slide into princio's lap for just a short time only to re-take it and continue with his forceful style of play.
Heads up play was finally set into motion when trangers15 shoved his stack of 10 million with


over what might have seemed like a standard button raise by govshark2 who called like the wind to show


. This put the, soon to be victor in a comfortable position in chips with almost 60 million to princio's lowly stack of 13,441,756. Credit to the short stack who seemed to steal every button raise going by shoving either on or before the flop, slowly building his stack from 13 to 20 million.
The final hand eventually came just 8 minutes from the start of heads-up, quite a long time to last with such contrasting stacks! With the blinds at 400k/800k princo decided to make a move on the button raising it up to around 4 million. This only prompted a re-raise by govshark2 making it 10 million to see the flop. princio was having none of it though and quickly made the move all-in.
A rapid call by govshark2 with


had princio on the ropes with his


giving the chip leader every chance of taking the win having to dodge just a Ten or a miracle hand. When the board rolled out





I couldn't help but think the king high flop would of sealed the deal for govshark2 however they chose to play it but still. Congratulations to all the players who made the money. Hopefully the 2nd place prize of $124,950 made princio's expression a little more cheerful than the one on his avatar!
Final table results:
1: govshark2 (Champaign), $184500.00
2: princio (san piero patti), $124950.00
3: trangers15 (Sherman), $84000.00
4: Br0ke24/7 (Dannenberg), $69000.00
5: DeuceBuster (Burlingame), $54000.00
6: BOKINHA (Belo horizonte), $39000.00
7: Y2JKID (Chateauguay), $26250.00
8: MyGambit (Baden), $17250.00
9: Jazz604 (Surrey), $10500.00
So it's all over for another week, the drinks are on Pokky Star, Dahlinerat and govshark2 right? I will be back next week to bring you all the excitement and news of all the winners. Until then I will be having fun and learning more in our fantastic forum, drop in and say hi.