Sunday Wrap Up - PartyPoker, PokerStars and Fulltilt!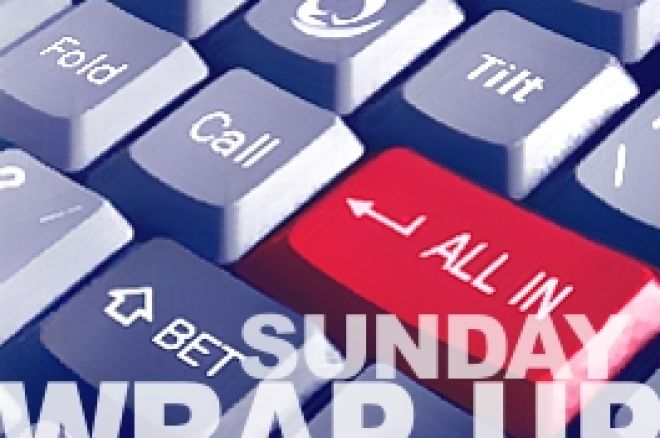 I had some friends coming all the way down from Wales this weekend. Party time or poker? Poker or party...? hmmmm this was hard. Then it hit me... time for a Pokerparty baby! Out came the chips and cards and we played a fun little tourney; I came 2nd apparently that means I suck! After all the excitement we decided to carry on the theme in a more relaxed way. We put on some tunes and watched, criticised, cheered, gasped and booed at the big online tourney's in much the same way football fans do at big matches. Here is what happened.
300k Guaranteed – [URL="https://uk.pokernews.com/partypoker/"]PartyPoker[/URL]
It would have been wrong to have a poker party and not watch PartyPoker and the players certainly didn't let me down this week. The game started at 17:45 GMT and lasted over 8 hours. It was santa4e that eventually won the $60k first prize. Could someone remind Santa that I have been a very good girl this year and those red knee high boots I saw are so perfect . . . oops I got side tracked.
Santa4e played brilliantly and deserved their first place finish. The first player forcibly removed from the final table was QUANTUM321 who found himself in a good position all in preflop with


against the


of the chip leader, luckyvenus. Hopes of a double-up were dashed when 'lucky'venus lived up to his name and the board steamrolled out





giving lucky a pair of nines to win the hand.
Final table play was shockingly fast lasting just 50 minutes before reaching the heads up stage when Taskekrabben got all his short, but not THAT short, stack in preflop with


only to be called by santa4e with


, yet again big slick vs. a weaker ace!

on the flop and no King sent Taskekrabben packing!
The heads up started with santa4e covering luckyvenus' chips by 2 to 1. It wasn't long before luckyvenus took a slight lead though calling with


after santa4e's preflop all in with


. The board fell in favour of the pocket pair and suddenly it was game-on as the two player's stacks were now almost level!
The lead went back and forth about four times it really could have been either player who won, until the last hand was finally played, here is what happened: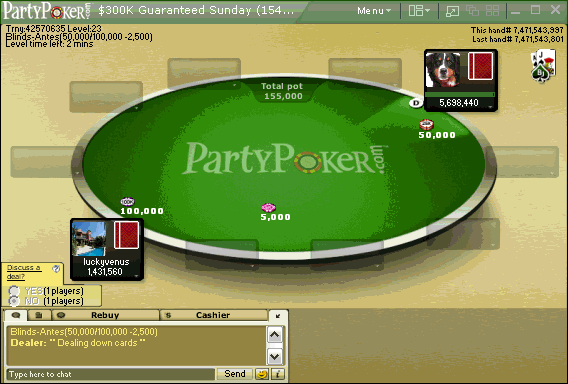 Here are the final payouts:
1:santa4e - $60,000
2:luckyvenus - $33,000
3:TaskeKrabben $20,700
4:Schelmy - $16,350
5:awojj -$13,800
6:ReRaiseYrMom - $10,350
7:Turbowurst-$7,950
8: Exameter - $5,250
9:QUANTUM321 - $4,050
Sunday Million $1.5M Guarantee – [URL="https://uk.pokernews.com/pokerstars/"]PokerStars[/URL]
Starting at 9:30pm GMT and going on all through the night for UK and European players, this $1.5 million guaranteed tournament is always a great game to watch. Easily considered the holy grail of online weekly tournaments, this 'Stars final table was all action. The last 3 battled for 25 minutes until anetas1 was all in preflop with


against the


of doulas12. The board didn't look too bad for the pocket pair until the turn and river gave doulas12 the nut flush and a seat heads-up.
If you blinked you would have missed the heads up play as it lasted just one hand! With blinds at 600k/1.2m the only move doulas12 would need to pull as an all-in first to act on the button. It only took a moment for Crackpfeife to call his 14m in chips with


leaving doulas12 to show


. The board:





The result: doulas12 wins the elusive spot as the 'Stars Sunday Million tournament champion with two pair, 6's and 9's!
1: doulas12 (Thessaloniki), $184500.00
2: Crackpfeife (Chemnitz), $124950.00
3: anetas1 (Prague), $84000.00
4: joncheng (Hjelmaas), $69000.00
5: rimmer27 (old bridge), $54000.00
6: DragonBenoni (Paris), $39000.00
7: slumpee (Atlanta), $26250.00
8: petit ponche (Dietikon), $17250.00
9: xannax20 (st.ilgen), $10500.00
PokerStars carries all kinds of amazing guaranteed tournaments on Sunday, including the Sunday Warm-Up $750k guarantee which is ideal for UK players. There is even a $11 buy-in tournament with a prize pool guarantee of $200k! Check out the PokerStars Tournament Lobby for more details! For more information on PokerStars, check out our review with exclusive bonus codes at the PokerStars review page. If you don't have an account you should sign up today so you can enjoy the benefits of being a PokerNews player.
$1m Guaranteed - [URL="https://uk.pokernews.com/full-tilt-poker/"]FullTilt[/URL]
FullTilt had it monthly $1m guaranteed this Sunday in place of their usual $750k. The buy-in was also raised to $500+$35 as an attempt to meet the guarantee. There was a little overlay but the registration fee's covered it no problem! With 306 places paid and a first prize of $184,000 it was definitely worthy of some concentration.
FullTilt pro Leandro 'Brasa' Pimentel played a solid game and final table to get his hands on the all important first place! The tournament lasted almost 11 hours, quite lengthy for just under 2000 entrants. The last 9 players reached the final table 9 hours 20 minutes into the tournament, this is what happened
Another quick heads up lasting only 3 minutes, a surprise considering the stacks setting off were so close:
Leandro Brasa - 5,651,851 I CaioPimenta I - 4,063,149
Heads up started and finished with the blinds at 50k/100k with a 10k ante. There was only one hand that saw a flop and it was the decider.
'I CaioPimenta I' had the button and raised to 235k just over double the big blind. This prompted a raise by Leandro Brasa to almost 700k. I CaioPimenta I called and it went to the flop.



Leandro Brasa checked it to I CaioPimenta I who would bet almost 800K, just over half the pot. This was only a prelude to the real fireworks though because Leandro Brasa had checked only to check re-raise all in! An instant call from I CaioPimenta I had the cards flipped over.
Leandro Brasa -


- I CaioPimenta I -


I CaioPimenta I was way infront with a pair of queens and was set to be 9 to 1 in chips, just the turn and river to come and the board played out





! Leandro Brasa won the game!
1: Leandro Brasa - $184,000
2: I Caiopimenta I - $113,000
3: DeMaci - $74,000
4: HateltOrLovett - $59,000
5: bballer88 - $45,000
6: Pippi78 - $32,200
7: Spuch - $23,500
8: DeuceBuster -$18,500
9: ninivan -$10,000
Join me next week for all the latest news and gossip from the Sunday tourney's AND the Ladbroke's LEOCOP!