Play the Presenter at Sky Poker, the Poker Goal Celebration and more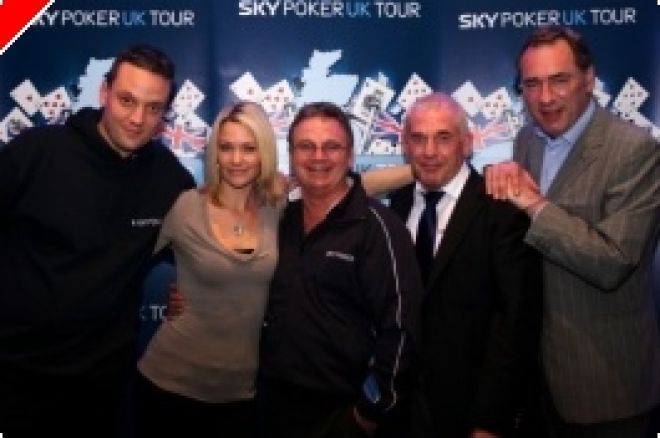 Play the Presenter at Sky Poker
Interactive poker room and poker channel Sky Poker have launched yet another promotion that draws on its strengths as a community based poker room. Now you can Play the Presenter directly at the cash and tournament tables, against presenters such as Tony 'Tikay' Kendall, Michelle Orpe, Norman Pace, Trevor Harris and Richard Orford.
To play the presenter simply log on at 7.00pm and search for that presenters alias in the Sky lobby. The action at those tables will be shown live on channel 865 every night. Check out Sky Poker to find out which presenter is playing each night and expect a queue at the table whenever it's Michelle Orpe's day.
More excitingly, the £250 new player bonus has doubled to £500, which needs to be released by playing at the real money tables within 30 days.
Poker in UK Sports Headlines again
Just a few days after we brought you the news that Rugby star Austin Healey has admitted an addiction to poker, footballer Robbie Blake has gotten on the back pages because of his fondness for the game. The Burnley striker was asked to reveal the reason for his recent goal celebration, where he dropped his shorts to reveal a pair of red pants which read 'Bad Beat Bob'.
He told the Burnley Express "A bad beat is when you have a good poker hand that is a clear favourite to win, but is beaten by another hand. Every time we play for coppers on the bus to games, I think I am miles ahead and it always turns out that the only card someone needs to beat me, they get!"
We doubt highly that Premiership footballers will be playing for just coppers on the bus and we look forward to Neil 'BadBeat' Channing challenging 'Badbeat Bob' for the rights to the 'Badbeat' name.
Daniel Carter last Brit standing at the WHUPC
After a very promising opening round for UK players at the World Heads UP Championships in Barcelona, we are down to one last hope as we reach the quarter finals. Dave Penly, James Atkins, Jon Wong and defending champion Jeff Kimber all bit the dust yesterday, leaving just one lone Brit to get through three more rounds of heads up action.
Thankfully though, that last Brit is Daniel Carter, a high stakes cash player and the runner up in this event last year. He has to beat Nicolas Dervaux of France today and potentially has to take on High Stakes supremo Jonas Danielsson on his way to the final.
Irish Winter Festival begins today
The Paddy Power Poker Irish Winter Festival kicks off today at the Citywest hotel in Dublin, with a €150 rebuy super satellite to tomorrows €1,500+€150 Irish Masters main event. There is also a €200 rebuy on Sunday and a €500 freeze out on Monday.
Neil Channing is 50/1 to win the event and will by vying to add to his player of the year rankings. Andy Black and Marty Smyth are also joint favourites at 50/1.